First posted 10/29/2017; updated 7/10/2019.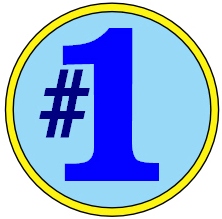 This is a list of the #1 songs of all time according to U.S. pop charts – with a twist. These songs could have hit #1 on any of the following charts:
the Billboard Hot 100 chart, 1955-present (BB)
the pre-Hot 100 pop charts, 1890-1955 (BB)
the Billboard pop airplay chart, 1984-present (BA)
Hit Parade, 1935-1955 (HP)
Cashbox, 1950-1996 (CB)
Hit Records, 1954-1982 (HR)
Radio & Records/Mediabase, 1973-2015 (RR)
All songs with 10 or more weeks on any of these charts are listed. If a song hit #1 on more than chart, only the chart where the song had the most weeks is noted. Also, there are some songs (noted with *) which hit #1 multiple times by different artists. This was especially prevalent in the pre-rock era when the focus was more on the song than the artist who recorded it. This allows songs like "Peg O' My Heart" and "Over There" – which each hit #1 FOUR times on the
Billboard
charts – to make this list. Artists who took the song to #1 are listed, along with the year the song first charted and how many weeks it was at the pinnacle.
It should be noted, however, that at times Hit Parade and Cashbox did not designate a specific artist with the #1 song. For example, "Some Enchanted Evening" was a #1 song on Hit Parade in 1949, but because there were multiple versions of the song out at the time, it wasn't credited to any specific artist. In such cases, this list attributes the song only to an artist if that artist also hit #1 on another of the noted charts.
One last note – in the event of ties, songs are ranked according to most overall points in Dave's Music Database. For songs which hit #1 multiple times, the version which accumulated the most points is used.
So without further ado…
---

25 weeks:

Peg O' My Heart (BB: Charles Harrison, 1913, 7 wks; The Harmonicats, 1947, 8 wks; Buddy Clark, 1947, 6 wks; The Three Suns, 1947, 4 wks) *

---

22 weeks:

The Third Man Theme (BB: Anton Karas, 1950, 11 wks; Guy Lombardo, 1950, 11 wks) *

---

21 weeks:

The Gypsy (BB: The Ink Spots, 1946, 13 wks; Dinah Shore, 1946, 8 wks) *
Oh What It Seemed to Be (BB: Frankie Carle & Marjorie Hughes, 1946, 11 wks; Frank Sinatra, 1946, 8 wks) *

---

18 weeks:

Iris (BA: Goo Goo Dolls, 1998)

---

17 weeks:

Over There (BB: American Quarter, 1917, 9 wks; Nora Bayes, 1917, 3 wks; Peerless Quartet, 1917, 2 wks; Enrico Caruso, 1918, 3 wks) *
In the Good Old Summertime (BB: J.W. Myers, 1902, 7 wks; Haydn Quartet, 1903, 6 wks; Sousa's Band, 1903, 4 wks) *
Near You (BB: Francis Craig with Bob Lamm, 1947)

---

16 weeks:

Despacito (BB: Luis Fonsi with Daddy Yankee & Justin Bieber, 2017)
We Belong Together (BA: Mariah Carey, 2005)
One Sweet Day (BB: Mariah Carey with Boyz II Men, 1995)
Don't Speak (BA: No Doubt, 1996)
Girls Like You (BA: Maroon 5 with Cardi B, 2017)

---

15 weeks:

It's a Long, Long Way to Tipperary (BB: American Quartet, 1914, 7 wks; John McCormack, 1915, 8 wks) *

---

14 weeks:

---

White Christmas (BB: Bing Crosby with the Ken Darby Singers, 1942)
I Will Always Love You (BB: Whitney Houston, 1992)
My Blue Heaven (BB: Gene Austin, 1927, 13 wks; Paul Whiteman, 1927, 1 wk) *
Candle in the Wind 1997 (Goodbye England's Rose) (BB: Elton John, 1997)
Shine on, Harvest Moon (BB: Harry MacDonough & Elise Stevenson, 1909, 9 wks; Ada Jones & Billy Murray, 1909, 5 wks) *
Uptown Funk! (BB: Mark Ronson with Bruno Mars, 2014)
I Gotta Feeling (BB: Black Eyed Peas, 2009)
Macarena (Bayside Boys Mix) (BB: Los Del Rio, 1995)
I'll Make Love to You (BB: Boyz II Men, 1994)
No One (BA: Alicia Keys, 2001)
On the Banks of the Wabash (BB: George J. Gaskin, 1897, 10 wks; Steve Porter, 1898, 4 wks) *
Cruising Down the River on a Sunday Afternoon (BB: Blue Barron & His Orchestra, 1949, 7 wks; Russ Morgan & the Skylarks, 1949, 7 wks) *
Because You Loved Me (BA: Celine Dion, 1996)
Old Town Road (BB: Lil Nas X with Billy Ray Cyrus, 2018)
High Hopes (BA: Panic! At the Disco, 2018)

---

13 weeks:

---

In the Mood (BB: Glenn Miller, 1939)
Sweet Adeline (You're the Flower of My Heart) (BB: Haydn Quartet, 1904, 10 wks; Columbia Male Quartet, 1904, 3 wks) *
Dardanella (BB: Ben Selvin, 1920)
Tennessee Waltz (BB: Patti Page, 1950)
Goodnight Irene (BB: The Weavers with Gordon Jenkins' Orchestra, 1950)
The Glow-Worm (BB: Victor Orchestra, 1908, 5 wks; Lucy Isabelle Marsh, 1908, 5 wks; The Mills Brothers, 1952, 3 wks) *
Frenesi (BB: Artie Shaw, 1940)
I've Heard That Song Before (BB: Harry James with Helen Forrest, 1943)
You Light Up My Life (HR: Debby Boone, 1977)
When You Were Sweet Sixteen (BB: George J. Gaskin, 1900, 8 wks; Jere Mahoney, 1900, 5 wks) *
End of the Road (BB: Boyz II Men, 1992)
Heartaches (BB: Ted Weems with Elmo Tanner, 1947)
The Sidewalks of New York (BB: Dan Quinn, 1895, 9 wks; J.W. Myers, 1895, 4 wks) *
The Boy Is Mine (BB: Brandy with Monica, 1998)
The Sign (BA: Ace of Base, 1994)
No Scrubs (BA: TLC, 1999)
I Love You Always Forever (BA: Donna Lewis, 1996)

---

12 weeks:

---

Alexander's Ragtime Band (BB: Arthur Collins & Byron Harlan, 1911, 10 wks; Bing Crosby & Connee Boswell, 1938, 2 wks) *
Till We Meet Again (BB: Henry Burr & Albert Campbell, 1919, 9 wks; Nicholas Orlando's Orchestra with Harry MacDonough, 1919; 2 wks; Charles Hart with Lewis James, 1919, 1 wk) *
Lose Yourself (BB: Eminem, 2002)
The Prisoner's Song (BB: Vernon Dalhart, 1925)
Paper Doll (BB: Mills Brothers, 1943)
Shape of You (BB: Ed Sheeran, 2017)
I'll Never Smile Again (BB: Tommy Dorsey & His Orchestra with Frank Sinatra & the Pied Pipers, 1940)
Yeah! (BB: Usher with Lil' Jon & Ludacris, 2004)
Riders in the Sky (A Cowboy Legend) (BB: Vaughn Monroe, 1949)
Sonny Boy (BB: Al Jolson, 1928)
Blurred Lines (BB: Robin Thicke with T.I. & Pharrell Williams, 2013)
You Belong to Me (BB: Jo Stafford, 1952)
See You Again (BB: Wiz Khalifa with Charlie Puth, 2015)
Smooth (BB: Santana with Rob Thomas, 1999)
The Last Round-Up (BB: George Olsen, 1933, 9 wks; Guy Lombardo & Carmen Lombardo, 1933, 3 wks) *
Closer (BB: The Chainsmokers with Halsey, 2016)
Boom Boom Pow (BB: Black Eyed Peas, 2009)
We Found Love (BA: Rihanna with Calvin Harris, 2011)
Dilemma (BA: Nelly with Kelly Rowland, 2002)
Too Young (HP: Nat "King" Cole, 1951)

---

11 weeks:

---

Cheek to Cheek (BB: Leo Reisman & His Orchestra with Fred Astaire & Ginger Rogers, 1935)
Stormy Weather (Keeps Rainin' All the Time) (BB: Leo Reisman, 1933, 8 wks; Ethel Waters, 1933, 3 wks) *
Whispering (BB: Paul Whiteman's Orchestra, 1920)
April Showers (BB: Al Jolson, 1922)
Don't Be Cruel/Hound Dog (BB: Elvis Presley, 1956)
School Days (When We Were a Couple of Kids) (BB: Byron Harlan, 1907)
Casey Jones (BB: American Quartet with Billy Murray, 1910)
Hello (BA: Adele, 2015)
Put on Your Old Grey Bonnet (BB: Haydn Quartet, 1909)
Deep Purple (BB: Larry Clinton & Bea Wain, 1939, 9 wks; CB: Nino Tempo & April Stevens, 1963, 2 wks) *
The Preacher and the Bear (BB: Arthur Collins, 1905)
A Bird in a Gilded Cage (BB: Steve Porter, 1900, 6 wks; Jere Mahoney, 1900, 5 wks) *
Just a Baby's Prayer at Twilight (For Her Daddy Over There) (BB: Henry Burr, 1918)
Valencia (A Song of Spain) (BB: Paul Whiteman & His Orchestra with Franklyn Baur, 1926)
The Stars and Stripes Forever (BB: John Philip Sousa, 1897, 8 wks; Sousa's Band, 1901, 3 wks) *
Irreplaceable (BA: Beyoncé, 2006)
a href="https://davesmusicdatabase.blogspot.com/2018/02/february-3-2018-drake-spends-first-of.html">God's Plan (BB: Drake, 2018)
Ramona (BB: Gene Austin, 1928, 8 wks; Paul Whiteman, 1928, 3 wks) *
Love Yourself (BA: Justin Bieber, 2015)
I'll Be Missing You (BB: Puff Daddy with Faith Evans & 112, 1997)
Un-Break My Heart (BB: Toni Braxton, 1996)
Cry (BB: Johnnie Ray & the Four Lads, 1951)
Arkansaw Traveler (BB: Len Spencer, 1902)
Vaya Con Dios (May God Be with You) (BB: Les Paul with Mary Ford, 1953)
I Swear (BB: All-4-One, 1994)
Because of You (HP: Tony Bennett, 1951)
To Each His Own (BB: Eddy Howard, 1946, 8 wks; Freddy Martin & Stuart Wade, 1946, 2 wks; The Ink Spots, 1946, 1 wk) *
Torn (BA: Natalie Imbruglia, 1997)
Independent Women (BB: Destiny's Child, 2000)
Dreamlover (BB: Mariah Carey, 1993)
Let Me Love You (BA: Mario, 2004)
On Bended Knee (BA: Boyz II Men, 1994)

---

10 weeks:

---

Night and Day (BB: Leo Reisman's Orchestra with Fred Astaire, 1932)
You're a Grand Old Flag (aka "The Grand Old Rag") (BB: Billy Murray, 1906)
Pennies from Heaven (BB: Bing Crosby with George Stoll's Orchestra, 1936)
My Heart Will Go On (BA: Celine Dion, 1997)
A-Tisket, A-Tasket (BB: Ella Fitzgerald with Chick Webb & His Orchestra, 1938)
My Gal Sal (BB: Byron Harlan, 1907)
Smoke Gets in Your Eyes (BB: Paul Whiteman, 1933, 6 wks; CB/HR: The Platters, 1958, 4 wks) *
Wait Till the Sun Shines, Nellie (BB: Byron Harlan, 1906, 9 wks; Harry Tally, 1906, 1 wk) *
Buttons and Bows (BB/HP: Dinah Shore & Her Harper Valley Boys, 1948)
After the Ball (BB: George J. Gaskin, 1893)
I'll Be Seeing You (HP: Bing Crosby with John Scott Trotter's Orchestra, 1944)
Happy (BB: Pharrell Williams, 2013)
Some Enchanted Evening (HP: Perry Como, 1949)
Tip-Toe Thru the Tulips with Me (BB: Nick Lucas, 1929)
Beautiful Ohio (BB, Henry Burr, 1919, 9 wks; Waldorf-Astoria Dance Orchestra, 1919, 1 wk) *
Bedelia (BB, Haydn Quartet, 1904, 7 wks; Billy Muray, 1904, 3 wks) *
Low (BB: Flo Rida with T-Pain, 2007)
Sweet Leilani (BB: Bing Crosby with Lani McIntire & His Hawaiians, 1937)
Tell Me Pretty Maiden (BB: Harry MacDonough & Grace Spencer, 1901, 7 wks; Byron Harlan with Frank Stanley, Joe Belmont, & Florodora Girls, 1901, 3 wks) *
Gold Digger (BB: Kanye West with Jamie Foxx, 2005)
In a Shanty in Old Shanty Town (BB: Ted Lewis & His Band, 1932)
Stein Song (University of Maine) (BB: Rudy Vallee & His Connecticut Yankees, 1930)
Amapola (Pretty Little Poppy) (BB: Jimmy Dorsey & His Orchestra with Bob Eberly & Helen O'Connell, 1941)
Bleeding Love (RR: Leona Lewis, 2007)
Till the End of Time (BB: Perry Como, 1945)
One Dance (BB: Drake, 2016)
Rum and Coca-Cola (BB: The Andrews Sisters, 1945)
The Band Played On (BB: Dan Quinn, 1895)
Love Me and the World Is Mine (BB: Henry Burr, 1906, 7 wks; Albert Campbell, 1906, 3 wks) *
Physical (BB: Olivia Newton-John, 1981)
Ballerina (BB: Vaughn Monroe's Orchestra, 1947)
Hello Ma Baby (BB: Len Spencer, 1899, 6 wks; Arthur Collins, 1899, 4 wks) *
There! I've Said It Again (BB, Vaughn Monroe, 1945, 6 wks; Bobby Vinton, 1963, 4 wks) *
Moonlight Cocktail (BB: Glenn Miller Orchestra with Ray Eberle & The Modernaires, 1942)
Where Is Your Heart (Song from "Moulin Rouge") (BB: Percy Faith with Felicia Sanders, 1953)
Sincerely (BB: The McGuire Sisters, 1955)
Kiss from a Rose (BA: Seal, 1994)
Singing the Blues (BB: Guy Mitchell, 1956)
Now Is the Hour (Maori Farewell Song) (HP: Bing Crosby with the Ken Darby Singers, 1948)
Wheel of Fortune (BB: Kay Starr, 1952)
A Tree in the Meadow (HP: Margaret Whiting, 1948)
The Laughing Song (BB: George W. Johnson, 1891)
That's the Way Love Goes (BA: Janet Jackson, 1993)
Hey There (HP: Rosemary Clooney, 1954)
Lady Marmalade (BB/CB/HR: LaBelle, 1974, 1 wk; RR: Christina Aguilera with Lil' Kim, Mya, & Pink, 2001, 9 wks) *
Hero (BA: Mariah Carey, 1993)
A Hot Time in the Old Town (BB: Dan Quinn, 1896, 7 wks; Len Spencer, 1897, 3 wks) *
My Old New Hampshire Home (BB: George J. Gaskin, 1898)
Cherry Pink and Apple Blossom White (BB: Perez "Prez" Prado, 1955)
Foolish (BB: Ashanti with Ja Rule, 2002)
If I Knew You Were Comin' I'd've Baked a Cake (BB: Eileen Barton, 1950)
Lollipop (BA: Lil Wayne with Static Major, 2008)
I Went to Your Wedding (BB: Patti Page, 1952)
Bye Bye Bye (RR: N Sync, 2000)
Maria Maria (BB: Santana with the Product G&B, 2000)
If (They Made Me a King) (HP: Perry Como, 1951)
I Hear a Rhapsody (HP: Jimmy Dorsey, 1941)
In My Feelings (BB: Drake, 2018)
Someday (BA: Mariah Carey, 1990)
U Got It Bad (BA: Usher, 2001)
---