Updated 1/12/2019.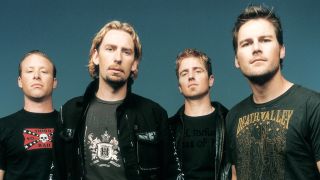 image from loudersound.com
How You Remind Me
Nickelback
Writer(s): Chad Kroeger, Mike Kroeger, Ryan Peake, Ryan Vikedal (see lyrics here)
---
Released: 8/21/2001
---
First Charted: 7/28/2001
---
Peak: 14 US, 11 AAA, 113 AR, 113 AR, 4 UK, 1 CN, 2 AU (Click for codes to singles charts.)
---
Sales *: 1.0 US, 0.6 UK, 1.81 world (includes US + UK)
---
Radio Airplay *: 2.0
---
Video Airplay *: 415.8
---
Streaming *: --
---
* in millions
Review:
When Nickelback recorded "How You Remind Me" in about ten minutes as a last minute edition to their Silver Side Up album, they had something special. SF The band has amassed a legion of detractors, and this song is "a guilty pleasure, to be sure," TG but an "absolutely undeniable" TG "example of mainstream songwriting chops and flawlessly slick production." TG
This was the first top 40 hit for the Canadian rock band and only the second #1 song by a Canadian group, the first being the Guess Who's "American Woman." SF "Remind Me" was the most-played song of 2002 in the U.S. SF and topped the Billboard year-end chart. Billboard named it the #1 rock song of the decade. WK Lead singer Chad Kroeger has referred to what is often considered their signature song as "the song that put Nickelback on the map." WK
Kroeger told MTV he penned this song about an ex-girlfriend with whom he'd had a rather dysfunctional relationship. However, he kept the lyrics ambiguous so that listeners could relate to the idea of an ex pointing out one's faults. SF
The band's drum tech, Andrew Mawhinney, suggested the idea of the band dropping out at the last chorus in which Kroeger bellows, "for handing you a heart worth breaking!" Mawhinney was rewarded by the band for the suggestion with $5000. SF
---
Resources and Related Links:
Note: Footnotes (raised letter codes) refer to sources frequently cited on the blog. Numbers following the letter code indicate page numbers. If the raised letter code is a link, it will go directly to the correct page instead of the home page of a website. You can find the sources and corresponding footnotes on the "Lists" page in the "Song Resources" section.
Awards:
---