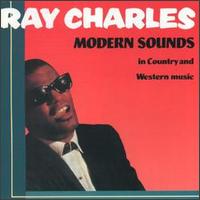 Click photo for more about the album.
June 23, 1962: "I Can't Stop Loving You" was sitting atop the Billboard Hot 100 for a fourth week when its parent album,
Modern Sounds in Country and Western Music
, followed suit and topped the Billboard album chart. It remained there for 14 weeks, becoming one of
the top 100 biggest U.S. #1 albums
. The album is also in the
Grammy Hall of Fame
and, according to
Dave's Music Database
, is
one of the top 1000 albums of all time
.
While the album proved its commercial and critical clout, it was initially a risky proposition. In the '50s, middle-of-the-road white artists like Pat Boone sanitized popular R&B tunes, like Fats Domino's "Ain't That a Shame", for white audiences. Artists like Elvis Presley had blended R&B and country. However, it was a test of the waters to see if white audiences would accept a black R&B artist covering country tunes, especially during a time of racial tension in the United States.
It was also Charles' way of testing his record company. He'd landed a lucrative deal with ABC-Paramount in 1959 when he jumped ship from Atlantic Records. Now he was seeing just how much artistic freedom they would afford him. He would become one of the first African-Americans to exercise such control over his own recording career.
The album consisted completely of country and western standards reaching back as far as 1939. Charles touched on honky tonk with three Hank Williams songs, "old-timey fare" with Floyd Tillman's "It Makes No Difference to Me Now", and early countrypolitan with Don Gibson's "I Can't Stop Loving You".
SC
Nothing was bigger than the latter song, originally a #7 country hit for Gibson in 1958. Charles transformed it into one of the greatest crossover songs of all time. It landed atop the Billboard Hot 100 as well as the adult contemporary (AC) and R&B charts. It also hit #1 on the sales-driven Cashbox chart and the U.K. charts. The song is featured in the book
The Top 100 Songs of the Rock Era, 1954-1999
.
The album also generated hits with "You Don't Know Me" (#2 US, #9 UK, #5 R&B, #1 AC), "Born to Lose" (#41 US, #13 AC), and "Careless Love" (#60 US, #19 AC).
For more information, check out the DMDB page for the
Modern Sounds in Country and Western Music
album and
Ray Charles
' entry in the DMDB music makers' encyclopedia.
Resources: