---
Check out these books by Dave Whitaker available through DavesMusicDatabase.com or Amazon.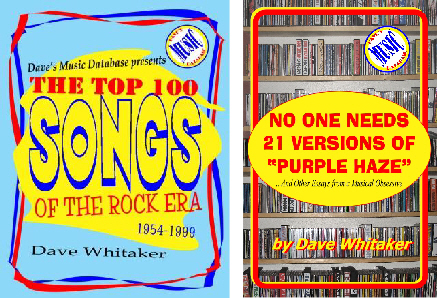 Also check the Dave's Music Database Facebook page for daily music-related posts.
---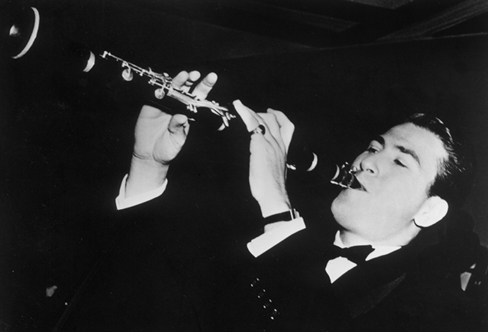 Artie Shaw developed a reputation during the swing era (roughly 1935-1945) as one of jazz's finest clarinetists. He also served as a bandleader, helming five different orchestras over the years, "all of them distinctive and memorable."
AMG
He got his start as a teenager with Johnny Cavallaro's dance band in 1925 and was later associated with Willie "The Lion" Smith. He scored his first hit on his own in 1936 and hit #1 with 1938's "Begin the Beguine".
After that song's success, Shaw struggled with the business of leading a band and moved to Mexico for a couple months. After his return, he recorded a version of the song "Frenesi", resulting in the biggest hit of his career and one of the biggest #1 songs in chart history.

Alberto Dominguez originally wrote it for the marimba and then others adapted it as a jazz standard. WK The word "frenesi" is the Spanish equal to the word "frenzy" WK but according to the song's lyrics, "Frenesi" means "please love me." TY

Shaw's recording made it the first million-selling song by a Mexican writer. TY The success helped "popularize Brazilian rhythms in jazz and pop music." JA Others who recorded the song included Les Brown, Dave Brubeck, Betty Carter, Tommy Dorsey, The Four Freshman, Eydie Gorme, Woody Herman, Earl Hines, Harry James, Glenn Miller, Cliff Richard, Linda Ronstadt, and Frank Sinatra. WK


---
Awards:
one of the top 100 songs from 1940-1949

Resources and Related Links:
AMG All Music Guide

JA David A. Jasen. (2002). A Century of American Popular Music: 2000 Best-Loved and Remembered Songs (1899-1999). Routledge: Taylor & Francis, Inc. Page 60.

TY Don Tyler (1985). Hit Parade 1920-1955. New York, NY: Quill. Page 105.

---
---