First posted on DMDB Facebook page on 4/4/12, updated 7/29/14.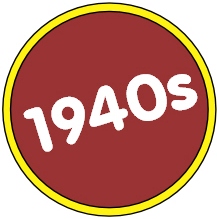 These are the top 100 songs from 1940-1949 according to Dave's Music Database. Note: during this era, songs were recorded often by multiple artists. Only the top-ranked version is listed here.
When a title was recognized as the Song of the Year, it is noted with a code following the song. A key to the codes is at the bottom of the page.
1. White Christmas...Bing Crosby with the Ken Darby Singers (1942) DM, PC, SS, TS, JW
2. Star Dust...Artie Shaw (1941) DM, HP, PC
3. Paper Doll...The Mills Brothers (1943) EG, TS
4. Sentimental Journey...Les Brown with Doris Day (1945) DM, EG, PC, SS
5. I'll Never Smile Again...Tommy Dorsey with Frank Sinatra & The Pied Pipers (1940) DM
6. As Time Goes By…Dooley Wilson (1943) DM, SS
7. Rudolph, the Red-Nosed Reindeer...Gene Autry (1949) DM
8. Body and Soul...Coleman Hawkins (1940) SS
9. Riders in the Sky (A Cowboy Legend)...Vaughn Monroe (1949) VF, PC, TS, JW
10. Near You...Francis Craig with Bob Lamm (1947) DM, VF, JW

11. Frenesi...Artie Shaw (1940)
12. The Christmas Song...Nat "King" Cole (1946) DM, PC, SS
13. Peg O' My Heart...The Harmonicats (1947) EG
14. Chattanooga Choo Choo...Glenn Miller with Tex Beneke & the Four Modernaires (1941) TS
15. Buttons and Bows...Dinah Shore and Her Harper Valley Boys (1948) DM, VF, JW
16. I'll Be Seeing You...Bing Crosby with John Scott Trotter's Orchestra (1944) DM
17. Swinging on a Star...Bing Crosby with John Scott Trotter's Orchestra & the Williams Brothers Quartet (1944) TS, JW
18. I've Heard That Song Before...Harry James with Helen Forrest (1943) JW
19. The Gypsy...The Ink Spots (1946) EG, VF, JW
20. Take the "A" Train...Duke Ellington (1941) SS

21. Till the End of Time...Perry Como (1945)
22. Don't Fence Me In...Bing Crosby with the Andrews Sisters (1944)
23. When You Wish Upon a Star...Cliff Edwards (1940) HP
24. Nature Boy...Nat "King" Cole with Frank DeVol (1948)
25. Ac-Cent-Tchu-ate the Positive...Johnny Mercer with the Pied Pipers (1945)
26. For Me and My Gal…Judy Garland & Gene Kelly (1942)
27. This Land Is Your Land...Woody Guthrie (1944) SS
28. Ballerina...Vaughn Monroe (1947) TS
29. Blues in the Night (My Mama Done Tol' Me)...Woody Herman (1941)
30. Twelfth Street Rag...Pee Wee Hunt (1948) TS

31. Heartaches...Ted Weems with Elmo Tanner (1947)
32. You'll Never Know...Dick Haymes with the Song Spinners (1943)
33. Amapola (Pretty Little Poppy)...Jimmy Dorsey with Bob Eberly & Helen O'Connell (1941) JW
34. Some Enchanted Evening...Perry Como (1949) EG
35. A String of Pearls...Glenn Miller (1942)
36. Move on Up a Little Higher...Mahalia Jackson (1948)
37. I'm So Lonesome I Could Cry...Hank Williams (1949) RS, SS
38. Rum and Coca-Cola...The Andrews Sisters (1945) VF, TS, JW
39. Cruising Down the River...Blue Barron & His Orchestra (1949)
40. That Old Black Magic...Glenn Miller with Skip Nelson (1943)

41. Tuxedo Junction...Glenn Miller (1940) VF
42. Besame Mucho (Kiss Me Much)...Jimmy Dorsey with Bob Eberly & Kitty Kallen (1944)
43. Oh! What It Seemed to Be...Frankie Carle with Marjorie Hughes (1946)
44. Pistol Packin' Mama...Al Dexter (1943) VF
45. On the Atchison, Topeka and Santa Fe...Johnny Mercer with the Pied Pipers (1945) HP
46. Boogie Woogie Bugle Boy...The Andrews Sisters (1941)
47. You're Breaking My Heart...Vic Damone (1949)
48. Manana Is Soon Enough for Me...Peggy Lee (1948)
49. Moonlight Cocktail...Glenn Miller with Ray Eberle & The Modernaires (1942) VF
50. Don't Sit Under the Apple Tree with Anyone Else But Me...Glenn Miller with Tex Beneke & the Modernaires (1942) HP

51. The Trolley Song...Judy Garland (1944) HP
52. God Bless the Child...Billie Holiday (1941)
53. Jingle, Jangle, Jingle...Kay Kyser with Harry Babbitt & Julie Conway (1942)
54. I'm Looking Over a Four-Leaf Clover...Art Mooney (1948) PC
55. Dream (When You're Feeling Blue)...The Pied Pipers with Paul Weston (1945)
56. There! I've Said It Again...Vaughn Monroe (1945)
57. Let It Snow! Let It Snow! Let It Snow!...Vaughn Monroe (1945)
58. Now Is the Hour (Māori Farewell Song)…Bing Crosby with the Ken Darby Singers (1948)
59. I've Got My Love to Keep Me Warm…Les Brown (1948)
60. That Lucky Old Sun...Frankie Laine with Judd Conlon's Rhythmaires, Harry Geller's Orchestra, & Carl Fischer Orchestra (1949)

61. Smoke! Smoke! Smoke! That Cigarette...Tex Williams (1947) VF
62. Laura...Woody Herman (1945)
63. Round Midnight...Thelonious Monk (1944)
64. There Are Such Things...Tommy Dorsey with Frank Sinatra & The Pied Pipers (1942)
65. Lovesick Blues...Hank Williams (1949)
66. Choo Choo Ch'Boogie…Louis Jordan (1946)
67. Sunday, Monday or Always...Bing Crosby with the Ken Darby Singers (1943)
68. Dancing in the Dark...Artie Shaw (1941)
69. You Are My Sunshine...Jimmie Davis (1940)
70. Long Ago and Far Away...Helen Forrest with Dick Haymes (1944)

71. It's Been a Long, Long Time...Bing Crosby with the Les Brown Trio (1945)
72. It Might As Well Be Spring...Dick Haymes (1945)
73. New San Antonio Rose...Bob Wills & His Texas Playboys (1944)
74. Santa Claus Is Coming to Town…Bing Crosby with the Andrews Sisters (1947)
75. I'll Walk Alone...Dinah Shore (1944) EG
76. To Each His Own...Eddy Howard (1946)
77. I Love You for Sentimental Reasons...The Nat "King" Cole Trio (1946)
78. That's My Desire...Frankie Laine (1947)
79. Fools Rush in Where Angels Fear to Tread…Glenn Miller (1940)
80. I've Got a Gal in Kalamazoo...Glenn Miller with Tex Beneke & Marion Hutton (1942)

81. I'll Get By As Long As I Have You...Harry James with Dick Haymes (1944)
82. Call It Stormy Monday…T-Bone Walker (1948) SS
83. A Tree in the Meadow...Margaret Whiting (1948)
84. Slippin' Around…Margaret Whiting with Jimmy Wakely (1949)
85. Green Eyes (Aquellos Ojos Verdes)...Jimmy Dorsey with Bob Eberly & Helen O'Connell (1941)
86. Linda...Ray Noble with Buddy Clark (1947)
87. Ole Buttermilk Sky...Kay Kyser with Michael Douglas (1946)
88. Shoo-Shoo Baby…The Andrews Sisters (1943)
89. Taking a Chance on Love…Benny Goodman with Helen Forrest (1940)
90. You Always Hurt the One You Love…The Mills Brothers (1944) VF

91. I Had the Craziest Dream…Harry James with Helen Forrest (1943)
92. Candy…Johnny Mercer with Jo Stafford & the Pied Pipers (1945)
93. Forever and Ever…Russ Morgan with the Skylarks (1949)
94. Baby, It's Cold Outside…Johnny Mercer with Margaret Whiting (1949)
95. It's Magic...Doris Day (1948) HP
96. People Will Say We're In Love...Bing Crosby with Trudy Erwin (1943)
97. Caldonia Boogie...Louis Jordan (1945)
98. The Anniversary Song…Al Jolson (1947)
99. There'll Be Some Changes Made…Benny Goodman with Louise Tobim (1941)
100. A – You're Adorable (The Alphabet Song)…Perry Como with the Fontane Sisters & Mitchell Ayres' Orchestra (1949)

---
Songs Which Won Year-End Awards But Didn't Make the Top 100:
Maria Elena...Jimmy Dorsey with Bob Eberly (1941) EG
Mule Train…Frankie Laine & the Muleskinners (1949) HP
My Happiness…Jon & Sandra Steele (1948) EG
La Bamba…Andres Huesca con Junto (1947) SS
Oklahoma!...Alfred Drake with the Oklahoma Cast (1943) PC
Open the Door, Richard…Count Basie with Harry Edison & Bill Johnson (1947) HP
Personality…Johnny Mercer (1946) TS
Sioux City Sue…Bing Crosby with the Jesters (1946) HP
Too-Ra-Loo-Ra-Loo-Ral (That's an Irish Lullaby)…Bing Crosby (1944) PC
When the Lights Go on Again All Over the World…Vaughn Monroe (1942) EG
When You Wish Upon a Star…Glenn Miller (1940) PC
Zing! Went the Strings of My Heart…Judy Garland (1943) HP
---
Key to the Codes:
---