First posted 1/13/2013; revised 11/26/2017.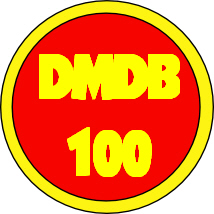 Below are the top 100 acts of all time according to the DMDB. This list is an aggregate of multiple best-of lists, including specialty lists, such as those focused exclusively on a certain genre.
This information is combined with various awards, chart success, and sales figures (click here for a link to the resources). A great effort has been made to find lists that represent numerous genres and eras of music. Even so, this list still leans almost entirely on the 20th century, or roughly the era of recorded music, meaning classical music, such as composers Ludwig van Beethoven, are absent from this list. Still, this list does do something very few "best of all-time" lists can claim – acknowledge music from before the rock era (although this list still favors acts from the rock era).
Links below connect to the act's entry in the Music Makers A-Z guide, which offers a short bio about the act and lists significant works. In some cases, the act has a more detailed DMDB page which can be linked to via the A-Z guide entry. In some cases, an act also has a DMDB list of its top songs, indicated in bold after the act's name.
1. Bing Crosby top 100 songs
2. Elvis Presley top 100 songs
3. The Beatles top 100 songs
4. Frank Sinatra top 100 songs
5. Billy Murray top 100 songs
6. The Rolling Stones top 100 Songs
7. Bob Dylan top 100 songs
8. Michael Jackson top 50 songs
9. Ray Charles
10. Elton John top 70 songs

11. Madonna top 50 songs
12. Paul Whiteman top 100 songs
13. Benny Goodman top 50 songs
14. Stevie Wonder top 50 songs
15. James Brown top 50 songs
16. Aretha Franklin
17. Led Zeppelin top 50 songs
18. Louis Armstrong top 50 songs
19. Jimi Hendrix
20. Chuck Berry

21. Glenn Miller
22. Prince top 50 songs
23. Guy Lombardo
24. Paul McCartney top 70 songs
25. Perry Como
26. Tommy Dorsey
27. David Bowie top 65 songs
28. Bob Marley
29. Bruce Springsteen top 60 songs
30. Nat "King" Cole

31. Fats Domino
32. Marvin Gaye
33. The Beach Boys top 20 songs
34. Eric Clapton top 50 songs
35. Queen top 50 songs
36. Rod Stewart
37. Johnny Cash
38. Pink Floyd top 50 songs
39. U2 top 100 songs
40. Hank Williams

41. Buddy Holly & the Crickets
42. Little Richard
43. Al Jolson
44. Henry Burr
45. Billy Joel top 50 songs
46. The Bee Gees top 40 songs
47. The Who top 30 songs
48. Mariah Carey top 40 songs
49. Fleetwood Mac top 50 songs
50. Whitney Houston top 50 songs

51. Eagles top 70 songs
52. John Lennon top 40 songs
53. Neil Young top 40 songs
54. The Supremes
55. Sam Cooke
56. Duke Ellington
57. Billie Holiday
58. Byron G. Harlan top 50 songs
59. Neil Diamond
60. Aerosmith

61. The Temptations
62. The Doors
63. Chicago
64. Roy Orbison
65. Smokey Robinson
66. Simon & Garfunkel
67. Willie Nelson top 80 songs
68. Diana Ross
69. Dolly Parton
70. B.B. King

71. Ella Fitzgerald
72. Arthur Collins
73. The Jackson 5/The Jacksons
74. Barbra Streisand
75. R.E.M. top 30 songs
76. Miles Davis
77. The Kinks
78. Kenny Rogers
79. Tina Turner
80. Four Tops

81. The Peerless Quartet/Columbia Male Quartet
82. The Everly Brothers
83. Jimmy Dorsey
84. AC/DC
85. Santana
86. Janet Jackson
87. The Andrews Sisters
88. Harry MacDonough
89. Sammy Kaye
90. Ben Selvin

91. Genesis top 50 songs (Phil Collins/Genesis), top 60 songs (Peter Gabriel/Genesis)
92. The Police top 60 songs (Sting & the Police)
93. Tom Petty & the Heartbreakers top 30 songs
94. Phil Collins top 50 songs
95. Nirvana
96. Otis Redding
97. Al Green
98. Earth, Wind & Fire
99. Gladys Knight
100. Fats Waller

---