First posted 6/2/2019; updated 1/11/2020.
Dolly Parton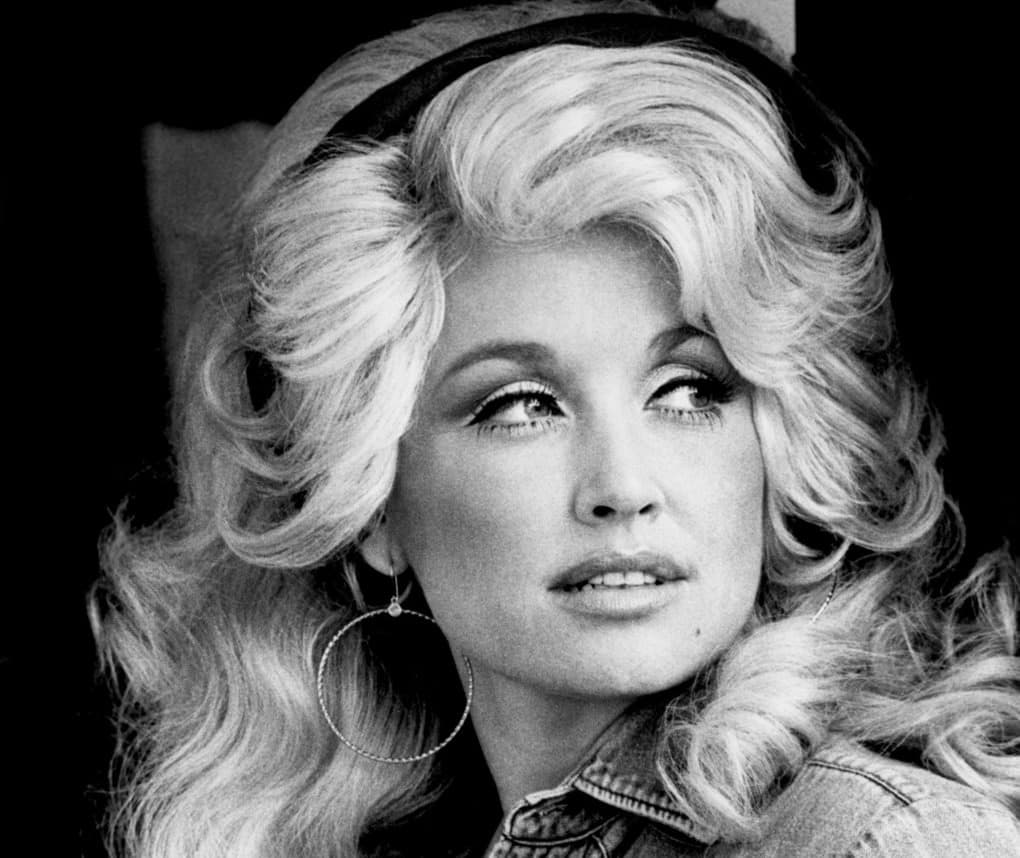 Image from beardedgentlemenmusic.com
Country singer/songwriter born on 1/19/1946 in Sevier County, Tennessee. She has charted more than 100 times on the country chart, making her the top female country artist of all time. One of the few people to receive Oscar, Grammy Tony, and Emmy nominations.
By age 10, she was performing on local radio and television programs. She recorded her first single at age 13. Moved to Nashville the day after her high school graduation in 1964. Started out co-writing songs with her uncle, Bill Owens. Signed with Monument Records in 1965. Replaced Norma Jean on The Porter Wagoner Show in 1967; she and Wagoner regularly worked as a duo from 1967-76 while also working solo. Joined the Grand Ole Opry in 1969. Starred in the movies 9 to 5, The Best Little Whorehouse in Texas, Steel Magnolias, Rhinestone, and Straight Talk.
Whitney Houston's cover of "I Will Always Love You" is featured in the DMDB book The Top 100 Songs of the Rock Era 1954-1999.
Awards:
---
Top 100 Songs
---
Dave's Music Database lists are determined by song's appearances on best-of lists as well as chart success, sales, radio airplay, streaming, and awards. Songs which hit #1 on various charts are noted. (Click for codes to singles charts.)

DMDB Top 1%:

1. 9 to 5 (1980) #1 US,CW,AC


DMDB Top 5%:

2. Islands in the Stream (w/ KR, 1983) #1 US,CW,AC
3. Here You Come Again (1977) #1 CW


DMDB Top 10%:

4. I Will Always Love You (1974) #1 CW
5. Jolene (1973) #1 CW
6. I Will Always Love You (rerecording, 1982) #1 CW


DMDB Top 20%:

7. Coat of Many Colors (1971)
8. But You Know I Love You (1980) #1 CW


Beyond the DMDB Top 20%:

9. Heartbreaker (1978) #1 CW
10. Winter Wonderland/Sleigh Ride (1984)


11. Starting Over Again (1980) #1 CW
12. You're the Only One (1979) #1 CW
13. Baby, It's Cold Outside (w/ Rod Stewart, 2004)
14. Baby, I'm Burnin' (1978)
15. Save the Last Dance for Me (1983)
16. Two Doors Down (1977)
17. The Bargain Store (1975) #1 CW
18. Love Is Like a Butterfly (1974) #1 CW
19. Romeo (w/ Billy Ray Cyrus, Tanya Tucker, Kathy Mattea, & Mary Chapin Carpenter, 1993)
20. When I Get Where I'm Going (w/ Brad Paisley, 2005) #1 CW


21. Joshua (1970) #1 CW
22. Sweet Summer Lovin' (1979)
23. Real Love (w/ KR, 1985) #1 CW
24. It's All Wrong, But It's All Right (1977) #1 CW
25. Please Don't Stop Loving Me (w/ PW, 1974) #1 CW
26. The House of the Rising Sun (1980)
27. Old Flames Can't Hold a Candle to You (1980) #1 CW
28. Don't Call It Love (1985)
29. Everything's Beautiful in Its Own Way (w/ Willie Nelson, 1982)
30. My Tennessee Mountain Home (1973)


31. I Really Got the Feeling (1978) #1 CW
32. Mule Skinner Blues (Blue Yodel No. 8) (1970)
33. Downtown (1984)
34. Tennessee Homesick Blues (1984) #1 CW
35. Just Because I'm a Woman (1968)
36. The Last Thing on My Mind (w/ PW, 1967)
37. We'll Get Ahead Someday (w/ PW, 1968)
38. To Know Him Is to Love Him (w/ Linda Ronstadt & Emmylou Harris, 1987) #1 CW
39. Touch Your Woman (1972)
40. Dumb Blonde (1967)


41. Holdin' on to Nothin' (w/ PW, 1968)
42. Just Someone I Used to Know (w/ PW, 1969)
43. In the Good Old Days When Times Were Bad (1968)
44. Daddy Was an Old Time Preacher Man (w/ PW, 1970)
45. Why'd You Come in Here Lookin' Like That (1989) #1 CW
46. Light of a Clear Blue Morning (1977)
47. Tomorrow Is Forever (w/ PW, 1970)
48. Better Move It on Home (w/ PW, 1971)
49. Puppy Love (1959)
50. Telling Me Lies (w/ Linda Ronstadt & Emmylou Harris, 1987)


51. Lost Forever in Your Kiss (w/ PW, 1972)
52. The Seeker (1975)
53. Yours Love (w/ PW, 1969)
54. Something Fishy (1967)
55. The Greatest Gift of All (w/ KR, 1984)
56. All I Can Do (1976)
57. Traveling Man (1971)
58. We Used To (1975)
59. If Teardrops Were Pennies (w/ PW, 1973)
60. My Blue Ridge Mountain Boy (1969)


61. Burning the Midnight Oil (w/ PW, 1971)
62. My Blue Tears (1971)
63. Together Always (w/ PW, 1972)
64. Heartbreak Express (1982)
65. Think About Love (1985) #1 CW
66. Always, Always (w/ PW, 1969)
67. Comin' for to Carry Me Home (1971)
68. Daddy, Come and Get Me (1970)
69. Rockin' Years (w/ Ricky Van Shelton, 1991) #1 CW
70. Is Forever Longer Than Always (w/ PW, 1976)


71. Jeannie's Afraid of the Dark (w/ PW, 1968)
72. The Right Combination (w/ PW, 1971)
73. Say Forever You'll Be Mine (w/ PW, 1975)
74. Single Women (1982)
75. Yellow Roses (1989) #1 CW
76. Making Plans (w/ PW, 1980)
77. Daddy (1969)
78. Washday Blues (1972)
79. I Will Always Love You (w/ Vince Gill, 1995)
80. God Won't Get You (1984)


81. In the Ghetto (1969)
82. If You Go, I'll Follow You (w/ PW, 1980)
83. Hard Candy Christmas (1982)
84. Jolene (w/ Mindy Smith, 2004)
85. Potential New Boyfriend (1983)
86. Hey Lucky Lady (1976)
87. We Found It (w/ PW, 1973)
88. The River Unbroken (1987)
89. Those Memories of You (w/ Linda Ronstadt & Emmylou Harris, 1987)
90. Wildflowers (w/ Linda Ronstadt & Emmylou Harris, 1987)


91. Tie Our Love in a Double Knot (1985)
92. Silver and Gold (1991)
93. I Know You by Heart (w/ Smokey Robinson, 1987)
94. Girl Left Alone (1959)
95. We Had It All (1986)
96. Time for Me to Fly (1989)
97. Love Is Strange (w/ KR, 1990)
98. Straight Talk (1992)
99. It's Sure Gonna Hurt (1962)
100. The Love You Gave (1962)

---
Resources and Related Links: