First posted 9/22/2011; updated 10/11/2019.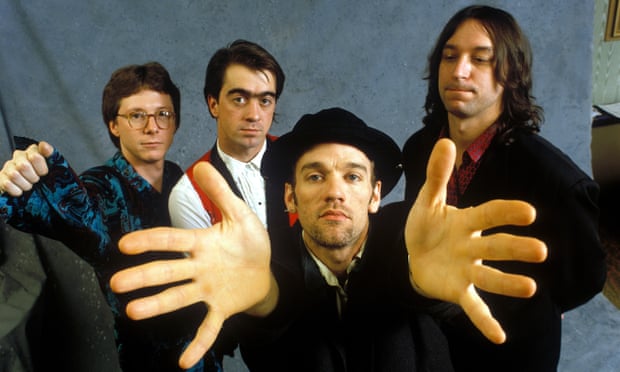 l to r: Mike Mills, Bill Berry, Michael Stipe, and Peter Buck. Image from TheGuardian.com
R.E.M. formed in Athens, GA. Active 1980-2011. Developed huge following with college audiences in the early 1980s as one of the first "alternative rock" groups. R.E.M. is the abbreviation for Rapid Eye Movement, sleep's dream stage. Members: Michael Stipe (v), Peter Buck (g), Mike Mills (b), and Bill Berry (d: 80-98). Buck, Mills, and Berry worked with Warren Zevon on the one-time collaboration Hindu Love Gods in 1990. Buck was also in Minus 5 (95).
Their song "Losing My Religion" is featured in the DMDB book The Top 100 Songs of the Rock Era, 1954-1999. Their album Automatic for the People (1992) is featured in the DMDB book The Top 100 Albums of All Time.
For a complete list of this act's DMDB honors, check out the DMDB Music Maker Encyclopedia entry.
---
Top 100 Songs
---
Dave's Music Database lists are determined by song's appearances on best-of lists as well as chart success, sales, radio airplay, streaming, and awards.
Songs which hit #1 on the following charts have been noted below: AA = adult alternative, AR = album rock, CN = Canadian pop chart, MR = modern rock
DMDB Top 1%:
1. Losing My Religion (1991) #1 AR,MR
DMDB Top 5%:
2. Everybody Hurts (1992)
3. Radio Free Europe (1981)
4. The One I Love (1987)
5. It's the End of the World As We Know It (And I Feel Fine) (1987)

DMDB Top 10%:
6. Man on the Moon (1992)
7. What's the Frequency, Kenneth? (1994) #1 MR
8. Drive (1992) #1 MR

DMDB Top 20%:
9. Shiny Happy People (1991)
10. Stand (1988) #1 MR

11. The Great Beyond (1999) #1 AA
12. Imitation of Life (2001) #1 AA
13. Fall on Me (1986)
14. E-Bow the Letter (1996)
15. Bang and Blame (1994) #1 MR,CN
16. Bittersweet Me (1996) #1 AA
17. So. Central Rain (I'm Sorry) (1984)
18. Orange Crush (1988) #1 AR,MR
19. Daysleeper (1998) #1 AA
20. Strange Currencies (1994)

21. The Sidewinder Sleeps Tonite (1992)
22. Nightswimming (1992)
23. Superman (1986)

Beyond the DMDB Top 20%:
24. Supernatural Superserious (2008) #1 AA
25. Crush with Eyeliner (1994)
26. Don't Go Back to Rockville (1984)
27. Moon River (1984)
28. Find the River (1992)
29. Pop Song 89 (1988)
30. Driver 8 (1985)

31. Bad Day (2003) #1 AA
32. Finest Worksong (1987)
33. Lotus (1998)
34. Can't Get There from Here (1985)
35. Talk About the Passion (1983)
36. Star 69 (1994)
37. Radio Song (w/ KRS-1, 1991)
38. Hollow Man (2008)
39. Leaving New York (2004) #1 AA
40. Electrolite (1996)

41. Ages of You (1985)
42. Pretty Persuasion (1984)
43. First We Take Manhattan (1991)
44. Gardening at Night (1982)
45. Perfect Circle (1983)
46. Maps and Legends (1985)
47. All the Way to Reno (You're Gonna Be a Star) (2001)
48. Turn You Inside Out (1988)
49. Tom's Diner (live, 1991)
50. Ignoreland (1992)

51. King of the Road (1984)
52. Low (1991)
53. #9 Dream (2007)
54. Texarkana (1991)
55. The Lion Sleeps Tonight (1992)
56. Near Wild Heaven (1991)
57. Wendell Gee (1985)
58. The Wake-Up Bomb (1996)
59. Animal (2003)
60. Aftermath (2004)

61. King of Birds (1987)
62. I'll Take the Rain (2001)
63. All I Have to Do Is Dream (1986)
64. Swan Swan H (1986)
65. At My Most Beautiful (1998)
66. Catapult (1983)
67. Tongue (1994)
68. Love Is All Around (1991)
69. Femme Fatale (1986)
70. Begin the Begin (1986)

71. We All Go Back to Where We Belong (2011)
72. Uberlin (2011)
73. Get Up (1988)
74. Photograph (w/ Natalie Merchant, 1993)
75. Mine Smell Like Honey (2011)
76. Pilgrimage (1983)
77. Discoverer (2011)
78. Electron Blue (2004)
79. Wanderlust (2004)
80. Fretless (1991)

81. Hope (1998)
82. Toys in the Attic (1986)
83. You Are the Everything (1988)
84. I Believe (1986)
85. Time After Time (Annelise) (1984)
86. How the West Was Won and Where It Got Us (1996)
87. World Leader Pretend (1988)
88. Country Feedback (1991)
89. These Days (1986)
90. Exhuming McCarthy (1987)

91. The King of Comedy (1994)
92. Cuyahoga (1986)
93. Fun Time (live, 1992)
94. Sitting Still (1983)
95. Carnival of Sorts (Box Cars) 1982)
96. There Shoe Goes Again (1983)
97. Bandwagon (1985)
98. Crazy (1985)
99. Rotary Ten (1986)
100. White Tornado (1986)

---
Awards:
---