First posted 7/21/2014; updated 3/27/2020.
Your Hit Parade, Biggest #1 Songs:

1935-1955
Your Hit Parade was a radio, and then television, program which counted down the top music hits from 1935 to 1955. The chart, however, did not focus on specific versions of songs which meant there could be multiple versions of a song and all were credited as #1.
This DMDB-exclusive list ranks the songs by most weeks at #1, but only features the highest-ranking version of each song. In addition, in the event of ties, the top-ranked DMDB songs are ranked highest and so on. All songs which peaked at #1 for 4 weeks or more are listed, making for a top 100+ songs of all-time according to Your Hit Parade: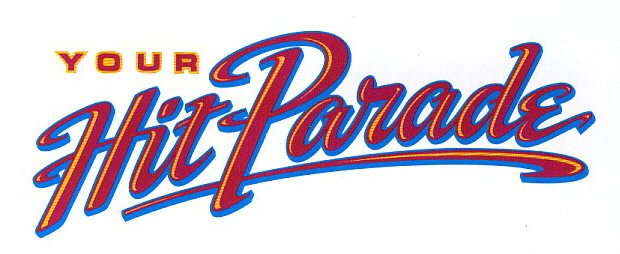 image from bsnpubs.com
---
Your Hit Parade – Top 100+
---
12 weeks:
1. Nat "King" Cole "Too Young" (1951)

11 weeks:
2. Tony Bennett "Because of You" (1951)

10 weeks:
3. Bing Crosby "White Christmas" (1942)
4. Dinah Shore "Buttons and Bows" (1948)
5. The Harmonicats "Peg O' My Heart" (1947)
6. Bing Crosby "I'll Be Seeing You" (1944)
7. Perry Como "Some Enchanted Evening" (1949)
8. Bing Crosby "Now Is the Hour" (1948)
9. Rosemary Clooney "Hey There" (1954)
10. Margaret Whiting "A Tree in the Meadow" (1948)
11. Perry Como "If (They Made Me a King)" (1951)
12. Jimmy Dorsey "I Hear a Rhapsody" (1941)

9 weeks:
13. Jo Stafford "You Belong to Me" (1952)
14. Dick Haymes "You'll Never Know" (1943)
15. Mitch Miller "The Yellow Rose of Texas" (1955)
16. Bill Hayes "The Ballad of Davy Crockett" (1955)
17. Gordon Jenkins "My Foolish Heart" (1950)
18. Pee Wee King "Slow Poke" (1951)
19. Glen Gray "My Heart Tells Me (Should I Believe My Heart?)" (1943)

8 weeks:
20. The Ink Spots "The Gypsy" (1946)
21. Nat "King" Cole "Mona Lisa" (1950)
22. Bing Crosby & the Andrews Sisters "Don't Fence Me In" (1944)
23. Percy Faith "Where Is Your Heart? (Song from 'Moulin Rouge')" (1953)
24. Blue Barron & His Orchestra "Cruising Down the River on a Sunday Afternoon" (1946)
25. The Chordettes "Mr. Sandman" (1954)
26. Frankie Carle "Oh! What It Seemed to Be" (1946)
27. Larry Clinton & Bea Wain "My Reverie" (1938)
28. Eddy Howard "To Each His Own" (1946)
29. Dinah Shore "I'll Walk Alone" (1944)

7 weeks:
30. Judy Garland "Over the Rainbow" (1939)
31. Tommy Dorsey with Frank Sinatra "I'll Never Smile Again" (1940)
32. Larry Clinton with Bea Wain "Deep Purple" (1939)
33. Perry Como "Till the End of Time" (1945)
34. Doris Day "Secret Love" (1954)
35. Tommy Dorsey "Once in a While" (1937)
36. Nat "King" Cole "I Love You for Sentimental Reasons" (1946)
37. Glenn Miller "The Woodpecker Song" (1940)
38. Perry Como "Wanted" (1954)
39. Freddy Martin "Symphony" (1945)
40. Eddy Howard "Sin (It's No Sin)" (1951)

41. Al Hibbler "Unchained Melody" (1955)
42. Georgia Gibbs "Kiss of Fire" (1952)
43. Bing Crosby "Dear Hearts and Gentle People" (1949)

6 weeks:
44. Fred Astaire "The Way You Look Tonight" (1936)
45. Patti Page "Tennessee Waltz" (1950)
46. Ella Fitzgerald "A-Tisket, A-Tasket" (1938)
47. Francis Craig with Bob Lamm "Near You" (1947)
48. Nat "King" Cole "Nature Boy" (1948)
49. Jimmy Dorsey "Amapola (Pretty Little Poppy)" (1941)
50. Bing Crosby "Sunday, Monday or Always" (1943)

51. Kitty Kallen "Little Things Mean a Lot" (1954)
52. Sammy Kaye "Daddy" (1941)
53. Tommy Dorsey with Frank Sinatra "There Are Such Things" (1942)
54. Kay Starr "Wheel of Fortune" (1952)
55. Helen Forrest with Dick Haymes "Long Ago and Far Away" (1944)
56. Vic Damon "You're Breaking My Heart" (1949)
57. The Pied Pipers "Dream (When You're Feeling Blue)" (1945)
58. Red Foley "Chattanoogie Shoe Shine Boy" (1950)
59. Frankie Masters "Scatter-Brain" (1939)
60. Shep Fields with Charles Chester "Did I Remember?" (1936)

61. Guy & Lebert Lombardo "It Looks Like Rain in Cherry Blossom Lane" (1937)
62. Guy Lombardo "Boo Hoo" (1937)
63. Al Jolson "The Anniversary Song" (1947)
64. Horace Heidt with Lysbeth Hughes & Larry Cotton "Ti-Pi-Tin" (1938)
65. Kay Kyser "There'll Be Bluebirds Over the Cliffs of Dover" (1941)
66. Kay Kyser & Michael Douglas "Ole Buttermilk Sky" (1946)
67. Tony Bennett "Stranger in Paradise" (1953)
68. Billy Vaughn "Melody of Love" (1954)

5 weeks:
69. Fred Astaire with Leo Reisman's Orchestra "Cheek to Cheek" (1935)
70. Cliff Edwards "When You Wish Upon a Star" (1940)
71. Tennessee Ernie Ford "Sixteen Tons" (1955)
72. Johnnie Ray & the Four Lads "Cry" (1951)
73. Les Paul & Mary Ford "Vaya Con Dios (May God Be with You)" (1953)
74. Kay Kyser with Harry Babbitt & Julie Conway "Jingle, Jangle, Jingle" (1942)
75. Al Donahue with Paula Kelly "Jeepers Creepers" (1938)
76. Guy & Carmen Lombardo "September in the Rain" (1937)
77. Bill Snyder "Bewitched, Bothered, & Bewildered" (1950)
78. Shep Fields with Hal Derwin "South of the Border (Down Mexico Way)" (1939)
79. Judy Garland "The Trolley Song" (1944)
80. Glenn Miller "Don't Sit Under the Apple Tree with Anyone Else But Me" (1942)

81. Tommy Dorsey with Cliff Weston "Alone" (1936)
82. Bing Crosby with the Les Paul Trio "It's Been a Long, Long Time" (1945)
83. Perry Como & the Ramblers "Don't Let the Stars Get in Your Eyes" (1952)
84. Alvino Rey with Bill Schallen & Skeets Herfurt "Deep in the Heart of Texas" (1942)
85. Jimmy Dorsey with Bob Eberly "Is It True What They Say About Dixie" (1936)
86. Glenn Miller "You and I" (1941)
87. Dorsey Brothers with Bob Eberly "Chasing Shadows" (1935)
88. Glenn Miller with Ray Eberle "Careless" (1940)
89. Joni James "Why Don't You Believe Me" (1952)
90. Frank Chacksfield "Ebb Tide" (1953)

4 weeks:
91. Bing Crosby "Pennies from Heaven" (1936)
92. Les Brown with Doris Day "Sentimental Journey" (1945)
93. Dooley Wilson "As Time Goes By" (1942)
94. The Weavers "Goodnight Irene" (1950)
95. Harry James with Helen Forest "I've Heard That Song Before" (1943)
96. Vaughn Monroe "Ballerina" (1947)
97. Johnny Mercer with the Pied Pipers "Ac-Cent-Tchu-Ate the Positive" (1945)
98. Shep Fields with Bob Goday "That Old Feeling" (1937)
99. Guy & Carmen Lombardo "Red Sails in the Sunset" (1935)
100. Benny Goodman with Helen Ward "Goody Goody" (1936)

101. Benny Goodman with Martha Tilton "And the Angels Sing" (1939)
102. Tommy Dorsey with Edythe Wright "Music, Maestro, Please" (1938)
103. Frank Sinatra "Five Minutes More" (1946)
104. Bing Crosby "I've Got a Pocketful of Dreams" (1938)
105. Red Norvo with Mildred Bailey "Says My Heart" (1938)
106. Horace Heidt with Larry Cotton, Donna Wood, & Don Juans "I Don't Want to Set the World on Fire" (1941)
107. Glenn Miller with Ray Eberle "Stairway to the Stars" (1939)
108. Sammy Kaye with Tommy Ryan "Love Walked In" (1938)
109. Ray Noble with Buddy Clark "Linda" 1947)
110. Glenn Miller with Ray Eberle "Wishing Will Make It So" (1939)

111. Bob Crosby with Kay Weber "Whispers in the Dark" (1937)
112. Teresa Brewer "Till I Waltz Again with You" (1952)
113. Johnny Mercer with Jo Stafford & the Pied Pipers "Candy" (1945)
114. Glenn Miller with Ray Eberle "Moon Love" (1939)
115. The Ames Brothers "You, You, You" (1953)
116. The Four Aces "Three Coins in the Fountain" (1954)
117. Frank Sinatra "They Say It's Wonderful" (1946)
118. Tony Martin "Tonight We Love (Concerto No. 1, B Flat Minor)" (1941)
119. Kay Kyser with Harry Babbitt "He Wears a Pair of Silver Wings" (1942)
120. Vaughn Monroe "My Devotion" (1942)

121. Guy & Carmen Lombardo "Lost" (1936)
122. Vaughn Monroe "There I Go" (1940)
123. Benny Goodman with Ella Fitzgerald "Goodnight My Love" (1937)

---
Resources and Related Links:
Your Hit Parade (database of every song to hit the chart from 1935-55. Includes peak position, weeks at #1, and weeks total on the chart)