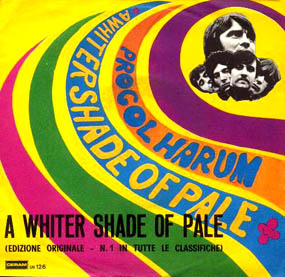 With lyrics about vestal virgins and skipping the light fandango, this song has become a "favorite for university theses." KL "The song nobody understands" BBC managed to simultaneously sound literary with its allusions to Chaucer while also capturing "what most people thought was going on at these LSD parties." CR While mostly sounding like a drunk trying to hit on a girl at a party, the words quite possibly mean nothing at all. HL "Even the writer Keith Reid couldn't explain it" BBC saying it was just "'a lot of abstract phrases.'" CR "Ultimately, it's probably no more or less than a love song packed full of intentionally bewildered nautical metaphors." TB
A Whiter Shade of Pale
The song resembled nothing else on 1967 radio, RS500 which helped it to top the charts in several countries and has made it a popular cover song, with some 800 known recordings. WK It has also become the go-to song when television and films, such as The Big Chill, are looking to capture the spirit of 1960s counterculture. WK Additionally, the song birthed a fusion of classical and rock music, which gave rise to groups like the Moody Blues. RS500 While commonly believed to be paraphrased or even directly copied from Johann Sebastian Bach, WK the song is merely inspired by his "Sleeper's Awake" and "Air on a G String" works. WK
Astonishingly, this is the only track recorded by the band's original lineup RS500 with writing credits originally given only to Brooker and Reid. However, organist Matthew Fisher won a 2006 court case which was supposed to give him a co-writing credit as well. With the case upheld on appeals, his royalties remain under dispute. WK
---
Awards:
---
Resources and Related Links:
BBC BBC Radio 2 (2004). "Sold on Song Top 100".
CR Toby Creswell (2005). 1001 Songs: The Great Songs of All Time. Thunder's Mouth Press: New York, NY. Page 806.
HL Michael Heatley and Spencer Leigh. (1998). Behind the Song: The Stories of 100 Great Pop & Rock Classics. London, England: Blandford Books. Page 94.
KL Jon Kutner/Spencer Leigh (2005). 1000 UK Number One Hits: The Stories Behind Every Number One Single Since 1952. London, Great Britain: Omnibus Press. Page 131.
RS500 Rolling Stone (12/04). "The 500 Greatest Songs of All Time".
TB Thunder Bay Press (2006). Singles: Six Decades of Hot Hits & Classic Cuts. Outline Press Ltd.: San Diego, CA. Page 92.
---