Script for a Jester's Tear

Marillion
Writer(s): Fish, Steve Rothery, Pete Trewavas, Mick Pointer, Mark Kelly (see lyrics here)
---
Released: March 14, 1983 (album cut)
---
First Charted: --
---
Peak: -1 DF (Click for codes to singles charts.)
---
Sales (in millions): --
---
Airplay/Streaming (in millions): -- radio, 4.2 video, -- streaming
Awards:
Click on award for more details.
About the Song:
"Script for a Jester's Tear" is the lead track from Marillion's debut album of the same name. The song was the newest amongst the batch of songs which otherwise had been around for a year or more. Lead singer Derek Dick, better known as Fish, said the song was inspired by his turbulent love life. "I was getting involved in my first serious – and I mean really serious – relationship and all the questions and issues that brought with it. There was a lot of introspection going on in the lyrics. If I look back, it was put across in a very naïve way." DE
Of the "poignant title track," JF AllMusic.com's John Franck said, "Fish leads his band of merry men on a brokenhearted tour de force that culminates with the singer decrying that 'the game is over.'" JF The song starts "with a piano-led lamentation that then transitioned into a playful Medieval-sttyled mid-seciton that conjured an image of a bustling king's court. The mood then turned gloomy and dark with marked flourishes of distorted guitar along side lush organ, then bleeding into an epilogue of anthemic guitar ad-lib as well as glassy chimes and bells." TC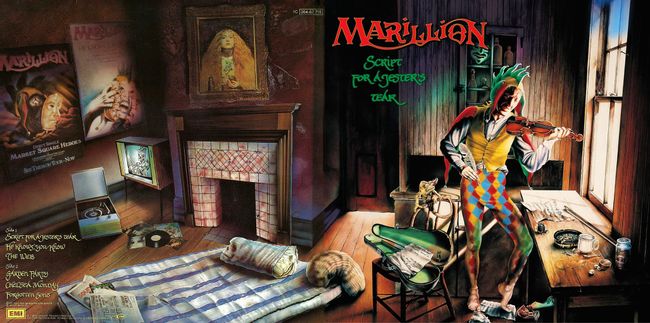 The title song not only served as the album's focal point, but the inspiration for the accompanying artwork. The artist, Mark Wilkinson, said Fish wanted to portray a struggling writer who looked like a jester. "I then…set him in a bedsit surrounded by lots of objects to portray that sort of existence," MD such as sheet music, records on the floor, an ashtray, an empty coffee cup, and crumpled paper.
While it was the first song on their first album, "Script" wasn't the world's first exposure to Marillion. The neo-progressive rock group formed in 1979 in Aylesbury, Buckinhamshire, England. By the time of their first officially released recordings in 1982, only drummer Mick Pointer and guitarist Steve Rothery remained from the original lineup. Fish had joined as the leader singer and lyricist, Mark Kelly as keyboardist, and Pete Trewavas as bassist. This lineup released the October 1982 single "Market Square Heroes," which included "Three Boats Down from the Candy" and the 17-minute epic "Grendel;" all three appeared on the 25th anniversary reissue of the Script album. Then, in support of the debut album, two singles were released – "He Knows You Know" in January 1983 and "Garden Party" in June 1983.
---
Resources:
---
Related Links:
---
First posted 3/13/2020; last updated 8/5/2022.