---
Check out these books by Dave Whitaker available through DavesMusicDatabase.com or Amazon.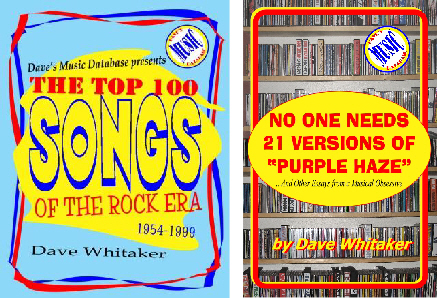 Also check the Dave's Music Database Facebook page for daily music-related posts.
---
"Adele's 2009 debut album,
19
, was a Grammy-winning smash hit that revealed the British singer/songwriter's knack for bittersweet soul and folk-infused love songs that brought to mind an infectious mix of Dusty Springfield and Terry Callier. The album earned her a ton of fans, and interest was high for the inevitable follow-up."
MC
"In many ways, her sophomore album, the similarly age-appropriate-titled 21, is a continuation of the sounds and themes Adele was working with on 19. She is still the bluesy pop diva with a singer/songwriter's soul and seemingly bottomless capacity for heartbreak." MC "She is able to avoid the pitfalls of sappiness and triteness that can easily come with the lovelorn, and instead comes across as mature and headstrong, though maybe a little lost." NF "The best thing the album does is to showcase Adele's titanic vocal ability, which – more than a few times on 21 – is simply spine-tingling." MC

The album was primarily produced by Rick Rubin in Malibu, California, and Paul Epworth in London. WK Adele described the album as "different from 19; it's about the same things but in a different light." WK BBC Music called the album "simply stunning" and "genuinely brilliant" WK while the Herald Sun said that the album is "further evidence that Adele is something special." WK Will Dean of The Guardian called it "a progressive, grown-up second collection" WK while Bernadette McNulty of The Telegraph said with her "voice that goes straight to the heart" "she out-divas them all." WK

"Adele immediately injects us with the propulsive gospel fever-blues anthem Rolling in the Deep," MC the song which the DMDB named song of the year. That song went to #1 in the US and #2 in the UK. The follow-up, Someone Like You, hit the top on both sides of the ocean. When it hit, "Deep" was still in the top 5 and over on the album chart, 21 was at #1 for a fourth week while the 19 album recharted in the top 5. It gave Adele the rare feat of being the first living artist since the Beatles in 1964 to have two top 5 hits on both the singles and albums charts in the U.K.

"Pop music should take more cues from Adele and this album, and less cues from other soul-wannabes/more-dancehall-hits like Duffy or Amy Winehouse. Adele should be the future of the radio, and in the near future she will be." NF


---
Awards:
---
Resources and Related Links:
---