Originally posted August 14, 2011; updated August 14, 2013.
Rod Stewart
---
This content is taken from the The Top 100 Songs of the Rock Era, 1954-1999, available at DavesMusicDatabase.com as a standard book or ebook!
---
Rod Stewart had already found success fronting the Jeff Beck Group and the Faces in the late 1960s when his debut solo single, "Maggie May", hit the charts. The song became the definitive song of his lengthy and highly successful career.

The song barely made it on the Every Picture Tells a Story album and then was relegated to the B-side of "Reason to Believe." When DJ's flipped it over, they discovered what Stewart has confirmed is, more or less, the true story of his losing his virginity as a teen to an older woman. WK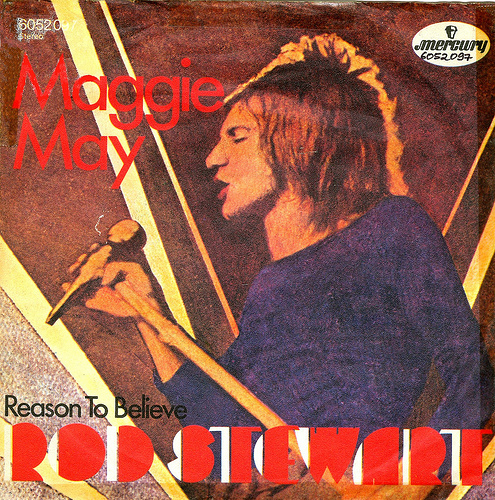 The song, however, has not become iconic because of salaciousness, but sincerity and great storytelling. It works like a novella with "colorful characters, surprising situations, and unforgettable moments."
AMG
Musically, the song offers Stewart's "usual fine, raspy singing"
TB
and "relentless drum-bashing"
RS500
from Mickey Waller, which critic Greil Marcus amusingly proclaimed deserving of a Nobel Prize for physics.
MA
"Maggie May" is featured in the
Dave's Music Database
book
The Top 100 Songs of the Rock Era, 1954-1999
and the
Rock and Roll Hall of Fame
's
Top 500 Songs That Shaped Rock and Roll
. It also makes best-of lists from
Virgin Radio
as well as
NME
and
Rolling Stone
magazines.
---
Resources and Related Links:
AMG All Music Guide

CR Toby Creswell. (2005). 1001 Songs: The Great Songs of All Time. Thunder's Mouth Press: New York, NY. Page 856.

MA Dave Marsh. (1989). The Heart of Rock and Soul: The 1001 Greatest Singles Ever Made. New York, NY; New American Library. Page 182.

RS500 Rolling Stone's "The 500 Greatest Songs of All Time" (12/04).

TB Thunder Bay Press. (2006). Singles: Six Decades of Hot Hits & Classic Cuts. Outline Press Ltd.: San Diego, CA. Page 129.

---