image from musicaseglevint.blogspot.com
Led Zeppelin IV Led Zeppelin
---

Released: November 8, 1971

---

Charted: November 27, 1971

---

Peak: 2 US, 12 UK, 13 CN, 2 AU

---

Sales (in millions): 23.0 US, 1.8 UK, 44.5 world (includes US and UK)

---

Genre: classic rock/metal

---
Tracks:
Song Title (Writers) [time] (date of single release, chart peaks) Click for codes to singles charts.
Black Dog (Page, Plant, Jones) [4:54] (12/25/71, 15 US, 9 CB, 10 HR, 1 CL, 11 CN, 9 AU)
Rock and Roll (Page, Plant, Jones Bonham) [3:40] (3/18/72, 47 US, 42 CB, 38 HR, 1 CL, 38 CN, 51 AU)
The Battle of Evermore (Page, Plant) [5:51] (9 CL)
Stairway to Heaven (Page, Plant) [8:02] (11/24/07, 1 CL, 37 UK)
Misty Mountain Hop (Page, Plant, Jones) [4:38] (2 CL)
Four Sticks (Page, Plant) [4:44] (13 CL)
Going to California (Page, Plant) [3:31] (1 CL)
When the Levee Breaks (Page, Plant, Jones, Bonham, Memphis Minnie) [7:07] (3 CL)
---
Total Running Time: 42:34
---
The Players:
Robert Plant (vocals, harmonica)
Jimmy Page (guitar)
John Paul Jones (bass, keyboards)
John Bonham (drums)
Spotify Podcast:
Check out Dave's Music Database podcast: The 50th Anniversary of Led Zeppelin IV. It premieres November 9, 2021 at 7pm CST. Tune in every Tuesday at 7pm for a new episode based on the lists at Dave's Music Database.

Rating:
4.691 out of 5.00 (average of 28 ratings)
---
Quotable: "This is the definitive…heavy metal album." – Robert Christgau
---
Awards: (Click on award to learn more).
About the Album:
In his book Hammer of the Gods, author Stephen Davis called Led Zeppelin "a mystery cult with several million initiates." ED-7 "Several million" may be a bit modest, considering this album – which author Erik Davis called "the Himalaya of heavy rock" ED-9– soared past the 40 million mark in worldwide sales. Led Zeppelin IV has become the band's biggest seller by far (Led Zeppelin II comes in next with 24 million in sales) and most celebrated album (one of the top 10 albums of all time).
While "the first four Led Zeppelin albums are all air-curdling classics, monolithic slabs of sleazy sweat-riffs and heavy gravity, [this] is their most staggeringly ambitious." DK It "not only [defined] Led Zeppelin, but the sound and style of '70s hard rock." AMG It "turned them from mere superstars into giant behemoths of the rock world," AZ1 "an important stylistic template for everything from heavy metal to grunge." BN
IV "has a grand sense of drama…deepened by [lead singer Robert] Plant's burgeoning obsession with mythology, religion, and the occult." AMG The album dipped into an array of styles, including heavy metal, folk, and blues. "Out of eight cuts, there isn't one that steps on another's toes, that tries to do too much all at once." RS'71 On IV Led Zeppelin "achieved the finest balance between bucolic strums and ear-smashing bombast" BN with "Plant's banshee wails and Jimmy Page's frenetic guitar playing" AZ1 on "bone-crushing, bluesy riff-slinging" AZ2 rockers like "Black Dog," "Rock and Roll," and "Misty Mountain Hop." In contrast, there are the traditional sounds of "mystical, rural, English folk," AMG such as in "Going to California" or "The Battle of Evermore."
The Title
The British heavy metal foursome had become big enough that, in an effort to downplay the hype from previous releases, CRS they opted to release their fourth album with no title or even an indication who the band was. Any record company hand-wringing over the seemingly commercially-suicidal move was for naught. Fans had no difficulty finding the album; "Cashbox noted that this 'un was a gold disc on its first day of release." RS'71
The album has come to most commonly be called Led Zeppelin IV, but also the Runes album, the Four Symbols, or Zoso because of the ancient-looking runes on the inner sleeve that looked like the letters z-o-s-o. The occult symbols on the spine of the record were to represent each of the members' mystical identities. TL Here's a more detailed explanation of each of the symbols.

The Cover
The album cover features a picture "famed and nailed to a crumbling wall papered with a drab floral pattern." ED-27 The image is of "a grizzled geezer…bent over a rough cane with the weight of the wood he lugs." ED-26 Page, who found the print in a junk shop in Reading, explained, "The old man on the cover carrying the wood is in harmony with nature. He takes from nature and gives back to the land. It's a natural cycle." ED-27
Recording of the Album
The album was "rehearsed and partially recorded in Headley Grange, three stories of stone gloom in the middle of nowhere." ED-73 It was built in 1795 to house "the poor and infim, and was sacked by disgruntled workingmen in 1830." ED-73 In 1870, it became a private home. A century later, "bands like Fleetwood Mac, Genesis, and the Pretty Things started renting the place out, attraced by the place's isolation and unique acoustics." ED-73
Led Zeppelin came in December 1970 to work on their fourth album and "found the place cold and damp and rather the worse for wear…Plant and Bonham didn't like the place and engineer Andy Johns reportedly thought it was haunted. Page…dug it. 'It was a pretty austere place, but I loved the atmosphere.'" ED-73
To capture that atmosphere, Page and Johns "invaded every nook and cranny…with their mics and amplifiers." ED-73 For example, on "When the Levee Breaks," they ran mics ten and twenty feet overhead from the large open stone stairwell where Bonham played his drums. As a result, "what you hear is not just the drums, but the drums reacing to the acoustic space of the room." ED-74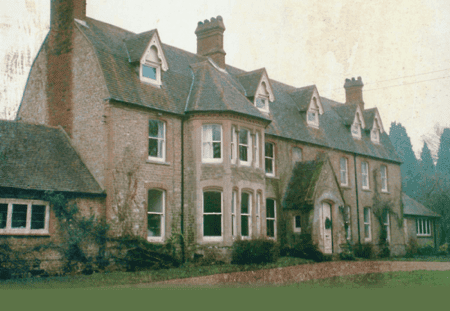 Headley Grange, 1970
"Black Dog"
"The album explodes…with the lusty Black Dog, a ubiquitous favorite on classic rock stations." RV It is an "endlessly inventive [and] complex, multi-layered" AMG "mutant blues" ED-77 song. With a "fast-and-furious" AZ2 "riff and three quarters…Page is the man here." AD With "tricky time changes – a Zeppelin trademark" AZ2 and "one hell of a rhythm section," AD the song is "unpredictable." DBW
This is "the sound of frustrated lust bending the singer out of shape." ED-77 For his part, Plant delivers an "utter classic…vocal performance" AD "boasting about how he's 'gonna make you sweat, gonna make you groove,'" BN "a sentiment that set the tone for the rest of Zeppelin's career." RV
It was Jones who initiated the song. He had a song stuck in his head from Muddy Waters' 1968 psychedelic blues album Electric Mud. Page then "turned it into a chain-saw ballet on his Les Paul over Bonzo's stealth groove, with snarling multitracked rhythm guitar tearing up the midsection." RS'19 The tension of the song "emerges from the disjunction between the gnarly riff and Bonham's almost defiant refusal to budge from the floor." ED-82
Some theorized the title had some Satanic meaning. Author Erik Davis theorizes that "black dog" could be a reference to "hellhounds." ED-85 The band, however, contends they simply named the song after a black Labrador retriever which was wandering the grounds at Headley Grange.
"Rock and Roll"
Led Zeppelin IV is full of "touchstones to generations of head-bangers" BN like the "muscular, traditionalist" AMG Rock and Roll, which "is as straightforward as the title implies." DBW Plant is "musing vocally on how 'It's been a long, lonely lonely time' since last he rock & rolled, the rhythm section soaring underneath." RS'71 He longs "to return to the time when he 'did the stroll,' which was the name of a corny line dance made famous on American Bandstand." ED-91
The song also allows Page to "indulge in the rockabilly music etched onto the folds of his brain." ED-88 He said the song grew out of a spontaneous jam session. Bonham started playing Little Richard's "Keep A-Knockin,'" which became "the now-famous snare and open-high-hat drum intro." RS'19
"This sonuvabitch moves." RS'71 Coupled with "Black Dog," this provide an "opening sucker-punch [that] is ludicrously satisfying, a pair of blues mutants all pumped up with insane levels of testosterone." DK
"The Battle of Evermore"
The transition from "Rock and Roll" to "the eerie folk ballad The Battle of Evermore" AMG is like "stumbling out of a rockabilly night at a biker bar and finding yourself in a sylvan glade with [hobbits] Frodo and Sam, hushed and reverent as a troop of high elves pass by on their way to the western lands." ED-94
"Plant's mysticism comes to a head" AMG and Page tries his hand at mandolin – an instrument he'd never played before. RS'19 They "both loved acoustic music; before meeting the singer, Page wasn't sure whether he wanted to form a hard rock group or an Anglo-folk combo." ED-95 "Evermore" is one of Led Zeppelin's "most arresting displays of their love of folk music." RS'19
They enlisted Sandy Denny of Fairport Convention to duet with Plant. BN She "sings perfectly, not trying to be the main event, but still really aiding the haunting beauty of the song." AD "Page's hallucinogenic 12-string is the perfect back-drop for her sweetly dramatic voice." DK
This was also Led Zeppelin's "fullest evocation of The Lord of the Rings, with allusions to wraiths and mountainside warfare." RS'19
"Stairway to Heaven"
"Everything…ultimately took a back seat to the album's (and, ultimately, the band's) magnum opus--the expertly constructed and deftly executed classic, Stairway to Heaven," AZ1 "which was never released as a single and thus never appeared on the Billboard charts." TL "Of all Zeppelin's songs [this] is the most famous, and not unjustly." AMG When it comes to rock radio, it "is generally considered…the most requested and most-played song of all time." ED-105 As Erik Davis says, "We are all very sick of the thing, but in some primordial way it is still number one." ED-105 In fact, it is the One, the quintessence, the closest AOR will ever get you to the absolute." ED-105
The song was reportedly intended to be a "suitably epic song that would rival the reception and glory of 'Dazed and Confused' during live performances." AD "From its familiar opening chord progression, the song steadily grows in intensity," HE "gradually transforming itself from a folkish ballad into a rocking anthem." HE It "build[s] from a simple fingerpicked acoustic guitar to a storming torrent of guitar riffs" AMG and "an explosive, finely-chiseled blues-rock solo." BN The lyrics reflected the band's "growing interest in metaphysical imagery" HE "in what has been interpreted as a song of hope, spiritual fulfillment and drug use. Whatever it means, it's a work of brilliance that finally earned Led Zeppelin the recognition it deservered all along." RV "Stairway to Heaven" "encapsulates the entire album in one song." AMG
"Misty Mountain Hop"
"How can a song about flower people and Tolkien be so crushingly funky?" RS'19 "the pounding hippie satire Misty Mountain Hop" AMG showed that "Zep were more than just heavy." WR "Jones' humid electric piano locks in with Page's headlong riff and Bonham's slippery avalanche of a groove" RS'19 on this slice of "slanted and enchanted acid-metal." WR "Plant evokes a fracas between cops and hippies that makes him want to escape to the fantastical peaks alluded to in the title. Plant later said the lyrics were about 'being caught in the park with wrong stuff in your cigarette papers.'" RS'19
"Four Sticks"
"The rolling, apocalyptic Four Sticks" DK is "the oddest, most exotic, and by far the least pleasant song" ED-137 on the album. It "is a bit of avant-garde experimentalism tucked inside a vaguely psychedelic riff-rocker." ED-138 It is "another riff monster" AD with "a locked groove of voodoo-boogie." WR
"Page built this exotic song around a series of needle-stick guitar salvos, but because the meter shifts from 5/8 to 6/8, Zeppelin found it difficult to record and almost ditched it. Then Bonham came into the studio after spending some time in a pub and nailed it, holding two drumsticks in each hand (hence the song's title)." RS'19 Bonzo "earns his nickname with his awe-inspiring performance." RV
"Going to California"
The "delicate Going to California" AD has been called "the best thing they ever played at a pace below 'manic.'" TL Indeed, Rolling Stone called this "Zeppelin's prettiest song" RS'19 and All Music Guide said it was the "group's best folk song." AMG
"Page's gentle acoustic fingerpicking weaves together with Jones' mandolin, while Plant tries on some country twang. Rumored to be written about Joni Mitchell, it could just as easily be about any California girl 'with love in her eyes and flowers in her hair.' And for Led Zeppelin in 1971, there were many." RS'19 Plant also seems to be "mocking his own soft-focus sentiment," ED-150 "trawling for a figiment, for an idealized figure who has 'never been born.'" ED-151
"When the Levee Breaks"
"The foreboding" AZ1 and "impossibly heavy" DK When the Levee Breaks "is Zeppelin's definitive blues song on record." ED-157 This "unbeaten classic" QM with its "the slow-mo boogie avalanche" WR and "one of the most ceaseless riffs of any Zeppelin song" ED-163 is "the one song truly equal to 'Stairway.' AMG With "surprising, almost poisonously bashing drums, vicious slide guitars and electronically affected harmonicas," GS this "apocalyptic slice of urban blues…is as forceful and frightening as Zeppelin ever got, and its seismic rhythms and layered dynamics illustrate why none of their imitators could ever equal them." AMG
The song was first recorded in 1929 by Memphis Minnie, a blues singer, songwriter, and guitarist. The song was about the Great Mississippi Flood of 1927, a catastrophic natural disaster "that marks blues consciousness the way the sinking of the Titanic marks American consciousness." ED-164 Led Zeppelin covered blues songs throughout their career, but didn't always give proper credit. Here, however, they listed Memphis Minnie as one of the songwriters.
"Bonzo's drums, recorded in a stairwell at Headley Grange, are so ginormous they became a classic sample (most famously opening the Beastie Boys' Licensed to Ill). 'The acoustics of the stairwell happened to be so balanced we didn't even need to mic the kick drum,' Page recalled." RS'19
Conclusion
"Led Zeppelin made other fine albums, but this one remains the core of their canon;" BN it is "the definitive Led Zeppelin recording." HE "Led Zep have had a lot of imitators…but it takes cuts like this to show that most of them have only picked up the style, lacking any real knowledge of the meat underneath." RS'71 In fact, "this is the definitive…heavy metal album." RC
---
Notes:
A 2014 deluxe edition included a second disc of alternate mixes.
Review Sources:
DMDB Encyclopedia entry for Led Zeppelin
AMG All Music Guide review by Stephen Thomas Erlewine
AZ1 Amazon.com review by Billy Altman
AZ2 Amazon.com review by Don Waller
BN Barnes & Noble review by John Milward
ED Erik Davis (2007). 33 1/3: Led Zeppelin IV. Contiuum International Publishing Group Ltd.: New York, NY.
HE Half.Ebay.com. Review no longer online.
CRS Tim Morse (1998). Classic Rock Stories: The Stories Behind the Greatest Rock Songs of All Time. New York, NY: St. Martin's Griffin.
QM Q magazine review by Andrew Collins
RV The Review (October – November 2001; Vol. 128: numbers 12-23). "100 Greatest Albums of All Time" by Clarke Speicher
RS'71 Rolling Stone review by Lenny Kaye (print issue #98: 12/23/71).
RS'19 Rolling Stone (1/13/2019). "The 40 Greatest Led Zeppelin Songs of All Time"
DK Sunday Herald (3/01). By David Keenan.
TL Time Magazine's All-TIME 100 Albums by Josh Tyrangiel and Alan Light (11/13/06).
DBW David Bertrand Wilson, Wilson & Alroy's Record Reviews
WR The Wire "The 100 Most Important Records Ever Made" (June 1992: #100).
---
Other Related DMDB Pages:
---
First posted 11/8/2012; last updated 11/9/2021.