First posted Nov. 20, 2011.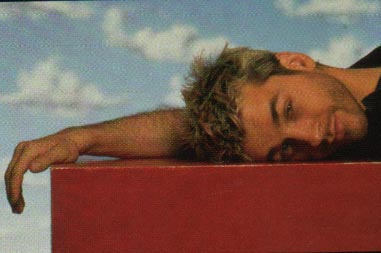 While my posts typically focus on songs, albums, and events which significantly impacted the music world, this entry focuses on a little-known performer who ranks as one of my favorite singers. "Sometimes genius comes and goes without much notice or fanfare. Such is the case with the late Kevin Gilbert,"
P
"a musical prodigy"
JS
who "colleagues invariably called…'the most talented musician I ever met.'"
JS
He "spent several years on the edge of stardom [but] could never capitalize on his talents."
DE
He "might be the most talented American musician to be involved with progressive rock, with the possible exception of Frank Zappa. Although all of his work contains a very strong pop element, there's usually a lot of prog underneath it."
DN
NRG/Giraffe (1984-89):
In the mid-'80s, while still in high school, Gilbert released his first album,
No Reasons Given
, with the group NRG. That album is
free to download at KevinGilbert.com
. In the late '80s, Gilbert spent a year as a film student at UCLA and took a gig as Eddie Money's touring keyboardist before launching the group Giraffe. Between the release of their two albums, the band entered and won a national unsigned-bands competition.
Giraffe "Because of You"
Toy Matinee (1989-91):
In the competition, Gilbert caught the attention of Patrick Leonard, a producer who had worked with Madonna and others. Leonard suggested a collaboration and the group Toy Matinee was born. "The lone Toy Matinee album was released in 1990 but effectively shelved by the record company."
WK
"Gilbert assembled a new backing band [including an unknown Sheryl Crow as his keyboardist] to promote the album, eventually getting two [moderately] successful singles released:
The Ballad of Jenny Ledge
and
Last Plane Out
."
WK
Toy Matinee "Last Plane Out"
After the official Toy Matinee group imploded, Gilbert put together a touring group to perform the songs. He and Marc Bonilla did radio interviews and performances, such as this one for
KTYD
in which they played cover songs and showcased their knack for wittiness and fun.
He also did session work for established pop musicians, including Madonna and Michael Jackson. He also produced Keith Emerson's album
Changing States
. Throughout the '90s, Gilbert worked as "a producer, film scorer, and session musician."
DN
Tuesday Night Music Club (1992-95):
In 1992, Gilbert and producer Bill Bottrell, who'd helmed the Toy Matinee project, assembled a loose collective of musicians dubbed the Tuesday Night Music Club. They gathered weekly at Bottrell's studio to hang out and make music. Gilbert brought Crow, with whom he'd struck up a relationship, and the gang carved out what would become her multi-platinum selling debut named after the crew. Gilbert had co-writing credit on many of the the song's albums, including 1995 Grammy Record of the Year
All I Wanna Do
. "Crow later acrimoniously split with most of the musicians in the collective…[The rest of the TNMC'ers] worked with singer-songwriters Susanna Hoffs and Linda Perry on two more albums."
WK
Sheryl Crow "All I Wanna Do"
Thud/Tribute Work (1994-96):
Gilbert worked tirelessly to open his own studio and, in 1995, released a solo album called
Thud
.
Kevin Gilbert "Joytown"
He also contributed songs to tribute albums of some of his favorite progressive rock artists as well – Genesis, Yes, and Gentle Giant. In 1994, Gilbert even performed Genesis' rock-opera masterpiece
The Lamb Lies Down on Broadway
with a newly assembled version of Giraffe. Gilbert's manager, Jon Rubin, "sent a copy of the recording to Tony Banks and Mike Rutherford who were searching for a new Genesis front man to replace Phil Collins."
WK
Gilbert was supposedly set "to fly to London to audition for [the] vacated slot as Genesis' lead singer"
DE
when tragedy struck.
Giraffe "Back in N.Y.C."
Kevin's Death (1996):
On May 17, 1996, Rubin found Gilbert dead at his home just outside of Los Angeles. "The coroner listed the cause of death as 'asphyxia due to partial suspension hanging.' Friends and MTV more explicitly reported the cause as autoerotic asphyxiation."
MA
The Los Angeles County coroners' office reports four or five such deaths a year.
One can only imagine the possibilities of what Kevin Gilbert could have continued to contribute to the music world. Rubin, who once fronted '70s pop band the Rubinoos and is now the executor of Gilbert's estate, says, KG's "death was tragic, but his life was not a tragedy." RS As friend Tim Van Den Berg said, "I would like to believe that he is now blessing another world with his beautiful music." TV

Posthumous Releases (2000-2009): At the time of his death, KG was working on a second solo album, the rock opera The Shaming of the True (which you can listen to here. It "was largely incomplete, but Gilbert's estate asked Spock's Beard drummer Nick D'Virgilio to complete it based on the extant tapes and Gilbert's notes. A live album (composed mostly of songs from Thud), and a compilation of Giraffe material that Gilbert had been working on and an 'industrial' album with Gilbert's latest group, Kaviar have also been released in the years since his death." WK


Kevin Gilbert "Suite Fugue (Dance of the A&R Men)" (audio only)
The next seven years saw no activity, but three archival projects were released simultaneously in 2009 – the CD/DVD rerelease of
Live at the Troubadour
, now called
Welcome to Joytown: Thud Live at the Troubadour
, and the archival collections
Nuts
and
Bolts
collecting previously unreleased works from throughout Gilbert's career. In 2010, Kevin Gilbert's widely bootlegged 1991
Live at the Roxy
was officially released as
Toy Matinee Live
. Check out all these albums at
KevinGilbert.com
.
Kevin Gilbert "Tired Old Man"
I have said that if I were a musician, Kevin Gilbert best represents the kind of music I would want to make. His lyrics go beyond clichéd love songs and are infused with witticism. His musicianship showcase the tireless hours he spent in the studio perfecting his craft. It was a shame to lose such an astonishing talent at 29. His work, however, lives on and for those uninitiated in his music, I hope this blog leads you down the same musical journey where KG's music has taken me.
---
Resources and Related Links:
---