Updated 1/21/2019.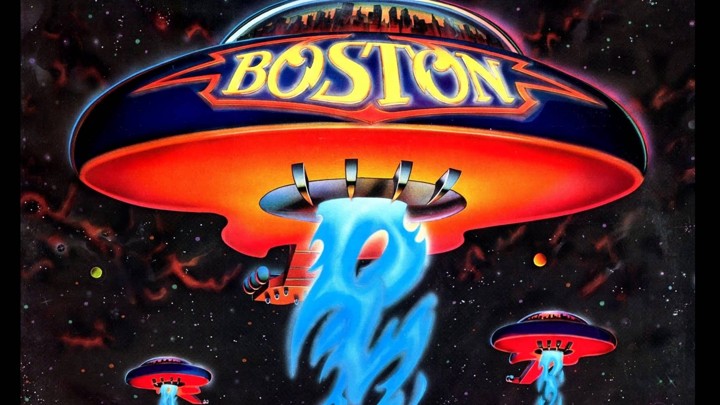 image from theatlantic.com
More Than a Feeling
Boston
Writer(s): Tom Scholz (see lyrics here)
---
Released: Sept. 1976
---
First Charted: 9/11/1976
---
Peak: 5 US, 4 CB, 4 HR, 22 UK, 4 CN, 11 AU (Click for codes to singles charts.)
---
Sales *: 1.0 US, -- UK, 1.0 world (includes US + UK)
---
Radio Airplay *: --
---
Video Airplay *: 141.0
---
Streaming *: --
---
* in millions
Review:
Boston's 1976 self-titled debut album proved to be a classic rock staple with "a sound that was unique and yet somehow familiar." UCR "The distinctive tone of [Tom] Sholtz's guitar coupled with the soaring vocals of Brad Delp became the trademark Boston sound." UCR Critics and the press hated the band, often calling them "corporate rock," UCR but the 17 million who bought the first album disagreed.
The lead single "More Than a Feeling," was "an almost sickly sweet ear worm" UCR which served up "a rush of sunshine-laced guitars and vocals" UCR which sometimes blended so seamlessly as to seem to become one. Scholz "wasn't your average poor struggling rocker; he was an M.I.T. graduate who invented his own effects pedal called 'The Rockman.'" UCR He worked on the song for five years, recording in his basement WK with equipment he bought with money he earned from a job at Polaroid. SF
The Book of Rock Lists suggests that the song's riff on the chorus may be an homage to the Kingsmen's "Louie Louie." Scholz has said the Left Banke's "Walk Away Renee" was the song's main inspiration. WK In turn, "More Than a Feeling" inspired the riff for Nirvana's "Smells Like Teen Spirit." RS500 Scholz said he didn't hear the similarity, but that he "consider[ed] it a compliment." SF
Boston's website explained that "Feeling" is about "the power an old song can have in your life." WK The lyrics focus on the writer being discontent with the present and yearning for Marianne, a former lover, whose memory is evoked by an old familiar song. WK
Scholz confirmed there really was a Marianne. When he was 8 or 9 years old, he was "secretly in love" with a cousin who much much older. He also said, though, that the lyrics were about the ending of a school love affair. WK
---
Resources and Related Links:
Note: Footnotes (raised letter codes) refer to sources frequently cited on the blog. Numbers following the letter code indicate page numbers. If the raised letter code is a link, it will go directly to the correct page instead of the home page of a website. You can find the sources and corresponding footnotes on the "Lists" page in the "Song Resources" section.
Awards:
---