First posted on DMDB Facebook page on 4/4/12, updated 7/28/14.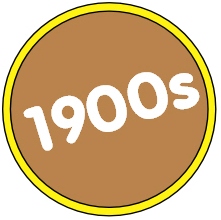 These are the top 100 songs from the first decade (1900-1909) of the 20th century according to Dave's Music Database. Note: during this era, songs were recorded often by multiple artists. Only the top-ranked version is listed here.
When a title was recognized as the Song of the Year, it is noted with a code following the song. A key to the codes is at the bottom of the page.
1. You're a Grand Old Flag (aka "The Grand Old Rag")…Billy Murray (1906) DM, VF, PC, SS, JW
2. Sweet Adeline (You're the Flower of My Heart)…Haydn Quartet (1904) DM, VF, SS, JW
3. Take Me Out to the Ball Game…Haydn Quartet (1908) DM, PC, SS, JW
4. Give My Regards to Broadway…Billy Murray (1905) DM, TS
5. School Days (When We Were a Couple of Kids)…Byron Harlan (1907) DM, EG, VF, JW
6. Meet Me in St. Louis, Louis…Billy Murray (1904) PC
7. Yankee Doodle Boy…Billy Murray (1905) PC, SS
8. In the Good Old Summertime…Haydn Quartet (1903) DM, SS, TS, JW
9. Shine on, Harvest Moon…Harry MacDonough with Miss Walton (1909) DM, SS
10. Bill Bailey, Won't You Please Come Home…Arthur Collins (1902) DM, SS

11. Wait Till the Sun Shines, Nellie…Byron Harlan (1906)
12. My Gal Sal…Byron Harlan (1907)
13. In My Merry Oldsmobile…Billy Murray (1905)
14. I Wonder Who's Kissing Her Now…Henry Burr (1909)
15. Put on Your Old Grey Bonnet…Haydn Quartet (1909) VF, PC, JW
16. Maple Leaf Rag…U.S. Marine Band (1907) SS
17. Nobody…Bert Williams (1906) TS
18. The Glow-Worm…Victor Orchestra (1908)
19. The Old Folks at Home (Swanee River)…Vess Ossman (1900) DM
20. Listen to the Mocking Bird…Frank Stanley & Corrine Morgan (1904)

21. The Preacher and the Bear…Arthur Collins (1905) VF,JW
22. Harrigan…Billy Murray (1907) PC
23. In the Shade of the Old Apple Tree…Henry Burr (1905) EG
24. On a Sunday Afternoon…J.W. Myers (1902) EG
25. Swing Low, Sweet Chariot…Fisk University Jubilee Quartet (1909) TS
26. Hello Central, Give Me Heaven…Byron Harlan (1901) DM
27. A Bird in a Gilded Cage…Steve Porter (1900)
28. Bedelia…Haydn Quartet (1904)
29. Arkansaw Traveler…Len Spencer (1902) VF,JW
30. Hiawatha (His Song to Minnehaha)…Harry MacDonough (1903)

31. Auld Lang Syne…Frank Stanley (1907) TS
32. Cuddle Up a Little Closer, Lovey Mine…Billy Murray & Ada Jones (1908)
33. Pagliacci, Act I: Vesti La Giubba (On with the Play) (LEONCAVALLO)…Enrico Caruso (1907)
34. Toyland…Haydn Quartet with Corrine Morgan (1904)
35. Under the Bamboo Tree…Arthur Collins (1902)
36. A Coon Band Contest…Vess Ossman (1900) SS
37. Tell Me, Pretty Maiden…Harry MacDonough with Grace Spencer (1901) VF, TS, JW
38. Down Where the Wurzburger Flows…Arthur Collins & Byron Harlan (1903)
39. Blue Bell…Byron Harlan with Frank Stanley (1904) EG
40. Mighty Like a Rose (aka "Mighty Lak a Rose")…George Alexander (1903)

41. Navajo…Billy Murray (1904)
42. Come Take a Trip in My Air-Ship…Billy Murray (1905)
43. My Wild Irish Rose…Haydn Quartet with Harry MacDonough (1907)
44. Sunbonnet Sue…Haydn Quartet (1908) EG
45. Silver Threads Among the Gold…Richard Jose (1904)
46. Goodbye, Dolly Gray…Big Four Quartet (1901) EG
47. Everybody Works But Father…Billy Murray (1905)
48. Ma Blushin' Rosie…Albert Campbell (1900)
49. When You Were Sweet Sixteen…George J. Gaskin (1900) EG, VF, JW
50. The Mansion of Aching Hearts…Harry MacDonough (1902)

51. Good Morning, Carrie…Bert Williams with George Walker (1902)
52. The Yama Yama Man…Ada Jones with the Victor Light Orchestra Co. (1909)
53. I've Got Rings on My Fingers…Ada Jones (1909)
54. The Entertainer…Scott Joplin (1902)
55. Absence Makes the Heart Grow Fonder…Harry MacDonough (1901)
56. Love Me and the World Is Mine…Henry Burr (1906) EG
57. I Love a Lassie (My Scotch Bluebell)…Harry Lauder (1907)
58. In the Sweet Bye and Bye…Harry MacDonough with John Bieling (1903)
59. How'd You Like to Spoon with Me?...Corrine Morgan with the Haydn Quartet (1906)
60. The Right Church But the Wrong Pew…Arthur Collins with Byron Harlan (1909)

61. Red Wing (An Indian Fable)…Frank Stanley with Henry Burr (1907)
62. Come Down, Ma Evening Star…Mina Hickman (1903)
63. Are You Sincere?...Elise Stevenson (1908)
64. Honey Boy…Columbia Male Quartet (1907)
65. Dear Old Girl…J.W. Myers (1903)
66. Mary's a Grand Old Name…? (1906)
67. Anchors Aweigh…U.S. Naval Academy Band (1906)
68. St. Louis Tickle…Vess Ossman (1906)
69. Any Rags?...Arthur Collins (1903)
70. Any Old Place I Hang My Hat Is "Home Sweet Home"…Will Denny (1901)

71. Goodbye, My Lady Love…Henry Burr (1904)
72. Forty-Five Minutes from Broadway…Billy Murray (1906)
73. Under the Anhauser Bush…Arthur Collins & Byron Harlan (1904)
74. My Pony Boy…Ada Jones (1909)
75. When Chloe Sings a Song…George J. Gaskin (1900)
76. Alexander (Don't You Love Your Baby No More?)…Billy Murray (1904)
77. Will You Love Me in December As You Do in May?...Haydn Quartet (1906)
78. He's a Cousin of Mine…Bert Williams (1907)
79. Waiting at the Church (My Wife Won't Let Me)…Ada Jones (1906)
80. Teasing (I Was Only Teasing You)…Billy Murray (1904)

81. Waltz Me Around Again Willie ('Round, 'Round, 'Round)…Billy Murray with the Haydn Quartet (1906)
82. As Long As the World Rolls On…Alan Turner (1908) VF
83. Down in Jungle Town…Arthur Collins & Byron Harlan (1908)
84. Ma Tiger Lily…Arthur Collins (1900) TS
85. I Can't Tell You Why I Love You But I Do…Harry MacDonough (1900)
86. The Bird on Nellie's Hat…Helen Trix (1907)
87. So Long, Mary…Corrine Morgan (1906)
88. Camp Meetin' Time…Arthur Collins & Byron Harlan (1906)
89. Mandy Lee…Arthur Collins (1900)
90. Where the Morning Glories Twine Around the Door…Byron Harlan (1905)

91. Home Sweet Home…Harry MacDonough (1902)
92. The Rosary…William H. Thompson (1902)
93. Way Down in Old Indiana…J.W. Myers (1902)
94. Hurrah for Baffin's Bay…Arthur Collins & Byron Harlan (1903)
95. The Good Old U.S.A….Byron Harlan (1906)
96. Would You Care?...Byron Harlan (1905)
97. What You Goin' to Do When the Rent Comes 'Round? (Rufus Rastas Johnson Brown)…Arthur Collins (1905)
98. When It's All Goin' Out and Nothin' Comin' In…Bert Williams (1902)
99. Keep on the Sunny Side…Byron Harlan (1906)
100. Daddy's Little Girl…Byron Harlan (1906)

---
Songs Which Won Year-End Awards But Didn't Make the Top 100:
Always in the Way…Byron Harlan (1903) EG
Because…Evan Williams (1910) PC
The Beer That Made Milwaukee Famous (1903) PC
Creole Bells…Columbia Orchestra (1901) SS
Give Us Just Another Lincoln (1900) PC
In the Good Old Summer Time…J.W. Myers (1902) VF
No News, or What Killed the Dog…Nat Wills (1908) TS
Pomp and Circumstance (1902) PC
Stars and Stripes Forever…Sousa's Band (1901) TS
Uncle Josh and the Insurance Company…Cal Stewart (1904) TS
Yale Boola! (March and Two Step) (1901) PC
---
Key to the Codes:
---