---
I posted a
blog entry about Rick Rubin
on his birthday (March 10) and today is the birthday for another famous producer – Quincy Jones. Both rank in the top ten producers of all time. Here's the top 50 (with some of the best-known artists they've produced in parentheses) as determined by aggregating the resources listed at the bottom of the page.
George Martin with The Beatles
1. George Martin (America, The Beatles, Jeff Beck, Paul McCartney)
2. Phil Spector (The Beatles, John Lennon, The Righteous Brothers, The Ronettes, The Shirelles)
3. Dr. Dre (Mary J. Blige, Eminem, 50 Cent, NWA, Snoop Dogg)
4. Rick Rubin (Beastie Boys, Johnny Cash, Public Enemy, Red Hot Chili Peppers, Run-D.M.C.)
5. Sam Phillips (Howlin' Wolf, Jerry Lee Lewis, Roy Orbison, Carl Perkins, Elvis Presley)
6. Brian Eno (David Bowie, Coldplay, Talking Heads, U2)
7. Butch Vig (Garbage, Nirvana, Smashing Pumpkins, Sonic Youth)
8. Robert "Mutt" Lange (AC/DC, Bryan Adams, The Cars, Def Leppard, Foreigner, Shania Twain)
9. Quincy Jones (Count Basie, Ella Fitzgerald, Michael Jackson, Dean Martin, Frank Sinatra)
10. Holland-Dozier-Holland (Four Tops, Marvin Gaye, The Isley Brothers, Martha & the Vandellas)
Dr. Dre
11. Brian Wilson (The Beach Boys)
12. Timbaland (Aaliyah, Missy Elliott, Nelly Furtado, Justin Timberlake)
13. Todd Rundgren (Cheap Trick, Grand Funk Railroad, Meat Loaf, New York Dolls, XTC)
14. Chris Thomas (INXS, Pretenders, Roxy Music, Sex Pistols)
15. T-Bone Burnett (John Mellencamp, Robert Plant & Alison Krauss, The Wallflowers)
Rick Rubin with Steven Tyler and Run-D.M.C.
16. Daniel Lanois (Bob Dylan, Brian Eno, Peter Gabriel, U2)
17. Tom Dowd (Allman Brothers Band, James Brown, Eric Clapton, John Coltrane, Charles Mingus, Rod Stewart)
18. Lee "Scratch" Perry (The Clash, Bob Marley & The Wailers)
19. Jerry Wexler (Ray Charles, The Drifters, Aretha Franklin, Wilson Pickett, Sam & Dave)
20. Glyn Johns (Eagles, Steve Miller Band, The Rolling Stones, The Who)
Sam Phillips with Elvis Presley
21. Tony Visconti (Marc Bolan, David Bowie, Sparks, Talking Heads)
22. Jimmy Page (The Firm, Led Zeppelin, John Mayall)
23. Trevor Horn (The Buggles, Paul McCartney, Simple Minds, Yes)
24. Berry Gordy, Jr. (Marvin Gaye, The Jackson 5, The Supremes, Stevie Wonder)
25. Brendan O'Brien (Black Crowes, Pearl Jam, Bruce Springsteen, Stone Temple Pilots)
Brian Eno with U2's Bono & The Edge
26. John Hammond (Count Basie, Charlie Christian, Bob Dylan, Bilie Holiday, Pete Seeger, Bruce Springsteen, Stevie Ray Vaughan)
27. David Foster (Michael Buble, Mariah Carey, Chicago, Celine Dion, Josh Groban)
28. Norman Whitfield (Gladys Knight & the Pips, Rose Royce, Edwin Starr, The Temptations)
29. John Cale (The Modern Lovers, Patti Smith, Squeeze, The Stooges)
30. Bob Ezrin (Alice Cooper, KISS, Pink Floyd)
Butch Vig
31. Eddie Kramer (Peter Frampton, Jimi Hendrix, KISS, Led Zeppelin)
32. Joe Meek (Ritchie Blackmore, Tom Jones, Screaming Lord Sutch)
33. The Neptunes (Kelis, Ol' Dirty Bastard, Britney Spears, Justin Timberlake)
34. Alan Parsons (Ambrosia, The Hollies, Pink Floyd, Al Stewart)
35. Shel Talmy (David Bowie, The Kinks, The Small Faces, The Who)
Robert "Mutt" Lange
36. Ted Macero (Dave Brubeck, Miles Davis, Duke Ellington, Ella Fitzgerald)
37. Steve Albini (Breeders, Nirvana, Pixies)
38. Jimmy Iovine (Dire Straits, Stevie Nicks, Tom Petty, Simple Minds, U2)
39. Phil Ramone (Bob Dylan, Billy Joel, Paul Simon, James Taylor)
40. Jimmy Miller (Spencer Davis Group, The Rolling Stones, Traffic)
Quincy Jones with Michael Jackson
41. Dave Edmunds (Johnny Cash, Elvis Costello, The Fabulous Thunderbirds, Stray Cats)
42. Kanye West (Common, Jay-Z, Alicia Keys, John Legend)
43. Kenneth Gamble/Leon Huff (The Jacksons, Patti LaBelle, Harold Melvin & the Blue Notes, The O'Jays)
44. Ted Templeman (Doobie Brothers, Van Morrison, Van Halen)
45. Hugh Padgham (Phil Collins, Peter Gabriel, Genesis, The Police, Sting)
Holland-Dozier-Holland
46. Jeff Lynne (Electric Light Orchestra, George Harrison, Roy Orbison, Tom Petty, Del Shannon, Traveling Wilburys)
47. Jerry Leiber/Mike Stoller (The Clovers, The Coasters, The Drifters, Jay & the Americans)
48. Owen Bradley (Patsy Cline, Brenda Lee, Loretta Lynn, Conway Twitty)
49. Bob Rock (Aerosmith, Bon Jovi, Motley Crue, Metallica)
50. Mark Ronson (Adele, Lily Allen, Amy Winehouse)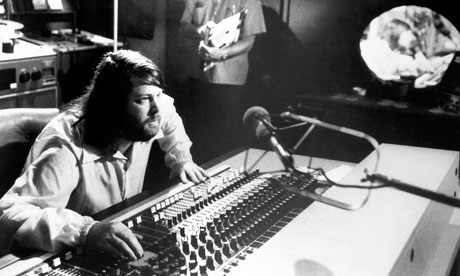 Brian Wilson
---
Resources and Related Links:
---