June 20, 1937 marked the final recording session for Robert Johnson. This Mississippi-born blues singer, guitarist, and harmonica player only had one minor hit – "Terraplane Blues"
BH
– but his influence has been immeasurable. Rolling Stones' guitarist Keith Richards said, "You want to know how good the blues can get? Well, this is it."
RJ
Eric Clapton called him "the most important blues singer that ever lived."
WK
The Rock and Roll Hall of Fame calls his work "the bedrock upon which modern blues and rock and roll were built."
RH
Richards and Clapton comment on Johnson
His brief 27 years have fueled popular myth. He sold his soul to the devil at the crossroads to develop his guitar-playing ability. He was poisoned with strychnine by a jealous husband after flirting with the man's wife. As Johnson was dying, John Hammond, a legendary talent scout with Columbia Records, was trying to track Johnson down for a gig at New York City's Carnegie Hall.
RJ
His slim body of work consists of 29 songs recorded for the American Record Corporation. These were captured in two series of recording sessions. The first occurred in 1936, taking place over three days (November 23, 26, and 27). During those sessions in a hotel room in San Antonio, Texas, Johnson laid down the classics "Cross Road Blues", "Sweet Home Chicago", and "Ramblin' on My Mind".
The Mythical Tale of Robert Johnson
His second series of sessions happened the following year in Dallas (June 19-20, 1937). Here he laid down thirteen more songs, including "Travelling Riverside Blues" and "Love in Vain". 22 of the recordings were released on eleven 78 rpm records within his lifetime.
RJ
Johnson is a
Rock and Roll Hall of Fame inductee
and four of his songs have been named to their
Top 500 Songs That Shaped Rock and Roll
list ("Cross Road Blues", "Sweet Home Chicago", "Hellhound on My Trail", "A Love in Vain"). His 1990 collection
The Complete Recordings
is
one of the top 1000 albums of all time
according to
Dave's Music Database
. It is also in
Library of Congress' National Recording Registry
and a
Blues Hall of Fame album inductee
.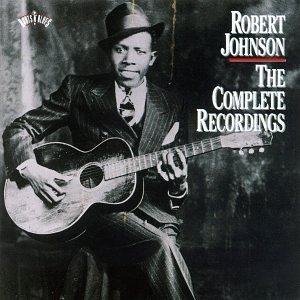 Resources: