Squeeze

Uptown Theater
Kansas City, MO
September 14, 2021
---
Opening Act:
Fastball
---
Members of Squeeze:
Glenn Tilbrook (vocals, guitar)
Chris Difford (rhythm guitar, vocals)
Stephen Large (keyboards, backing vocals)
Simon Hanson (drums, percussion, backing vocals)
Steve Smith (percussion, rhythm guitar, vocals)
Melvin Duffy (guitar, dulcimer)
Owen Biddle (bass, backing vocals)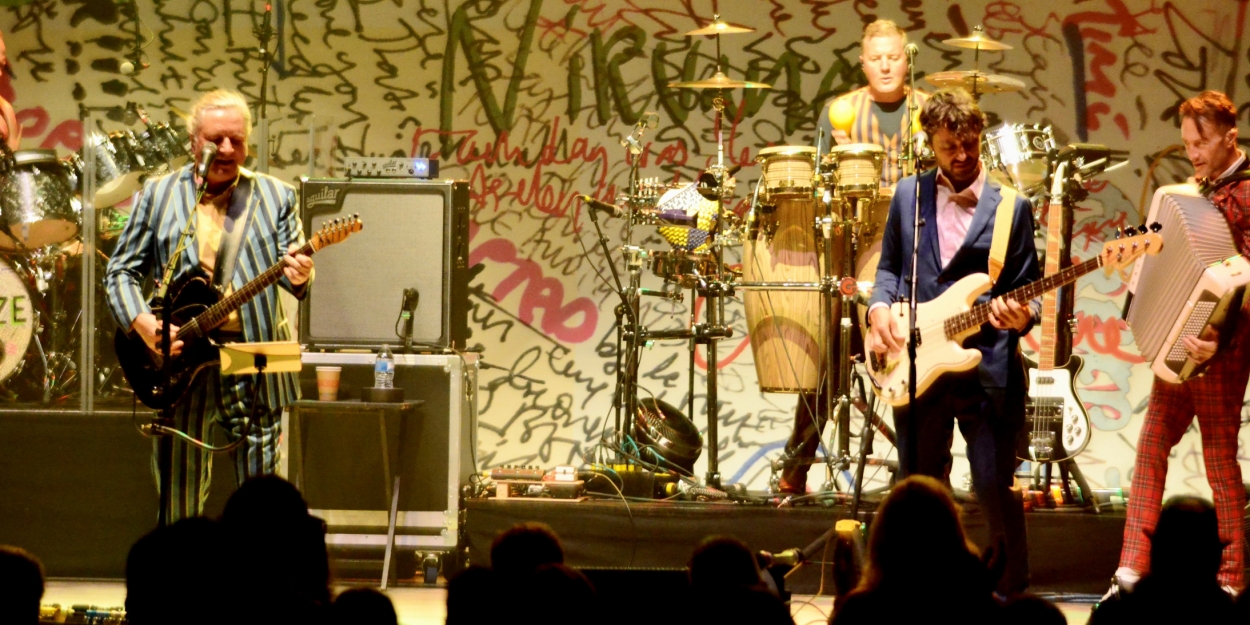 image from broadwayworld.com
---
Review:
This was my first show since the covid-19 pandemic shut down the world in March 2020. It was a pretty decent way to come back as Squeeze are one of my favorites. When it came to covering the familiar stuff from their early years, the band didn't disappoint. In fact, they included every song in their set from the 1982 compilation 45's and Under. Representation from albums after that was a bit scattershot.

1985's Cosi Fan Tutti Frutti was represented with "Big Beng" instead of any of the five singles from that album. Similarly, charting "Satisfied" and "Everything in the World," top-10 modern rock hits from 1991's Play and 1993's Some Fantastic Place respectively, were overlooked in favor of a pair of album cuts. They played "Hourglass" (a top-20 hit in the U.S.) and "Footprints" (a non-charting single) from 1987's Babylon and On, but omitted "853-5937," the group's only other top-40 hit. The band didn't play anything from 1995's Ridiculous, 1998's Domino, or 2015's Cradle to the Grave, but covered two songs from 2017's The Knowledge, Squeeze's most recent studio release.

I was puzzled not just by the band's inclusion of so much material unfamiliar to casual fans, but the fact that it was so bunched together. The overload was apparent when most of the crowd was seated for songs 6-12. They even opened their encore with "Wicked and Cruel," another album cut which most of the audience probably didn't know. I was also astonished that "Tempted," the band's best-known song, was not held over as an encore or the finale before the encore.

Still, there were high points throughout the show. Watching the percussionist repeatedly jump up and slam down on the cymbals of his drum kit with his hands during "Slap and Tickle" was thrilling. The extended version of "Black Coffee in Bed" accompanied by multiple solos was the highlight of the show. It was also bold for Squeeze to present "Tempted" in a different arrangement. All in all, it wasn't a bad return after a year-and-a-half concert drought.

Click here to see other concerts I've attended.
---
Spotify Podcast:
Check out Dave's Music Database podcast: The Best of Squeeze. It debuts September 14, 2021 at 7pm CST. Tune in every Tuesday at 7pm for a new episode based on the lists at Dave's Music Database.