First posted 7/13/2012; updated 2/21/2018.
This post was originally inspired in July 2012 when Billboard magazine put up a post on their website about musicians' real names. The link annoyingly forces one to scroll through 150 pics to see the full list, so I've redone it here and added more names. In November 2013, I updated the list and am reposting it, inspired by Matthew Wilkening's "Stage Name Origins" article at UltimateClassicRock.com.
First, a few thoughts. Some music stars might have had a tough go with their original names. How far would George Michael have gone with the unwieldy moniker of Georgios Kyriacos Panayiotou? Queen's Freddie Mercury would have spent a career explaining how to pronounce Farrokh Bulsara. Certainly Stevland Judkins doesn't roll off the tongue as smoothly as Stevie Wonder. Would the rap world have taken Queen Latifah seriously as Dana Owens?
Still, I question why some of these stars changed their names. Come on, Marc Anthony. Didn't you think Marco Muniz had a ring to it? Frankly, I like the name Cameron Thomaz just fine, Wiz Khalifa. And when you've got a great first name like Terius or Jayceon, why not work with that? I'm looking at you The-Dream and The Game.
There are also stars who understandably thought their given name wasn't catchy enough, but probably should have searched a little longer for a better stage name. Admittedly, if my name were Wouter De Backer, I'd want something catchier, too – although I'm not sure Gotye is the best answer. And as for you, Adam Wiles, I get it. You wanted something that popped, that zinged, that people wouldn't forget – so you went with Calvin Harris?? Keep trying.
Some stars' names sound made up, but if you check their birth certificates, Madonna, Prince, and Ke$ha (sans dollar sign) really are their names. My favorite, though, is Neil Diamond. Guess what his real name is? Neil Diamond. Anyway, here's a list of what I have gathered thus far. Stage names are listed first (alphabetically) followed by given names. Parentheses indicate a group with which the musician is closely identified.
A
Aaliyah: Aaliyah Dana Haughton
Johnny Ace: John Alexander Jr.
Cannonball Adderley: Julian Edwin Adderley
Adele: Adele Laurie Blue Adkins
Adele Laurie Blue Adkins, image from cnn.com
Trace Adkins: Tracy Darrell Adkins
Gaye Adverts: Gaye Black
Aesop Rock: Ian Matthias Bavitz
Afrojack: Nick van de Wall
Afroman: Joseph Foreman
Clay Aiken: Clayton Holmes Grissom
Akon: Aliaume Damala Badara Akon Thiam
G.G. Allin: Jesus Christ Allin
Ed Ames: Ed Urick
Tori Amos: Myra Ellen Amos
Anastacia: Anastacia Lyn Newkirk
Trey Anastasio (Phish): Ernest Joseph Anastasio III
André 3000 (Outkast): André Lauren Benjamin
Julie Andrews: Julia Elizabeth Wells
Horace Andy: Horace Hinds
Rodney Anonymous: Rodney Linderman
Marc Anthony: Marco Antonio Muniz
Adam Ant: Stuart Leslie Goddard
apl.de.ap (Black Eyed Peas): Allan Pineda Lindo, Jr.
Apollonia: Patricia Kotero
Fiona Apple: Fiona Apple Maggart
Harold Arlen: Hyman Arluck
Claudio Arrau: Claudio Arrau León
A$AP Ferg: Darold D. Brown Ferguson
A$AP Rocky: Rakim Mayers
Ashanti: Ashanti Shaquoya Douglas
Fred Astaire: Frederick Austerlitz
Chet Atkins: Chester Burton Atkins
A-Trak: Alain Macklovitch
Gene Austin: Lemeul Eugene Lucas
Gene Autry: Orvon Grover Autry
Frankie Avalon: Francis Thomas Avallone
Avicii: Tim Bergling
Iggy Azalea: Amethyst Amelia Kelly
Charles Aznavour: Shahnour Vaghinag Aznavourian

B
Cardi B: Belcalis Almanzar
Eric B: Louis Eric Barrier
Babyface: Kenneth Brian Edmonds
Erykah Badu: Erica Wright
Chet Baker: Chesney Henry Baker
Ginger Baker: Peter Edward Baker
Josephine Baker: Frida Josephine McDonald Carson
LaVern Baker: Delores Evans
Marty Balin: Martyn Jerel Buchwald
Hank Ballard: John Henry Kendricks
Afrika Bambaataa: Kevin Donovan
Moe Bandy: Marion Franklin Bandy, Jr.
Lloyd Banks: Christopher Lloyd
David Banner: Levell Crump
Syd Barrett: Roger Keith Barrett
Jeff Barry: Joel Adleberg
Count Basie: William James Basie
Toni Basil: Antonia Basilotta
Stiv Bators: Steven John Bator
Nora Bayes: Eleanora Sarah Goldberg
Beck: Bek David Campbell
Beenie Man: Anthony Moses Davis
Bix Beiderbecke: Leon Bismark Beiderbecke
Pat Benatar: Patricia Mae Andrejewski
Tony Bennett: Anthony Dominick Benedetto
Anthony Dominick Benedetto, image from Wikimedia.org
Brook Benton: Benjamin Franklin Peay
Daisy Berkowitz: Scott Mitchell Putesky
Milton Berle: Mendel Berlinger
Irving Berlin: Israel Beilin
Ben Bernie: Bernard Anzelevitz
Beyoncé: Beyoncé Giselle Knowles
Jello Biafra (Dead Kennedys): Eric Reed Boucher
Bo Bice: Harold Elwin Bice III
Big Boi: Antwan Andre Patton
The Big Bopper: Jiles Perry Richardson
Big Daddy Kane: Antonio Mortimer Hardy
Big Pun(isher): Christopher Lee Rios
Big Sean: Sean Michael Anderson
Big Youth: Manley Augustus Buchanan
Birdman: Bryan Williams
Biz Markie: Marcel Hall
Björk: Björk Guðmundsdóttir
Black Francis (Pixies): Charles Michael Kittridge Thompson IV
Cilla Black: Priscilla Maria Veronica White
Eubie Blake: James Hubert Blake
Bobby "Blue" Bland: Robert Calvin Brooks
Blind Blake: Arthur Blake
Blondie: Deborah Harry
Kurtis Blow: Curtis Walker
B.O.B.: Bobby Ray Simmons, Jr.
Marc Bolan: Marc Feld
Rachel Bolan (Skid Row): James Southworth
Michael Bolton: Michael Bolotin
Bon Iver: Justin Vernon
Jon Bon Jovi: John Francis Bongiovi, Jr.
Gary "U.S." Bonds: Gary Anderson
Bizzy Bone: Bryon Anthony McCane
Krayzie Bone: Anthony Henderson
Layzie Bone: Steven Howse
Wish Bone: Charles Scruggs
Bono: Paul David Hewson
Paul Hewson, image from bonoonline.com
Sonny Bono: Salvatore Philip Bono
Pat Boone: Charles Eugene Boone
Victor Borge: Borge Rosenbaum
Grim Borknagar: Eric Brødreskift
Bounty Killer: Rodney Basil Price
David Bowie: David Robert Hayward Stenton Jones
David Robert Hayward Stenton Jones, image from telegraph.co.uk
Bow Wow: Shad Gregory Moss
Boy George: George Alan O'Dowd
Bonnie Bramlett: Bonnie Lynn O'Farrell
Michelle Branch: Michelle Jacquet DeSevren Branch-Landau
Brandy: Brady Rayana Norwood
Scooter Braun: Scott Samuel Braun
Moya Brennan: Máire Philomena Ní Bhraonáin
Teresa Brewer: Teresa Breuer
Big Bill Broonzy: William Lee Conley Broonzy
Charles Brown: Tony Russell Brown
Foxy Brown: Inga DeCarlo Fung Marchand
Luke Bryan: Thomas Luther Bryan
Felice Bryant: Matilda Genevieve Scaduto
Peabo Bryson: Robert Peapo Bryson
BT: Brian Wayne Transeau
Buckethead: Brian Carroll
Budgie: Peter Clark
Solomon Burke: James Solomon McDonald
T-Bone Burnett: Joseph Henry Burnett III
Burning Spear: Winston Rodney
Henry Burr: Harry Haley McClaskey
Busta Rhymes: Trevor George Smith, Jr.

C
Cadence Weapon: Rollie Pemberton
Sammy Cahn: Samuel Cohen
Maria Callas: Cecilia Sophia Anna Maria Kalogeropoulos
Cab Calloway: Cabell Calloway
Cam: Camaron Marvel Ochs
K. Camp: Kristopher Campbell
Cam'ron: Cameron Giles
Canibus: Germaine Williams
Freddy Cannon: Frederick Anthony Picariello
Blu Cantrell: Tiffany Cobb
Captain Beefheart: Don Van Vliet
Hoagy Carmichael: Hoagland Howard Carmichael
Alessia Cara: Alessia Caracciolo
Irene Cara: Irene Escalera
Eric Carr (KISS): Paul Charles Caravello
Vicki Carr: Florencia Cardona
Benny Carter: Bennett Lester Carter
Betty Carter: Lillie Mae Jones
Cassidy: Barry Adrian Reese
Cat Power: Charlyn Marie Marshall
Chamillionaire: Hakeem Seriki
Chance the Rapper: Chancelor Jonathan Bennett
Gene Chandler: Eugene Dixon
Ray Charles: Ray Charles Robinson
Charli XCX: Charlotte Emma Aitchison
Charo: Maria Rosario Pilar Martinez Molina Baeza
Chubby Checker: Ernest Evans
Neneh Cherry: Neneh Mariann Karlsson
Cher: Cherilyn Sarkisian
Leonard Chess: Lejzor Shmuel Czyż
Phil Chess: Fiszel Czyż
Childish Gambino: Donald McKinley GLover
Johnny Christ (Avenged Sevenfold): Jonathan Lewis Seward
Lou Christie: Lugee Alfredo Giovanni Sacco
Chilli: Rozonda Ocielian Thomas
Chingy: Howard Bailey, Jr.
Charlotte Church: Charlotte Maria Reed
Eric Church: Kenneth Eric Church
Eric Clapton: Eric Patrick Clapp
Buddy Clark: Samuel Goldberg
Gene Clark (Byrds): Harold Eugene Clark
Petula Clark: Sally Olwen Clark
David Clayton-Thomas (Blood, Sweat & Tears): David Thomsett
Van Cliburn: Harvey Lavan Cliburn Jr.
Jimmy Cliff: James Chambers
Patsy Cline: Virginia Patterson Hensley
Virginia Patterson Hensley, image from patsymuseum.com
Joe Cocker: John Robert Cocker
Commander Cody: George Frayne
J. Cole: Jermaine Lamarr Cole
Nat "King" Cole: Nathaniel Adams Coles
Cy Coleman: Seymour Kaufman
Ornette Coleman: Randolph Denard Ornette Coleman
Albert Collins: Albert Gene Drewery
Bootsy Collins: William Collins
Jessi Colter: Miriam Johnson
Common: Lonnie Rashid Lynn, Jr.
Perry Como: Pierino Ronald Como
Ry Cooder: Ryland Peter Cooder
Sam Cooke: Samuel Cook
Coolio: Artis Leon Ivey Jr.
Alice Cooper: Vincent Damon Furnier
Vincent Damon Furnier, image from arts.blogs.pressdemocrat.com
Chick Corea: Armando Anthony Corea
Don Cornell: Luigi Variaro
Elvis Costello: Declan Patrick McManus
John Cougar: John Mellencamp
Peter Criss (KISS): George Peter John Criscuola
Bing Crosby: Harry Lillis Crosby, Jr.
Christopher Cross: Christopher Geppert
Celia Cruz: Úrsula Hilaria Celia de la Caridad Cruz Alfonso
Taio Cruz: Adetayo Ayowale Onile-Ere
Miley Cyrus: Destiny Hope Cyrus

D
Chuck D: Carlton Douglas Ridenhour
Mike D: Michael Diamond
Da Brat: Shawntae Harris
Daddy Mack: Chris Harrison Olsen Smith
Daddy Yankee: Ramon Ayala
Dick Dale: Richard Anthony Monsour
Vic Damone: Vito Rocco Farinola
Dan the Automator: Daniel Nakamura
Dana Dane: Dana McLeese
D'Angelo: Michael Eugene Archer
Danger Mouse: Brian Joseph Burton
Terence Trent D'Arby: Terence Trent Howard
Bobby Darin: Walden Robert Cassotto
Dimebag Darrell: Darrell Abbott
Mac Davis: Morris Davis
Skeeter Davis: Mary Frances Penick
Doris Day: Doris Mary Ann Kappelhoff
Daya: Grace Tandon
Taylor Dayne: Leslie Wonderman
Deadmau5: Joel Thomas Zimmerman
Jimmy Dean: Seth Ward
Chris DeBurgh: Christopher John Davison
Kiki Dee: Pauline Mathews
Dej Loaf: Dej Trimble
Desmond Dekker: Desmond Adolphus Dacres
Lana Del Rey: Elizabeth Woolridge Grant
Del tha Funky Homosapien: Teron Delvon Jones
John Denver: Henry John Deutschendorf, Jr.
Rick Derringer: Richard Zehringer
Jason Derulo: Jason Desrouleaux
Jackie DeShannon: Sharon Lee Myers
Neil Diamond: Neil Diamond
Bo Diddley: Ellas Otha Bates (name upon adoption: Ellas McDaniel)
Dido: Dido Florian Cloud De Bounevialle O'Malley Armstrong
Ronnie James Dio: Ronald James Padavona
Dion: Dion Francis DiMucci
Diplo: Thomas Wesley Pentz
Dizzee Rascal: Dylan Mills
DJ Jazzy Jeff: Jeffrey A. Townes
DJ Krush: Hideaki Ishii
DJ Shadow: Josh Davis
DJ Snake: William Grigahcine
DJ Spooky: Paul D. Miller
DMC: Darryl McDaniels
DMX: Earl Simmons
Thomas Dolby: Thomas Morgan Robertson
Mickey Dolenz (The Monkees): George Michael Braddock
Plácido Domingo: José Plácido Domingo Embil
Fats Domino: Antoine Dominique Domino, Jr.
Donovan: Donovan Phillip Leitch
Drake: Aubrey Clark Graham
Dr. Demento: Barret Hansen
Dr. Dre: Andre Romelle Young
Dr. John: Malcolm John Rebennack
Dr. Luke: Lukasz Sebastian Gottwald
Dr. Octagon: Keith Matthew Thornton
The-Dream: Terius Youngdell Nash
Jermaine Dupri: Jermaine Dupri Maudlin
Fred Durst: William Frederick Durst
Dwele: Andwele Gardner
Bob Dylan: Robert Allen Zimmerman
Robert Allen Zimmerman, image from judithpordon.tripod.com
E
Sheila E.: Sheila Escovedo
Sheena Easton: Sheena Shirley Orr
Eazy-E: Eric Wright
The Edge: David Howell Evans
Duke Ellington: Edward Kennedy Ellington
Mama Cass Elliot: Ellen Naomi Cohen
Missy "Misdemeanor" Elliott: Melissa Arnette Elliott
Eminem: Marshall Bruce Mathers III
Marshall Bruce Mathers III, image from npr.org
Brian Eno: Brian Peter George St. John le Baptiste de la Salle Eno
Enya: Eithne Pádraigín Ní Bhraonáin
Gloria Estefan: Gloria Maria Milagrosa Fajardo
Gil Evans: Ian Ernest Gilmore Green
Eve: Eve Jihan Jeffers
Everlast: Erik Schrody

F
Shelley Fabares: Michelle Fabares
Fabian: Fabiona Forte Bonaparte
Fabolous: John David Jackson
Falco: Johann Hölzel
Fantasia: Fantasia Monique Barrino
Donna Fargo: Yvonne Vaughan
Perry Farrell (Jane's Addiction): Perry Bernstein
Fat Joe: Joseph Antonio Cartagena
Fatboy Slim: Quentin Cook, aka Norman Cook
Feist: Leslie Feist
José Feliciano: José Monserrate Feliciano García
Freddy Fender: Baldemar Garza Huerta
Fergie: Stacy Ann Ferguson
Fetty Wap: Willie Maxwell
Shep Fields: Saul Feldman
50 Cent: Curtis James Jackson III
Lupe Fiasco: Wasalu Muhammad Jaco
Fieldy (Korn): Reginald Quincy Arvizu
Fish (Marillion): Derek William Dick
Flavor Flav: William Jonathan Drayton, Jr.
Flea: Michael Peter Balzary
Flo Rida: Tramar Dillard
Klaus Flouride: Geoffrey Lyall
Red Foley: Clyde Julian Foley
Mary Ford: Iris Colleen Summers
Samantha Fox: Stacia Micula
Jamie Foxx: Eric Marlon Bishop
Connie Francis: Concetta Rosa Maria Franconero
Ace Frehley (KISS): Paul Daniel Frehley
Doug E. Fresh: Douglas E. Davis
Lefty Frizzell: William Orville Frizzell
Blind Boy Fuller: Fulton Allen
Future: Nayvadius DeMun Wilburn
Kenneth Gorelick, image from jazzchill.blogspot.com
G
Kenny G: Kenneth Bruce Gorelick
Shock G: Greg Jacobs
Warren G: Warren Griffin III
Madonna Wayne Gacy: Stephen Gregory Bier, Jr.
Liam Gallagher: William John Paul Gallagher
The Game: Jayceon Terrell Taylor
Jan Garber: Jacob Charles Garber
Jerry Garcia: Jerome John Garcia
Judy Garland: Frances Ethel Gumm
Synyster Gates (Avenged Sevenfold): Brian Elwin Haner Jr.
Marvin Gaye: Marvin Pentz Gay, Jr.
Crystal Gayle: Brenda Gail Webb
Gloria Gaynor: Gloria Fowles
G-Eazy: Gerald Earl Gillum
Bobbie Gentry: Roberta Lee Streeter
George Gershwin: Jacob Gershowitz
Ira Gershwin: Israel Gershowitz
Stan Getz: Stanley Gayetski
Ghostface Killah: Dennis Coles
Dizzy Gillespie: John Birks Gillespie
Ginuwine: Elgin Baylor Lumpkin
Gary Glitter: Paul Gadd
Lesley Gore: Lesley Sue Goldstein
Gorilla Zoe: Alonzo Mathis
Stone Gossard (Pearl Jam): Stone Carpenter Gossard
Gotye: Wouter De Backer
Jean Grae: Tsidi Ibrahim
Bill Graham: Wulf Wolodia Grajonca
Grandmaster Flash: Joseph Saddler
Dobie Gray: Leonard Victor Ainsworth
Glen Gray: Glenn Gray Knoblauch
Macy Gray: Natalie Renee McIntyre
Al Green: Albert Leornes Greene
Cee Lo Green: Thomas DeCarlo Callaway
Peter Green: Peter Allen Greenbaum
Ferde Grofé: Ferdinand Rudolph von Grofé
Gucci Mane: Radric Davis
David Guetta: Pierre David Guetta
Guitar Slim: Eddie Jones
Buddy Guy: George Guy
GZA the Genius: Gary Grice

H
Daryl Hall: Daryl Franklin Hohl
Johnny Hallyday: Jean-Philippe Smet
Halsey: Ashley Nicolette Frangipane
Hardwell: Robbert van de Corput
E.Y. "Yip" Harburg: Isidore Hochberg
Slim Harpo: James Isaac Moore
Calvin Harris: Adam Richard Wiles
Marion Harris: Mary Ellen Harrison
Freddie Hart: Frederick Segrest
PJ Harvey: Polly Jean Harvey
Havoc: Kejuan Muchita
Screamin' Jay Hawkins: Jalacy J. Hawkins
Gibby Haynes: Gibson Jerome Haynes
Head (Korn): Brian Phillip Welch
Hell Rell: Durell Mohammed
Richard Hell: Richard Meyers
Fletcher Henderson: James Fletcher Hamilton Henderson Jr.
Jimi Hendrix: born Johnny Allen Hendrix, renamed James Marshall Hendrix
Herb (Peaches & Herb): Haer Feemster
Faith Hill: Audrey Faith Perry
Scotti Hill: Scott Lawrence Mulvehill
Billie Holiday: Eleanora Fagan Gough
Eleanora Fagan Gough, image from worldofwonder.net
J. Holiday: Nahum Grymes
Buddy Holly: Charles Hardin Holley
Lightnin' Hopkins: Samuel John Hopkins
Son House: Eddie James House Jr.
Cissy Houston: Emily Drinkard
Howlin' Wolf: Chester Arthur Burnett
Engelbert Humperdinck: Arnold George Dorsey
Tab Hunter: Arthur Gelien
Mississippi John Hurt: John Smith Hurt

I
Janis Ian: Janis Eddy Fink
Ice Cube: O'Shea Jackson
Ice-T: Tracy Marrow
Billy Idol: William Michael Albert Broad
Enrique Iglesias: Enrique Miguel Iglesias Preysler
Julio Iglesias: Julio José Iglesias de la Cueva
iHeartMemphis: Richard Colbert
India.Arie: India Arie Simpson
Indio: Gordon Peterson
Infernus: Roger Tiegs
Inspectah Deck: Jason Hunter
I-Roy: Roy Reid
Burl Ives: Icle Ivanhoe Ives
Iyaz: Keidran Jones

J
Ja Rule: Jeffery Bruce Atkins
Randy Jackson: Steven Randall Jackson
Tito Jackson: Toriano Adaryll Jackson
Jadakiss: Jayson Tyrone Phillips
Mick Jagger: Michael Phillip Jagger
Jam Master Jay: Jason Mizell
Ahmad Jamal: Frederick Russell Jones
Jamelia: Jamelia Niela Davis
Elmore James: Elmore Brooks
Etta James: Jamesetta Hawkins
Joni James: Giovanna Carmella Baddo
Rick James: James Ambrose Johnson, Jr.
Skip James: Nehemiah Curtis James
Sonny James: James Hugh Loden
Tommy James: Thomas Gregory Jackson
Jay-Z: Shawn Corey Carter
Blind Lemon Jefferson: Lemon Harry Jefferson
Lyfe Jennings: Chester Jennings
Joan Jett: Joan Marie Larkin
Jewel: Jewel Kilcher
Jidenna: Jidenna Theodore Mobisson
Jimmy Jam: James Samuel Harris III
J-Kwon: Jarrell Jones
Antonio Carlos Jobim: Antônio Carlos Brasileiro de Almeida Jobim
Joe: Joe Lewis Thomas
John 5: John Lowery
Holly Johnson: William Johnson
JoJo: Joanna Noëlle Levesque
Jo-Jo: Joel Lamont Hailey
Elton John: Reginald Kenneth Dwight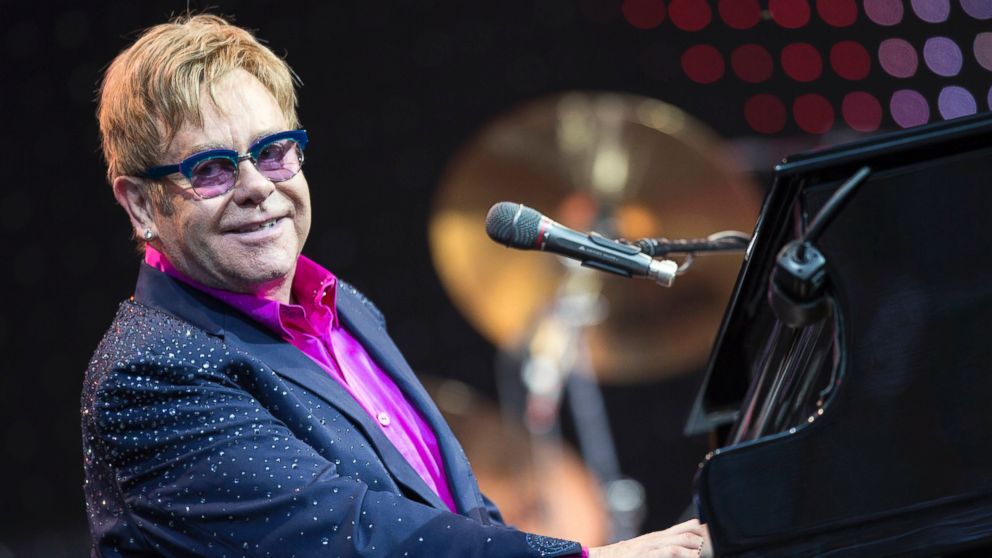 Reginald Kenneth Dwight, image from abcnews.com
Little Willie John: William Edward John
Al Jolson: Asa Yoelson
Grace Jones: Grace Mendoza
John Paul Jones: John Richard Baldwin
Norah Jones: Geetali Norah Shankar
Spike Jones: Lindley Armstrong Jones
Tom Jones: Thomas John Woodward
Naomi Judd; Diana Ellen Judd
Wynonna Judd: Christina Claire Ciminella
Juvenle: Terius Gray
Naeem Juwan: Naeem Juwan Hanks

K
Kaskade: Ryan Raddon
John Kay (Steppenwolf): Joachim Krauledat
Sammy Kaye: Samuel Zarnocay Jr.
KC: Harry Wayne Casey
K-Ci: Cedric Renard Hailey
Toby Keith: Toby Keith Covel
Kelis: Kelis Rogers
R. Kelly: Robert Sylvester Kelly
Ke$ha: Kesha Rose Sebert
Alicia Keys: Alicia Augello Cook
Wiz Khalifa: Cameron Jibril Thomaz
Chaka Khan: Yvette Marie Stevens
Kid Cudi: Scott Ramon Seguro Mescudi
Kid Ink: Brian Todd Collins
Kid Rock: Robert James Ritchie
Lemmy Killmeister: Ian Frasier Kilmister
Albert King: Albert Nelson
B.B. King: Riley B. King
Ben E. King: Benjamin Earl Nelson
Carole King: Carol Joan Klein
Pee Wee King: Julius Frank Anthony Kuczynski
King Ad-Rock: Adam Keefe Horovitz
King Tubby: Osbourne Ruddock
Sean Kingston: Kisean Jamal Anderson
Koala Kid: Eric San
Kool Keith: Keith Matthew Thornton
Kool Moe Dee: Mohandas Dewese
Al Kooper (Blood Sweat & Tears): Alan Peter Kuperschmidt
Kris Kristofferson: Kris Carson
KRS-One: Lawrence Krisna Parker
Fela Kuti: Olufela Olusegun Oludotun Ransome-Kuti
Talib Kweli: Talib Kweli Greene
Kay Kyser: James Kern Kyser

L
Patti LaBelle: Patricia Louise Holt-Edwards
Lady Gaga: Stefani Joanne Angelina Germanotta
Stefani Joanne Angelina Germanotta, image from thefactsite.com
Lady Saw: Marion Hall
Lady Sovereign: Louise Amanda Harman
Frankie Laine: Francesco Paolo LoVecchio
Kendrick Lamar: Kendrick Lamar Duckworth
Burton Lane: Morris Hyman Kushner
Jani Lane: John Kennedy Oswald
k.d. lang: Kathryn Dawn Lang
Mutt Lange: Robert John Lange
Mario Lanza: Alfredo Arnold Cocozza
Steve Lawrence: Sidney Liebowitz
Lead Belly: Huddie William Ledbetter
Brenda Lee: Brenda Mae Tarpley
Geddy Lee: Gary Lee Weinrib
Peggy Lee: Norma Deloris Egstrom
Left Eye: Lisa Nicole Lopes
John Legend: John Stephens
Julian Lennon: John Charles Julian Lennon
Gary Lewis: Gary Levitch
Huey Lewis: Hugh Anthony Cregg III
Ted Lewis: Theodore Leopold Friedman
Liberace: Władziu Valentino Liberace
Władziu Valentino Liberace, image from telegraph.co.uk
Alex Lifeson: Alexander Zivojinovich
Lights: Valerie Annie Poxleitner
Lil Flip: Wesley Eric Weston, Jr.
Lil Jon: Jonathan Mortimer Smith
Lil' Kim: Kimberly Denise Jones
Lil' Mo: Cynthia Loving-Bryant
Lil' Scrappy: Darryl Kevin Richardson II
Lil Uzi Vert: Symere Woods
Lil Wayne: Dwayne Michael Carter, Jr.
Lil Yachty: Miles Park McCollum
Limahl (Kajagoogoo): Christopher Hamill
Little Anthony: Anthony Gourdine
Little Eva: Eva Narcissus Boyd
Little Milton: James Milton Campbell, Jr.
Little Richard: Richard Wayne Penniman
Little Walter: Walter Jacobs
LL Cool J: James Todd Smith
Lloyd: Lloyd Harlin Polite, Jr.
LMFAO's RedFoo and SkyBlu: Stefan Kendal Gordy and Skyler Austen Gordy
Lobo: Roland Kent LaVoie
Carole Lombard: Jane Alice Peters
Guy Lombardo: Gaetano Alberto Lombardo
Lorde: Ella Marija Lani Yelich-O'Connor
Courtney Love: Courtney Michelle Harrison
Darlene Love: Darlene Wright
Patty Loveless: Patricia Lee Ramey
Lene Lovich: Lili-Marlene Premilovich
Ludacris: Christopher Brian Bridges
Lulu: Marie McDonald McLaughlin Lawrie
Lupe Fiasco: Wasalu Muhammad Jaco
Loretta Lynn: Loretta Webb
Lyn-Z: Lindsay Ann Ballato

M
Harry Macdonough: John Scantlebury Macdonald
Macklemore: Ben Haggerty
Madlib: Otis Jackson Jr.
Madonna: Madonna Louise Ciccone
Magic Sam: Samuel Gene Maghett
Taj Mahal: Henry Saint Clair Fredericks
Miriam Makeba: Zensi Miriam Makeba
Yngwie Malmsteen: Lars Johann Yngwie Lannerback
Henry Mancini: Enrico Nicola Mancini
Barry Manilow: Barry Alan Pincus
Barry Mann: Barry Imberman
Manfred Mann: Manfred Lubowitz
Marilyn Manson: Brian Hugh Warner
Mantovani: Annunzio Paolo Mantovani
Little Peggy March: Margaret Battavio
Teairra Mari: Teaiira Maria Thomas
Teena Marie: Mary Chrstine Brocket
Marley Marl: Marion Williams
Ziggy Marley: David Marley
Johnny Marr: John Martin Maher
Bruno Mars: Peter Gene Hernandez
Peter Gene Hernandez, image from nme.com
Mick Mars (Motley Crue): Robert Alan Deal
Martika: Martha Marrero
Dean Martin: Dino Paul Crocetti
Ricky Martin: Enrique Martin Morales
Tony Martin: Alvin Morris
Al Martino: Jasper Cini
Mase: Mason Durrel Betha
Masta Killa: Elgin Turner
Master P: Percy Miller Sr.
Matisyahu: Matthew Paul Miller
Maxwell: Gerald Maxwell Rivera
MC Hammer: Stanley Kirk Burrell
MC Lyte: Lana Michelle Moorer
MCA: Adam Nathaniel Yauch
Martina McBride: Martina Mariea Schiff
C.W. McCall: William Fries
Brownie McGhee: Walter Brown McGhee
Blind Willie McTell: William Samuel McTier
Meat Loaf: Marvin Lee Aday
Joe Meek: Robert George Meek
Meek Mill: Robert Williams
Melanie: Melanie Anne Safka
Memphis Minnie: Lizzie Douglas
Felix Mendelssohn: Jakob Ludwig Felix Mendelssohn Bartholdy
Freddie Mercury: Farrokh Bulsara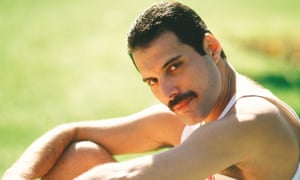 Farrokh Bulsara, image from theguardian.com
Ethel Merman: Ethel Agnes Zimmermann
Bob Merrill: Henry Robert Merrill Levan
Method Man: Clifford Smith
MF Doom: Daniel Dumile
MF Grimm: Percy Carey
M.I.A.: Mathangi Arulpragasam
George Michael: Georgios Kyriacos Panayiotou
Bret Michaels: Bret Michael Sychak
Luis Miguel: Luis Miguel Gallego Basteri
Glenn Miller: Alton Glenn Miller
Mitch Miller: Mitchell William Miller
Nicki Minaj: Onika Tanya Maraj
Carmen Miranda: Maria Do Carmo Miranda Da Cunha
Guy Mitchell: Albert George Cernick
Joni Mitchell: Roberta Joan Anderson
Moby: Richard Melville Hall
Pharoahe Monch: Troy Donald Jamerson
Eddie Money: Edward Mahoney
Monica: Monica Denise Arnold
French Montana: Karim Kharbouch
Patsy Montana: Ruby Rose Blevins
Wes Montgomery: John Leslie Montgomery
Gary Moore: Thomas Garrison Morfit
Van Morrison: George Ivan Morrison
Morrissey: Steven Patrick Morrissey
Jelly Roll Morton: Ferdinand Joseph LaMenthe Morton
Mos Def: Dante Terrell Smith-Bey
Nana Mouskouri: Ioánna Moúschouri
Wolfgang Amadeus Mozart: Johannes Chrysostomus Wolfgangus Theophilus Mozart
Mr. Lif: Jeffrey Haynes
Ms. Dynamite: Niomi McLean-Daley
Munky (Korn): James Christian Shaffer
Anne Murray: Morna Anne Murray
Mya: Mya Marie Harrison
Mystikal: Michael Lawrence Tyler

N
Nas: Nasir Bin Olu Dara Jones
Nate Dogg: Nathaniel Dawayne Hale
Me'shell N'degeocello: Michelle Johnson
Nelly: Cornell Iral Haynes, Jr.
Vince Neil: Vince Neil Wharton
Ozzie Nelson: Oswald George Nelson
Ricky Nelson: Eric Hilliard Nelson
Juice Newton: Judy Kay Newton
Ne-Yo: Shaffer Chimere Smith
Stevie Nicks: Stephanie Lynn Nicks
Nicky Jam: Nick Rivera Caminero
Nico: Christa Paffgen
Nilsson: Harry Edward Nilsson III
Nokio: Tamir Ruffin
Noodles: Kevin John Wasserman
Notoriou B.I.G.: Christopher George Latore Wallace
Christopher Wallace, image from latimes.com
Aldo Nova: Aldo Caporuscio
Gary Numan: Gary Anthony James Webb
Laura Nyro: Laura Nigro

O
Ric Ocasek (The Cars): Richard Otcasek
Billy Ocean: Leslie Sebastian Charles
Frank Ocean: Christopher Breaux
Ol' Dirty Bastard: Russell Tyrone Jones
Omarion: Omari Ishmal Grandberry
OMI: Omar Samuel Pasley
William Orbit: William Mark Wainwright
Tony Orlando: Michael Anthony Orlando Cassivitis
Eugene Ormandy: Jenő Blau
Benjamin Orr: Benjamin Orzechowski
Roland Orzabal: Raoul Jaime Orzabal de la Quintana
Ozzy Osbourne: John Michael Osborne
Gilbert O'Sullivan: Raymond Edward O'Sullivan
Johnny Otis: John Alexandres Veliotes
Buck Owens: Alvis Edgar Owens, Jr.
Owl City: Adam Young

P
Patti Page: Clara Ann Fowler
Colonel Tom Parker: Andreas Cornelius van Kujik
Junior Parker: Herman Parker, Jr.
Gram Parsons: Cecil Ingram Connor III
Cecil Ingram Connor III, image from theworldinapapercup.com
Jaco Pastorius: John Francis Anthony Pastorius III
Les Paul: Lester William Polsfuss
Johnny Paycheck: Donald Eugene Lytle
Peaches (Peaches & Herb): Francine Barker
Minnie Pearl: Sarah Ophelia Colley
Katy Perry: Katheryn Elizabeth Hudson
Lee "Scratch" Perry: Rainford Hugh Perry
Pharaohe Monch: Troy Donald Jameson
Michelle Phillips: Holly Michelle Gilliam
Philthy Animal: Phil Taylor
Edith Piaf: Edith Giovanna Gassion
Pink: Alecia Beth Moore
Pitbull: Armando Christian Perez
Plies: Algernod Lanier Washington
Buster Poindexter: David Johansen
Doc Pomus: Jerome Solon Felder
Iggy Pop: James Newell Osterberg, Jr.
Post Malone: Austin Richard Post
Bud Powell: Earl Rudolph Powell
Cozy Powell: Colin Flooks
Pras: Samuel Prakazrel Michel
André Previn: Andreas Ludwig Priwin
Maxi Priest: Max Elliot
Prince: Prince Rogers Nelson
Prince Far-I: Michael James Williams
Prince Paul: Paul Huston
Freddie Prinze: Frederick Karl Pruetzel
Prodigy: Albert Johnson
Professor Longhair: Henry Roeland Byrd
Professor X: Lumumba Robert Carson
PSY: Park Jae-sang
Tito Puente: Ernesto Antonio Puente
Puff Daddy (aka P. Diddy & Diddy): Sean John Combs
Sean John Combs, pick a name already and stick with it! Image from newsday.com.
Q
Suzi Quatro: Suzi Quatrocchio
Q-Bert: Richard Quitevis
Q-Tip: Kamaal Ibn John Fareed
Queen Latifah: Dana Elaine Owens
Dana Elaine Owens, image from thelavalizard.com
? (? & The Mysterians): Rudy Martinez
?uestlove: Ahmir-Khalib Thompson
Q-Tip: Jonathan Davis

R
Sun Ra: Herman Poole Blount
Raekwon: Corey Woods
Ma Rainey: Gertrude Pridgett
Rakim: William Michael Griffin, Jr.
Twiggy Ramiez: Jeordie Osborne White
C.J. Ramone: Chris Ward
Dee Dee Ramone (Ramones): Douglas Colvin
Joey Ramone (Ramones): Jeffery Hyman
Johnny Ramone (Ramones): John Cummings
Marky Ramone (Ramones): Mark Bell
Phil Ramone: Philip Rabinowitz
Richie Ramone (Ramones): Richie Reinhart
Tommy Ramone (Ramones): Tom Erdelyi
Shabba Ranks: Rexton Rawlston Fernando Gordon
Boots Randolph: Homer Louis Randolph
Dizzee Rascal: Dylan Mills
Collin Raye: Floyd Collin Wray
Chris Rea: Christopher Anton Rea
Redman: Reginald Noble
RedOne: Nadir Khayat
Jerry Reed: Jerry Reed Hubbard
Martha Reeves: Martha Lavaille
Django Reinhardt: Jean Reinhardt
The Rev (Avenged Sevenfold): James Owen Sullivan
Martin Rev: Martin Reverby
Bebe Rexha: Bleta Rexha
Nick Rhodes (Duran Duran): Nicholas James Bates
Buddy Rich: Bernard Rich
Rich Homie Quan: Dequantes Devontay Lamar
Cliff Richard: Harry Rodger Webb
Rihanna: Robyn Rihanna Fenty
Robyn Fenty, image from thetimes.co.uk
Tex Ritter: Woodward Maurice Ritter
Johnny Rivers: John Henry Ramistella
Marty Robbins: Martin David Robinson
Robbie Robertson: Jaime Royal Klegerman
Smokey Robinson: William Robinson, Jr.
Rikki Rockett: Richard Allan Ream
Rockwell: Kennedy Gordy
Johnny Rodriguez: Juan Raoul Davis Rodriguez
Roy Rogers: Leonard Franklin Slye
Henry Rollins: Henry Garfield
Sonny Rollins: Walter Theodore Rollins
Axl Rose: William Bruce Rose, Jr. (raised as William Bruce Bailey)
Diana Ross: Diane Ernestine Earle
Rick Ross: William Leonard Roberts II
Tino Rossi: Constantin Rossi
Johnny Rotten: John Joseph Lydon
Kelly Rowland: Kelendria Trene Rowland
Art Rupe: Arthur Goldberg
Leon Russell: Claude Russell Bridges
Bobby Rydell: Robert Louis Ridarelli
Mitch Ryder: William Levise Jr.
Bobby Rydell: Robert Lugi Ridarelli
RZA: Robert Diggs

S
Raphael Saadiq: Charlie Ray Wiggins
Sade: Helen Folasade Adu
Salt-N-Pepa: Cheryl James and Sandra Denton
Santigold: Santi White
Sasha: Alexander Coe
Leo Sayer: Gerald Hugh Sayer
Boz Scaggs: William Royce Scaggs
Scarface: Brad Jordan
Schoolboy Q: Quincy Matthew Hanley
Bon Scott (AC/DC): Ronald Belford Scott
Travis Scott: Jacques Webster
Seal: Seal Henry Olusegun Olumide Adeola Samuel
Son Seals: Frank Seals
Jay Sean: Kamaljit Singh Jhooti
Selena: Selena Quintanilla-Perez
Senor Coconut: Uwe Schmidt
David Seville: Ross Bagdasarian
M. Shadows (Avenged Sevenfold): Matthew Charles Sanders
Shaggy: Orville Richard Burrell
Shaggy2Dope: Joseph Utsler
Shakira: Shakira Isabel Mebarak Ripoll
Tupac Shakur: Lesane Parish Crooks
Del Shannon: Charles Weedon Westover
Edward Sharpe: Alexander Michael Tahquitz Ebert
Artie Shaw: Arthur Jacob Arshawsky
Sheek Louch: Sean Divine Jacobs
T. G. Sheppard: William Neal Browder
Nat Shilkret: Naftule Schüldkraut
Shinehead: Edmund Carl Aiken
Michelle Shocked: Karen Michelle Johnson
Dinah Shore: Fannye Rose Shore
Shyne: Jamal Barrow
Sia: Sia Kate Isobelle Furler
Jean Sibelius: Johan Julius Christan Sibelius
Silento: Ricky Lamar Hawk
Beverly Sills: Belle Miriam Silverman
Silkk the Shocker: Vyshonn King Miller
Gene Simmons (Kiss): Chaim Klein Weitz
Stanley Harvey Eisen and Chaim Klein Weitz, image from johnjsimpson.wordpress.com
Nina Simone: Eunice Kathleen Waymon
The Singing Nun: Jeanine Deckers
Siouxsie Sioux: Susan Jane Ballion
Sir Mix-a-Lot: Anthony Ray
Sisqo: Mark Althavan Andrews
Sista Souja: Lisa Williamson
Nikki Sixx: Franklin Carlton Serafino Ferranno
Roni Size: Ryan Williams
Sizzla: Miguel Orlando Collins
Skrillex: Sonny John Moore
Luke Skyywalker: Luther Campbell
Slash: Saul Hudson
Grace Slick: Grace Barnett Wing
Slick Rick: Richard Martin Lloyd Walters
Slim Thug: Stayve Jerome Thomas
Connie Smith: Constance June Meador
Whistling Jack Smith: Billy Moeller
Snoop Dogg: Calvin Cordozar Broadus, Jr.
Snow: Darrin O'Brien
Hank Snow: Clarence Eugene Snow
Phoebe Snow: Phoebe Laub
Solé: Tonya Michelle Johnston Lumpkin
Trey Songz: Tremaine Aldon Neverson
Musiq Soulchild: Talib Johnson
Soulja Boy: DeAndre Cortez Way
Joe South: Joseph Alfred Souter
Bubba Sparxxx: Warren Anderson Mathis
Ronnie Spector: Veronica Bennett
Baby Spice (Spice Girls): Emma Lee Bunton
Ginger Spice (Spice Girls): Geraldine Estelle Halliwell
Posh Spice (Spice Girls): Victoria Caroline Adams [Beckham]
Scary Spice (Spice Girls): Melanie Janine Brown
Sporty Spice (Spice Girls): Melanie Jayne Chisholm
Spinderella: Deidre Roper
Dusty Springfield: Mary Isabel Catherine Bernadette O'Brien
Rick Springfield: Richard Lewis Springthorpe
St. Vincent: Annie Clark
Frank Stanley: William Stanley Grinsted
Paul Stanley (KISS): Stanley Harvey Eisen
Kay Starr: Katherine Laverne Starks
Ringo Starr: Richard Starkey
Isaac Stern: Isaak Solomonovich Shtern
Cat Stevens: Steven Demetre Georgiou
Ray Stevens: Harold Ray Ragsdale
Shakin' Stevens: Michael Barratt
Sting: Gordon Matthew Thomas Sumner
Gordon Matthew Thomas Sumner, image from npr.org
Angie Stone: Angela Brown
Joss Stone: Joscelyn Eve Stocker
Sly Stone: Sylvester Stewart
Chris Strachwitz: Christian Alexander Maria Strachwitz
Izzy Stradlin: Jeffrey Dean Isbell
Joe Strummer: John Graham Mellor
Levi Stubbs: Levi Stubbles
Styles P.: David Styles
Jule Styne: Julius Kerwin Stein
Donna Summer: LaDonna Adrian Gaines
Super Cat: William Maragh
Swizz Beatz: Kasseem Mike Dean
SZA: Solana Imani Rowe

T
Booker T.: Booker T. Jones
Taboo (Black Eyed Peas): Jamie Luis Gomez
Taco: Taco Ockerse
Tampa Red: Hudson Woodbridge
Tank: Durrell Babbs
Hound Dog Taylor: Theodore Roosevelt Taylor
Koko Taylor: Cora Anna Walton
T-Boz: Tionne Watkins
Terminator X: Norman Rogers
Sonny Terry: Saunders Terrell
Tammi Terrell: Thomasina Montgomery
Joe Tex: Joseph Arrington Jr.
Sister Rosetta Tharpe: Rosetta Nubin
B.J. Thomas: Billy Joe Thomas
Hank Thompson: Henry William Thompson
Big Mama Thornton: Willie Mae Thornton
Johnny Thunders: John Anthony Genzale, Jr
T.I.: Clifford Joseph Harris, Jr.
Mel Tillis: Lonnie Melvin Tillis
Tiësto: Tijis Michiel Verwest
Tiffany: Tiffany Renee Darwish
Timbaland: Timothy Zachery Mosley
Tiny Tim: Herbert Buckingham Khaury
Tone Loc: Anthony Terrell Smith
Too $hort: Todd Shaw
Peter Tork (Monkees): Peter Halston Thorkelson
Tico Torres: Hector Samuel Juan Tico Torres
Peter Tosh: Winston Hubert Macintosh
Tove Lo: Ebba Tove Elsa Nilsson
T-Pain: Faheem Rasheed Najm
Randy Travis: Randy Bruce Traywick
Trick Daddy: Maurice Young
Trina: Katrina Le'verne Taylor
Triple H: Paul Michael Levesque
Ike Turner: Izear Luster Turner, Jr.
Tina Turner: Anna Mae Bullock
Tommy Tutone: Tommy Heath
Shania Twain: Eileen Regina Edwards
Eileen Regina Edwards, image from inmagazine.ca
T-Wayne: Tyshon Dwayne Nobles
Tweet: Charlene Keys
21 Savage: Shayaa Bin Abraham-Joseph
Twista: Carl Terrell Mitchell
Conway Twitty: Harold Lloyd Jenkins
2 Chainz: Tauheed Epps
Ty Dolla $ign: Tyrone William Griffin, Jr.
Tyler, the Creator: Tyler Gregory Okonma
Bonnie Tyler: Gaynor Hopkins
Steven Tyler: Steven Victor Tallarico

U
U-God: Lamont Hawkins
Uncle Kracker: Matthew Shafer
Midge Ure: James Ure
Little Jimmy Urine: James Euringer
U-Roy: Ewart Beckford
Usher: Usher Raymond IV

V
Jerry Vale: Genaro Vitaliano
Ritchie Valens: Richard Steven Valenzuela
Bobby Valentino: Robert Wilson
Rudy Vallee: Hubert Prior Vallée
Frankie Valli: Frank Castelluccio
Vangelis: Evangelos Papathanassiou
Vanilla Ice: Robert Van Winkle
Vanity: Denise Katrina Smith
Eddie Vedder: Edward Louis Severson III
Edward Louis Severson III, image from perthnow.com.au
Bobby Vee: Robert Thomas Velline
Alan Vega: Alan Bermowitz
Zacky Vengeance (Avenged Sevenfold): Zachary James Baker
Billy Vera: William McCord Jr.
Tom Verlaine: Thomas Miller
Sid Vicious (the Sex Pistols): Simon John Ritchie
Butch Vig: Bryan David Vig
Gene Vincent: Vincent Eugene Craddock
Vinnie Vincent (KISS): Vincent John Cusano
Bobby Vinton: Stanley Robert Vinton, Jr.
Violent J: Joseph Bruce
Vitamin C: Colleen Fitzpatrick
Vortex: Simen Hestnæs

W
Bunny Wailer: Neville O'Riley Livingston
Waka Flocka Flame: Juaquin Malphursd
Wale: Olubowale Victor Akintimehin
Junior Walker: Autry DeWalt Walker Jr.
T-Bone Walker: Aaron Thibeaux Walker
Paul Wall: Paul Gideon Manry
Sippie Wallace: Beulah Belle Thomas
Fats Waller: Thomas Wright Waller
Dee Dee Warwick: Delia Mae Warrick
Don Was: Donald Fagenson
Dinah Washington: Ruth Lee Jones
Muddy Waters: McKinley Morganfield
McKinley Morganfield, image from jango.com
Roger Waters: George Robert Waters
Fee Waybill (Tubes): John Waldo
Chick Webb: William Henry Webb
The Weeknd: Abel Tesfaye
Ted Weems: Wilfred Theodore Wemyes
Dean Ween (Ween): Mickey Melchiondo
Gene Ween (Ween): Aaron Freeman
Bob Weir (Greatful Dead): Robert Hall
Paul Weller: John William Weller, Jr.
Junior Wells: Amos Wells Blakemore , Jr.
Kitty Wells: Ellen Muriel Deason
Dottie West: Dorothy Marie Marsh
Leslie West (Mountain): Leslie Westein
Peetie Wheatstraw: William Bunch
Barry White: Barry Eugene Carter
Bukka White: Booker T. Washington White
Jack White: John Anthony Gillis
Slim Whitman: Otis Dewey Whitman, Jr.
Kim Wilde: Kim Smith
will.i.am: William James Adams, Jr.
Big Joe Williams: Joseph Lee Williams
Hank Williams: Hiram Williams
Hank Williams, Jr.: Randall Hank Williams
Mary Lou Williams: Mary Elfrieda Scruggs
Paul Williams: Billy Paul
Roger Williams: Louis Jacob Weertz
Sonny Boy Williamson #1: John Lee Williamson
Sonny Boy Williamson #2: Alex Ford
Nicky Wire (Manic Street Preachers): Nicholas Allen Jones
Wiz Khalifa: Cameron Jibril Thomaz
Peter Wolf (J. Geils Band): Peter Blankfield
Wolfman Jack: Robert Weston Smith
Stevie Wonder: Stevland Hardaway Judkins
Stevland Hardaway Judkins, image from nostalgie.fr
Link Wray: Fred Lincoln Wray Jr.
Zakk Wylde: Jeffery Phillip Wiedlandt
Bill Wyman: William Perks
Tammy Wynette: Virginia Wynette Pugh

X-Y
Xzibit: Alvin Nathaniel Joiner IV
Yabby You: Vivian Jackson
Weird Al Yankovic: Alfred Matthew Yankovic
Yanni: Yiannis Chrysomallis
Tony Yayo: Marvin Bernard
YG: Keenon Daequan Ray Jackson
Young Buck: David Darnell Brown
Young Dro: D'Juan Hart
Young Jeezy: Jay Jenkins
Young MC: Marvin Young
Young Thug: Jeffrey Lamar Williams
Yung Joc: Jasiel A. Robinson
Yung Wun: James Anderson

Z
Dweezil Zappa: Ian Donald Calvin Euclid Zappa
Frank Zappa: Francis Vincent Zappa, Jr.
Zedd: Anton Zaslavski
Warren Zevon: Warren William Zevon
Rob Zombie: Robert Bartleh Cummings
Buckwheat Zydeco: Stanley Dural, Jr.
---
Resources and Related Links:
---