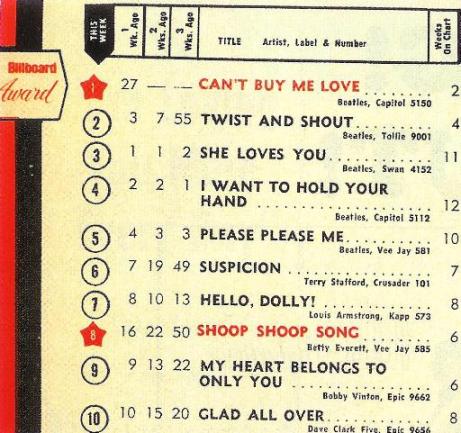 image courtesy of mybeatles.net
The height of Beatlemania was never more apparent in the United States than during the week of April 4, 1964. That week, The Beatles commanded the top 5 spots on the Billboard Hot 100. "Can't Buy Me Love" made what was then the largest leap to #1 from #27 the week before. It held that record until 2002 when Kelly Clarkson's "A Moment Like This" vaulted to #1 from #52. She would then break her own record in 2009 when "My Life Would Suck Without You" leapt from 97 to 1.
Closing in behind "Can't Buy Me Love" were "Twist and Shout" (2), "She Loves You" (3), "I Want to Hold Your Hand" (4), and "Please Please Me" (5). It was also significant in that it marked The Beatles' third consecutive chart-topper. "I Want to Hold Your Hand" was knocked from the top by "She Loves You" which, in turn, gave way to "Can't Buy Me Love." In the history of the Hot 100, no other act has had three consecutive #1 songs.
The closest anyone has come to duplicating the feat was in 2005 when 50 Cent had top five hits with "Candy Shop" and "Disco Inferno" and a guest spot on The Game's "How We Go" in the weeks ending March 12 and March 19.
In that same week, The Beatles had a whopping 7 more titles on the Hot 100 – "I Saw Her Standing There" (31), "From Me to You" (41), "Do You Want to Know a Secret" (46), "All My Loving" (58), "You Can't Do That" (65), "Roll Over Beethoven" (68), and "Thank You Girl" (79). The following week, "There's a Place" and "Love Me Do" also charted, giving The Beatles a record 14 slots on the Hot 100 for the week ending April 11, 1964.
Can't Buy Me Love
---
Awards:
---
---
Resources and Related Links:
---