---
Check out these books by Dave Whitaker available through DavesMusicDatabase.com or Amazon.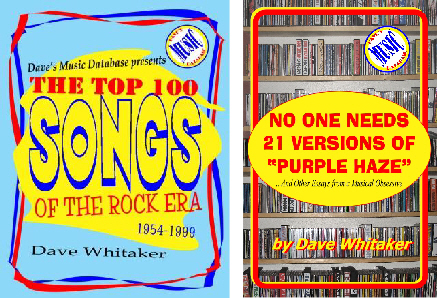 Also check the Dave's Music Database Facebook page for daily music-related posts.
---
Etta James, "one of the great voices of the 20th century who fused R&B with gospel and blues,"
RS
died January 20, 2012, less than a week shy of her 74th birthday. The Grammy winner was an inductee in the Blues Hall of Fame, R&B Foundation, and the Rock and Roll Hall of Fame. Her song "The Wallflower (Roll with Me Henry)" (1955), was inducted into the
Grammy Hall of Fame
, and "Tell Mama" (1967) was selected to the Rock and Roll Hall of Fame's list of
500 Songs That Shaped Rock and Roll
. However, she may be most associated with wedding favorite "At Last" (1961), a
Grammy Hall of Fame
inductee,
National Recording Registry
entry, and one of
the top 100 jazz songs of all time
according to the DMDB. At his inauguration, President Barack Obama and first lady Michelle Obama danced to "At Last" as sung by Beyoncé, who portrayed James in the 2008 film
Cadillac Records
.
James was diagnosed with leukemia in 2010 and battled other health problems such as drug addiction, dementia, and hepatitis C. At one point, she ballooned to a reported 400 pounds and then cut that weight in half. Lupe DeLeon, her longtime friend and manager, said "This is a tremendous loss for the family, her friends and fans around the world…She was a true original who could sing it all – her music defied category. I worked with Etta for over 30 years. She was my friend and I will miss her always."
CNN
She was born Jamesetta Hawkins in Los Angeles in 1938. Her teen mother largely abandoned her and never revealed the father's identity, although James suspected it was famed pool player Minnesota Fats.
CNN
Johnny Otis, best known for the song "Willie and the Hand Jive", discovered James when she was 14. She hit #1 on the R&B charts with "The Wallflower", a song Otis wrote as an answer song to Hank Ballard's "Work with Me Annie".
Over the next decade, James charted a dozen top ten hits on the R&B charts, most with Chess Records. Her most successful run on the pop charts was "Tell Mama" with a #23 peak. She discussed her songs with CNN in 2002: "Most of the songs I sing, they have that blue feeling to it. They have that sorry feeling. And I don't know what I'm sorry about."
CNN
She continued touring until sidelined by illness in 2009. She has been cited as an influence by current British singer Adele. In 2008, Bonnie Raitt told
Rolling Stone
, "There's a lot going on [in] Etta James' voice…A lot of pain, a lot of life, most of all, a lot of strength. She can be so raucous and down one song, and then break your heart with her subtlety and finesse the next. As raw as Etta is, there's a great intelligence and wisdom in her singing."
RS
She also said, "Anybody who has a bluesy side to what they do can point to Etta James as the bridge between R&B, blues and pop singing."
UT
As James told
Rolling Stone
, "Life's been rough…But life's been good. If I had to go back and do it all over again, I would live it the exact same way."
RS
---
Awards:
---
Resources and Related Links:
---