---
Check out these books by Dave Whitaker available through DavesMusicDatabase.com or Amazon.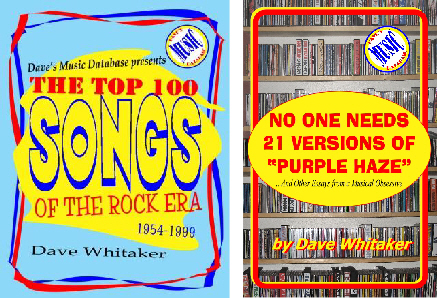 Also check the Dave's Music Database Facebook page for daily music-related posts.
---
In the closing days of 1967, legendary soul singer Otis Redding was due for some performances in the Midwest. After a television appearance in Cleveland, he was set for a concert in Madison, Wisconsin. However, on its final approach into Madison, the private plane crashed into a lake three miles from the runway. Redding and six of the other seven people on board were killed.
Redding was born in Dawson, Georgia, the song of a gospel singer and a housekeeper. From an early age, Otis began singing with the church choir and at age ten he took up drumming and singing lessons. He cited Little Richard and Sam Cooke as major influences. As a teen, Redding parlayed a numer of talent show contest wins into paying gigs and in 1960 moved to Los Angeles with his sister and wrote his first songs. While touring as a band member and later a featured artist, Redding met Phil Walden who would help Otis get signed to Confederate Records. This led to Redding being signed with Stax, where he achieved all his chart success and became "arguably the most exciting singer on the roster of Memphis-based Stax/Volt Records." HI

He scored his first hit with "These Arms of Mine", a #20 R&B hit in 1963. Over the next few years, he scored top 5 R&B hits with "I've Been Loving You Too Long", "Respect", "Satisfaction", and "Try a Little Tenderness". However, it wasn't until 1967 that mainstream audiences really discovered him. An appearance at the Monterey International Pop Festival had exposed his talents to a largely white rock-oriented audience. Also, Aretha Franklin took her cover of Redding's "Respect" to the top of the charts.

Weeks after his death, Redding scored not only the biggest song of his career, but one of the biggest songs of all time. In the book The Top 100 Songs of the Rock Era 1954-1999, Dave's Music Database ranks Redding's "Sittin' on the Dock of the Bay" at #12. Redding had left the song unfinished – a whistled verse served as a placeholder for lyrics he had yet to write. The whistling has now become an iconic part of the song which became history's first posthumous #1 hit. HI


---
Awards:
Resources and Related Links:
---