---
Check out these books by Dave Whitaker available through DavesMusicDatabase.com or Amazon.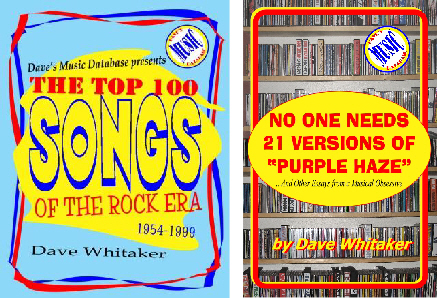 Also check the Dave's Music Database Facebook page for daily music-related posts.
---
In the 1950s, there was no artist bigger on the planet than Elvis Presley. By the early '60s, however, his career was beginning to wane. He made a series of B-grade movies and largely dismissed soundtracks which showed diminishing chart results. By 1968, he hadn't released a proper studio album in six years and his image was considered "uncool". Elvis' manager, Colonel Parker, was struggling to get the $1,000,000 he demanded for Elvis in a film and turned to NBC to finance a television special.
Parker envisioned a Christmas special but Steve Binder, the show's director, suggested a show built around extravagant musical sequences and lavish set designs. The numbers were recorded from June 20-23. After filming the numbers, Elvis and his band often unwound with improvised blues and rock numbers. Binder suggested some intimate live footage be integrated into the special as well. Elvis was initially reluctant since he hadn't performed live since 1961, but agreed to tape some performances at the NBC Burbank studios. The final show comprised of mix of the large choreographed numbers and the informal live sessions. The latter have come to be regarded as a forerunner to the Unplugged series launched by MTV in the 1990s.

When the show aired, it attracted 42% of the viewing audience. It rated as the top prime time program for the week. Elvis' career saw a revival which included a four-week stint in Las Vegas, record-breaking sell-out performances across the United States, and a return to the studio. The soundtrack released in support of the special peaked at #8. A 1984 video, Elvis – One Night with You, featured an uncut, unedited look at one of the sit-down sessions. A 2004 DVD release captured all the video footage still in existence. A 1998 album, Memories, was issued as an expanded anniversary edition of the original NBC-TV Special album. The Tiger Man album from that year featured the complete sit-down performances. A 2008 CD box set, Complete '68 Comeback Special, offered up the complete recording sessions from the special.

The special was hugely important in restoring Elvis' sales clout and cool factor. However, as Ernest Jorgensen says in the book Elvis: A Life in Music, the "real effect was much broader and deeper. It re-established his place as a dominant force in American music and culture." EH


---
Resources and Related Links:
---