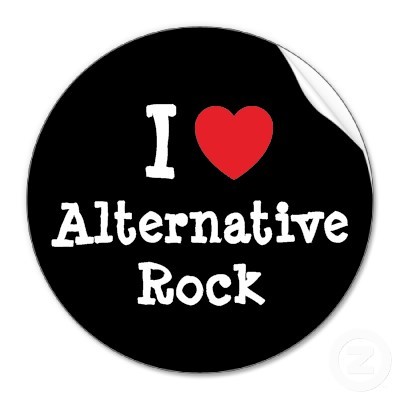 image from twitter.com/alterrockupdate
This list was created by consolidating chart points from two alternative charts. First, the official Billboard charts from 1988-2016 were used. Second, the DMDB created charts for alternative songs from 1967-1988. The results of the two charts were combined to create a list of the top 100 alternative acts of all time.
To learn more about an act, click on it to see the act's DMDB music encyclopedia entry.
1. U2
2. David Bowie
3. Red Hot Chili Peppers
4. Foo Fighters
5. R.E.M.
6. Green Day
7. Pearl Jam
8. Linkin Park
9. Depeche Mode
10. The Cure

11. The Offspring
12. Weezer
13. Smashing Pumpkins
14. INXS
15. Coldplay
16. Muse
17. Stone Temple Pilots
18. Elvis Costello 19. 311
20. Incubus

21. Siouxsie & the Banshees
22. The Clash
23. Nine Inch Nails
24. Blink-182
25. Bush
26. Staind
27. Beck
28. Live
29. Korn
30. The Cars

31. Seether
32. Nickelback
33. Shinedown
34. Disturbed
35. Papa Roach
36. Beastie Boys
37. Cage the Elephant
38. Dave Matthews
39. Midnight Oil
40. UB40

41. The Police
42. Godsmack
43. The Smiths
44. Oasis
45. Rise Against
46. Three Days Grace
47. Duran Duran
48. Pretenders
49. The B-52's
50. Morrissey

51. Ramones
52. Chevelle
53. The Killers
54. Robert Palmer
55. Eurythmics
56. 3 Doors Down
57. Bob Marley & the Wailers
58. Jimmy Eat World
59. Kings of Leon
60. Madness

61. Goo Goo Dolls
62. The Jam
63. Puddle of Mudd
64. The Black Keys
65. Roxy Music
66. Nirvana
67. Garbage
68. Blondie
69. Breaking Benjamin
70. Audioslave

71. Alice in Chains
72. The Stranglers
73. Simple Minds
74. Bananarama
75. Death Cab for Cutie
76. Lenny Kravitz
77. Squeeze
78. Soundgarden
79. Creed
80. Radiohead

81. Everclear
82. Soul Asylum
83. The White Stripes
84. Silversun Pickups
85. My Chemical Romance
86. Twenty One Pilots
87. Split Enz
88. Jane's Addiction
89. System of a Down
90. Talking Heads

91. Adam Ant/Adam & the Ants
92. New Order
93. Kim Wilde
94. Fuel
95. Spandau Ballet
96. Orchestral Manoeuvres in the Dark
97. Limp Bizkit
98. 30 Seconds to Mars
99. Bryan Ferry
100. Cake

---