Updated 11/27/2018.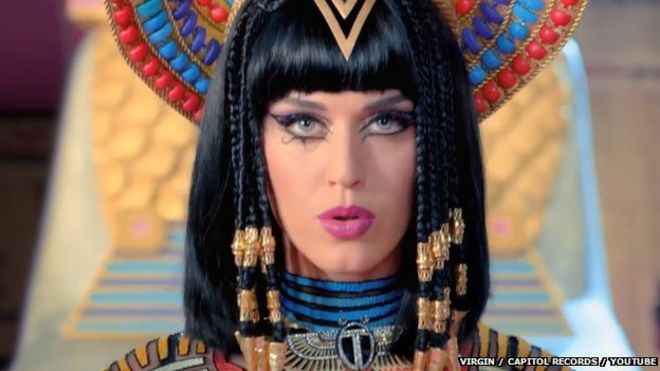 image from bbc.com
Dark Horse
Katy Perry with Juicy J
Writer(s): Katy Perry, Jordan Houston, Lukasz "Dr. Luke" Gottwald, Sarah Hudson, Max Martin, Henry Walter (see lyrics here)

---

Released: 12/17/2013

---

First Charted: 9/28/2013

---

Peak: 14 US, 6 AC, 12 RB, 4 UK, 12 CN, 5 AU (Click for codes to singles charts.)

---

Sales *: 10.3 US, 0.6 UK, 13.20 world (includes US + UK)

---

Radio Airplay *: --

---

Video Airplay *: 2463.25

---

Streaming *: 200.00

---

* in millions
Review:
"Dark Horse" was the third official single from Perry's fourth studio album, Prism. It was a #1 hit in the U.S., Canada, and the Netherlands and went to the top ten in nearly 20 countries. Perry worked with Dr. Luke and Max Martin on the track, who'd previously collaborated with her on #1 hits "I Kissed a Girl," "California Gurls," "Teenage Dream," and "Roar." Dr. Luke put Perry in touch with Memphis rapper Juicy J, whose Stay Trippy album was executive-produced by Dr. Luke. SF
Perry said of the song that she wanted it to have a "witchy…kind of black magic-y idea." WK Inspired by the 1996 movie The Craft, she wrote it from the perspective of a witch warning a man not to fall in love with her, lest it be his last time. WK Musically, the song has been described as "a Southern rap-techno mashup, combining trap and hip hop" WK along with, according to MSN Entertainment's Kathy Iandoli, elements fro "trippy pop, EDM, and dubstep." WK
A Winnipeg Free Press writer described it as a "brooding, borderline sleazy trap-pop excurscion" that is "unexpected, unconventional, and unstoppable." WK Spin magazine's Marc Hogan called the lyrics a "cliché salad" but said the "soaring hooks" and "sleekly sculpted production" were likely to make it a hit. WK Blogcritics' Dylan Mial said Perry's vocals and Juicy J's rap made for "a perfect musical storm." WK
The video was directed by Matthew Cullen, who'd also worked with Perry on "California Gurls." The video depicted Perry as a mystic queen in ancient Egypt. It evoked criticism from the Muslim community for depicting Perry killing a male subject wearing a pendant with the word "Allah." It was digitially removed from the video after a petition was signed by more than 65,000 people. SF Another petition signed by more than 60,000 people protested the use of blasphemy by promoting witchcraft, paganism, and black magic. SF
---
Resources and Related Links:
Note: Footnotes (raised letter codes) refer to sources frequently cited on the blog. Numbers following the letter code indicate page numbers. If the raised letter code is a link, it will go directly to the correct page instead of the home page of a website. You can find the sources and corresponding footnotes on the "Lists" page in the "Song Resources" section.
Awards:
---