First posted 12/8/2019.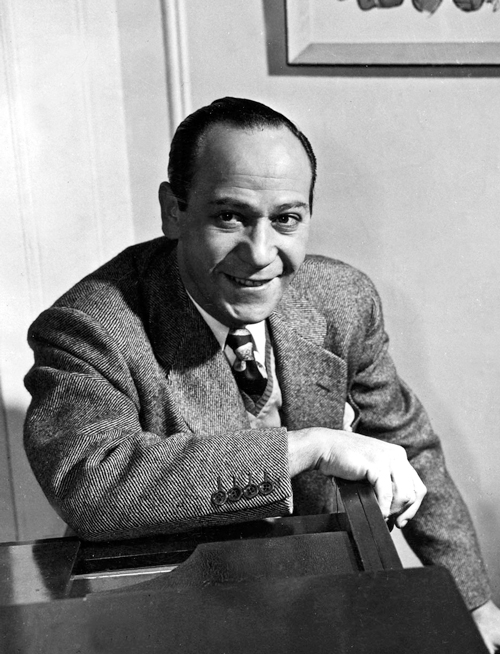 image from frankloesser.com
Musical theater composer Frank Loesser was born 100 years ago today on 6/29/1910 in New York City, NY. Best known for Broadway musicals Guys and Dolls and How to Succeed in Business Without Really Trying. Died 7/28/1969. For a complete list of this act's DMDB honors, check out the DMDB Music Maker Encyclopedia entry.
---
Top 30 Songs
---
Dave's Music Database lists are determined by song's appearances on best-of lists as well as chart success, sales, radio airplay, streaming, and awards. Many of these songs have been recorded multiple times. Only the highest-ranked version in Dave's Music Database is included in this list. The recording artist is noted in parentheses. Songs which hit #1 on these charts are noted: United States
Billboard
Hot 100 pop chart (US), Hit Parade (HP), United Kingdom pop chart (UK), and Australian pop chart (AU).
DMDB Top 1%:
1. Jingle Jangle Jingle (Kay Kyser with Harry Babbitt & Julie Conway, 1942) #1 US, HP
2. Praise the Lord and Pass the Ammunition (Kay Kyser & the Glee Club, 1942) #1 US

DMDB Top 5%:
3. On a Slow Boat to China (Kay Kyser with Harry Babbitt & Gloria Wood, 1948) #1 HP, AU
4. Baby, It's Cold Outside (Johnny Mercer & Margaret Whiting, 1949)
5. Says My Heart (Red Norvo with Mildred Bailey, 1938) #1 US, HP
6. Two Sleepy People (Fats Waller, 1938) #1 US
7. Heart and Soul (Larry Clinton & Bea Wain, 1938) #1 US
8. I Don't Want to Walk Without You (Harry James, 1942) #1 US, HP
9. They're Either Too Young or Too Old (Jimmy Dorsey with Kitty Kallen, 1943)
10. My Darling, My Darling (Jo Stafford with Gordon MacRae, 1948) #1 US

11. The Lady's in Love with You (Glenn Miller with Tex Beneke, 1939)
12. I Wish I Didn't Love You So (Vaughn Monroe, 1947) #1 HP
13. Small Fry (Bing Crosby with Johnny Mercer, 1938)
14. Let's Get Lost (Vaughn Monroe with the Four Lee Sisters, 1943) #1 US, HP
15. Say It Over and Over Again (Glenn Miller, 1940)

DMDB Top 10%:
16. Dolores (Bing Crosby, 1941)
17. A Bushel and a Peck (Perry Como with Betty Hutton & Mitchell Ayres' Orchestra, 1950) #1 HP
18. Once in Love with Amy (Ray Bolger with Sy Oliver, 1949)
19. Spring Will Be a Little Later This Year (Morton Downey with Johnny Lytell, 1944)
20. Hoop-Dee-Doo (Perry Como with the Fontane Sisters & Mitchell Ayres' Orchestra, 1950) #1 US

DMDB Top 20%:
21. Can't Get Out of This Mood (Kay Kyser with Harry Babbitt, 1942)
22. Luck Be a Lady (Frank Sinatra, 1965)
23. Standing on the Corner (The Four Lads, 1956)
24. How Sweet You Are (Kay Armen & the Balladiers, 1943)
25. The Moon of Manakoora (Bing Crosby with John Scott Trotter's Orchestra, 1936)
26. If I Were a Bell (Frankie Laine, 1950)
27. A Woman in Love (Frankie Laine, 1955) #1 UK
28. Sand in My Shoes (Connee Boswell with Victor Young's Orchestra, 1941)

Beyond the DMDB Top 20%:
29. I've Never Been in Love Before (Robert Alda with Isabel Bigley, 1950)
30. I Hear Music (Robert Paige with Peter Lind Hayes, Frank Jenks, & Eddie Quillan; 1940)

---
Awards:
---