Get Ur Freak On

Missy "Misdemeanor" Elliott
Writer(s): Melissa Elliott, Tim Mosley (see lyrics here)
---
Released: March 6, 2001
---
First Charted: February 17, 2001
---
Peak: 7 US, 20 RR, 3 RB, 4 UK, 12 CN, 44 AU, 23 DF (Click for codes to charts.)
---
Sales (in millions): 1.0 US, 0.6 UK
---
Airplay/Streaming (in millions): 0.2 radio, 93.8 video, 246.16 streaming
Awards:
Click on award for more details.
About the Song:
Missy "Misdemeanor" Elliott was born in 1971 in Virginia. She started her music career with the R&B girl group Sista in the early '90s before launching her solo career as a rapper in 1997 with Supa Dupa Fly. It debuted at #3 on the Billboard album chart, the highest charting debut at the time for a female rapper. It was her first of six studio albums, all of wich went platinum and five reached the top 10.
She also reached the top 10 on the pop charts with eleven songs as the lead artist or a featured artist. Two of those songs ("Hot Boyz" and "Work It") reached #1 on the R&B chart. Interestingly, though, her most celebrated song wasn't her biggest hit nor was it from her biggest selling album. "Get Ur Freak On," however, was still a top 10 hit on the pop and R&B charts. It was the lead single from her third album, 2001's Miss E…So Addictive. She wrote and produced the song with childhood friend Tim Mosley (aka "Timbaland"). It was a last minute addition to the album because they thought the album needed more more cut. SF
The song owes its unusual sound to Bhangra music. Timbaland discovered the musical form while traveling in India. He used a tumbi, which is a one-stringed guitar, to record individual notes into a keyboard. SF Elliott said the song, "could be about dancing – the bedroom, whatever. You're cleaning your house? Get your freak on!" SF
A remix of the song with Nelly Furtado was used in the movie Lara Croft: Tomb Raider. It was also remixed with AC/DC's "Back in Black" for 2003's The Rundown and with the Black Keys' "Keep Me" for the soundtrack for the 2014 movie Neighbors. It was also used in 2005's The 40-Year Old Virgin.
---
Resources:
---
Related Links: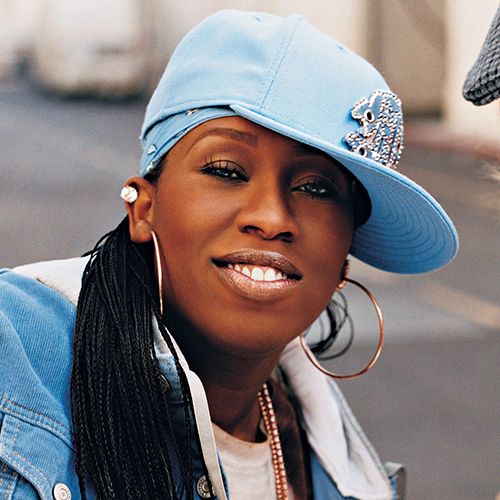 ---
First posted 2/3/2023; last updated 6/18/2023.