Emily Saliers and Amy Ray from the Indigo Girls, image from coverlaydown.com
Last night my wife and I went to see the Indigo Girls at Harrah's Voodoo Lounge in Kansas City. We've both been fans since pretty much the beginning, but neither of us had ever seen this alternative rock/folk duo from Georgia. The genre tags are key here – I've viewed Amy Ray and Emily Saliers as more folk-rock singers. Consequently I expected a stripped-down affair with a lot of focus on acoustic guitar and, quite possibly, no additional musicians.
Instead, they were backed by a five-piece rock group called the Shadowboxers (who also opened). Who would have guessed the Indigo Girls would put on a show with four guitarists on stage? Then again, they had to make use of the rack of thirty-something guitars which sat behind the keyboardist. It also kept Melissa, the grungy fifty-something guitar tech busy since she brought Amy and Emily a new guitar for every song. I joked with my wife that at some point Melissa should hand the same guitar back and see if anyone noticed.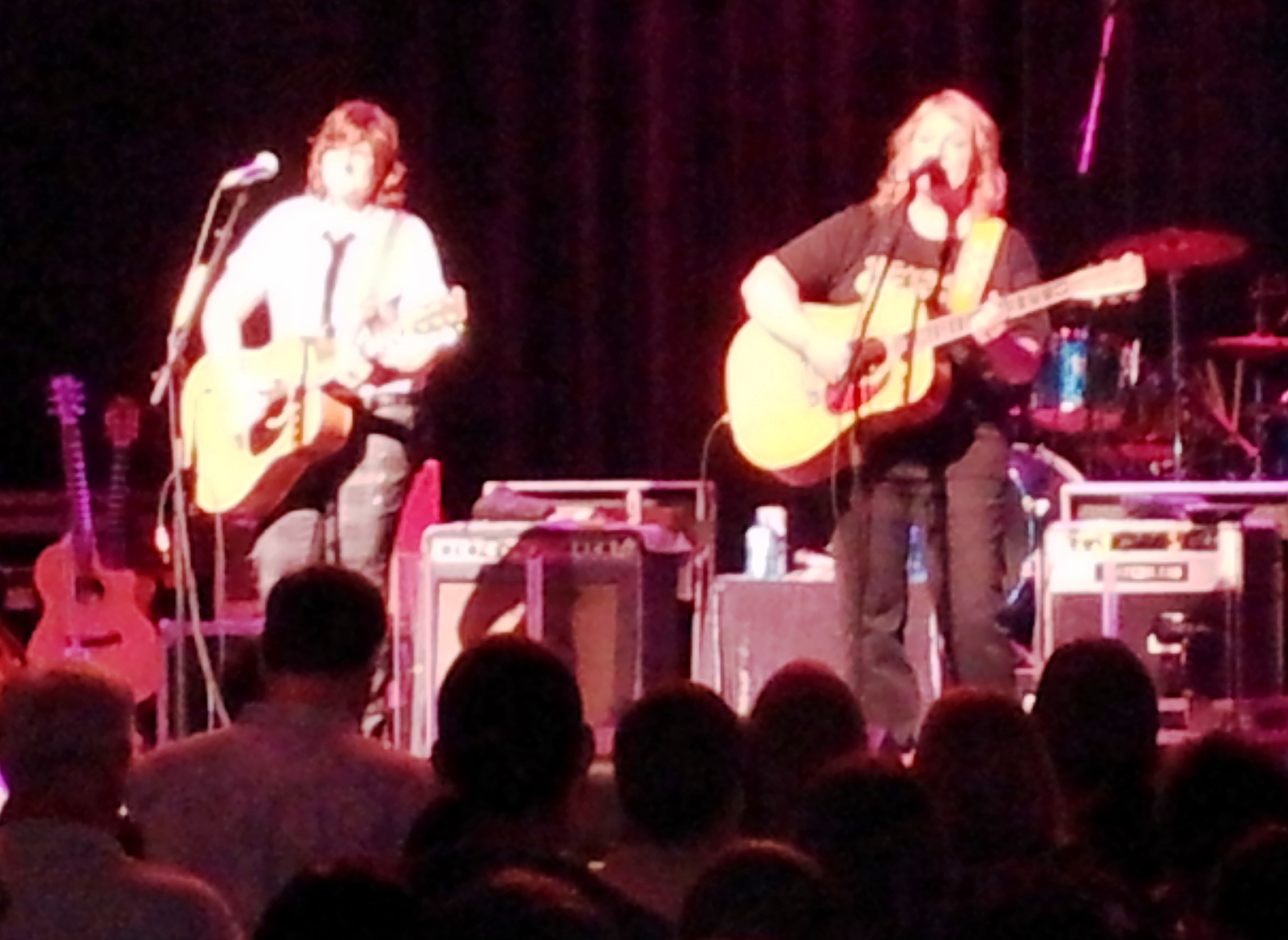 Indigo Girls in concert in Kansas City
The more rock-oriented show was better suited to Amy's grittier voice and slightly more animated stage presence. The folksier Emily often appeared to be going through the motions, often looking bored and even annoyed. My wife and I both thought the highlights were the two songs which Amy and Emily performed with no one else on stage – "Power of Two" and "All That We Let In." The latter, which Emily dedicated to a recently-deceased fan, nearly drew me to tears.
Part of the fascination of the show was seeing a group who is well-established, given their dozen albums released in their 25-year history. However, without a lot of airplay over the years, they are blessed with not having to commit to a set list dominated by songs which fans would never let them get away with skipping. Frankly, the only song I figured they never jettison was "Closer to Fine," but even then the closing number – and the one which garnered the loudest crowd response – was actually "Galileo."
Understandably five of the songs were from the most recent album Beauty Queen Sister (2011), but the set list was a nice representation of the duo's entire careers with cuts from 9 of their 12 studio albums. Here's the full set list with footnotes referencing the albums from which the songs came.
---
The Set List
---
1. Least Complicated 5
2. Heartache for Everyone 9
3. Gone 12
4. Get Out the Map 6
5. Tried to Be True 2
6. Feed and Water the Horses 12
7. Mariner Moonlighting 12
8. Power of Two 5
9. Shed Your Skin 6
10. Trouble 7
11. Moment of Forgiveness 8
12. Virginia Woolf 4
13. Making Promises 12
14. What Are You Like 11
15. Share the Moon 12
16. Love of Our Lives 11
17. Tether 9
18. Closer to Fine 2
19. Go 7
20. Galileo 4

ENCORE:
21. All That We Let In 9
22. Tangled Up in Blue *
Closer to Fine (live in Kansas City)
ALBUMS:
1 Strange Fire (1987): 0 songs
2 Indigo Girls (1989): 2 songs
3 Nomads Indians Saints (1990): 0 songs
4 Rites of Passage (1992): 2 songs
5 Swamp Ophelia (1994): 2 songs
6 Shaming of the Sun (1997): 2 songs
7 Come on Now Social (1999): 2 songs
8 Become You (2002): 1 song
9 All That We Let In (2004): 3 songs
10 Despite Our Differences (2006): 0 songs
11 Poseidon and the Bitter Bug (2009): 2 songs
12 Beauty Queen Sister (2011): 5 songs
* Bob Dylan cover (appeared on 1995's live album 1200 Curfews)

Indigo Girl's 2010 live album Staring Down the Brilliant Dream
---
Resources and Related Links:
---