---
Check out these books by Dave Whitaker available through DavesMusicDatabase.com or Amazon.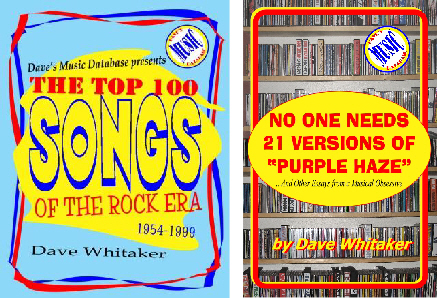 Also check the Dave's Music Database Facebook page for daily music-related posts.
---
In the January 21st, 2012, issue of
Billboard
magazine, LMFAO's "Party Rock Anthem" logs its 29th week in the top 10. Only two songs stand ahead of it – Santana's "Smooth" (30 weeks) and Leann Rimes' "How Do I Live" (32 weeks). Here are the eight songs which have spent 25 weeks or more in the top 10:
1. Leann Rimes "How Do I Live" 32 weeks in 1997-98
2. Santana & Rob Thomas "Smooth" 30 weeks in 1999-2000
3. LMFAO "Party Rock Anthem" 29 weeks in 2011-12
4. Jewel "Foolish Games/You Were Meant for Me" 28 weeks in 1997-98
5. Savage Garden "Truly Madly Deeply" 26 weeks in 1997-98
6. Chubby Checker "The Twist" 25 weeks in 1960 and 1962
7. Toni Braxton "Un-Break My Heart" 25 weeks in 1996-97
8. OneRepublic with Timbaland "Apologize" 25 weeks in 2007-08
Interestingly, such a significant chart distinction is not a guarantee for "classic song status". According to Dave's Music Database, "The Twist", "Smooth", "Un-Break My Heart", "How Do I Live", and "Apologize" rank in the top 1000 songs of all time. However, it should be noted that "Party Rock Anthem" has the best shot for joining those songs in the top 1000 list since as the newest song it is still gaining ground in regards to long-term status. It also currently rates as the top song of 2011.
---
Awards:
Rated best song of the year by DMDB

---
Resources and Related Links:
---