Originally posted August 3, 2011.
In 1985, the U.K. launched the Brit Awards. Initially they acknowledged only British works, but in 2001 added an international album category. These awards had neither the prestige nor history of the Grammys, which were first handed out in 1959. They were, however, edgier and more in touch with current popular music.
The Grammys and Brit Awards co-existed for 35 years before they crossed paths and both crowned the same album as king of the hill – Arcade Fire's
The Suburbs
. It certainly fit with the hip quotient of the Brit Awards, but giving the nod to this fresh-faced band from the indie scene was a surprise coming from the notoriously stuffy Grammys.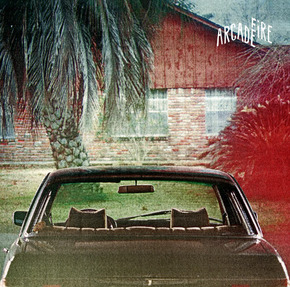 Click photo for more about the album.
Then again, the album racked up Album of the Year titles left and right in 2010.
The Suburbs
has already taken up residence as one of
the top 1000 albums of all time
according to
Dave's Music Database
. It is one of only two albums a year old or less to achieve such a lofty status; the other is
Adele's 21
.
Even as they chalked up critical acclaim, they found found commercial success.
The Suburbs
went to #1 on the Billboard album chart without sacrificing its indie sound – even if purists immediately jettison any indie band who achieves a modicum of success. (Check out
my column for PopMatters
delving into this topic in more detail).
The album speaks to "anyone who remembers excitedly jumping into a friend's car on a sleepy Friday night armed with heartache, hope, and no agenda."
JM
Frontman Win Butler said the album "is neither a love letter to, nor an indictment of, the suburbs – it's a letter from the suburbs."
WK
Andrea Warner from
Exclaim!
calls the album "a perfect actualization of the suburbs as metaphor for the classic North American dream."
WK
It is "serious without being preachy, cynical without dissolving into apathy, and whimsical enough to keep both sentiments in line."
JM
Pitchfork.com's Ian Cohen says the band proves that they can "make grand statements without sounding like they're carrying the weight of the world."
WK
NME
's Emily Mackay said it is "an album that combines mass accessibility with much greater ambition. Pretty much perfect."
WK
---
Resources and Related Links:
---