Originally posted July 19, 2011.
Madonna arrived on the pop-dance scene in 1983 with her self-titled debut album. It produced three top 20 hits on the Billboard Hot 100 – "Holiday" (#16), "Borderline" (#10), and "Lucky Star" (#4). She then exploded with her 1984
Like a Virgin
sophomore effort which produced the #1 title song as well as top five hits "Material Girl", "Angel", and "Dress You Up".
That album was such a success, it seemed impossible to follow. It spent three weeks atop the Billboard album chart and became one of
the world's all-time best-selling albums
.
However, Madonna's third album,
True Blue
, proved her most successful studio effort. It spent five weeks on top of the album chart (second only to the 6 weeks for 1989's
Like a Prayer
). It also bested
Virgin
by landing three #1 songs with "Live to Tell", "Papa Don't Preach", and "Open Your Heart". Two more song – "True Blue" and "La Isla Bonita" – were top 5 hits. According to AlRog at
RateYourMusic.com
,
True Blue
is one of only 13 albums to land five top-five hits.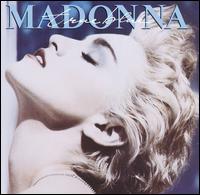 Click to see the DMDB page for 'True Blue'
Blue
also edged
Virgin
in worldwide sales, although both are in the 26 million range. Only her 1990 compilation,
The Immaculate Collection
, has more sales at 31.5 million. (See sources for sales figures
here
).
At All Music Guide, Stephen Thomas Erlewine says that it was with
True Blue
that "Madonna truly became Madonna the Superstar – the endlessly ambitious, fearlessly provocative entertainer that knew how to outrage, spark debates, get good reviews...and make good music while she's at it."
STE
The album won The Juno Award (Canadian equivalent of the Grammys) for
International Album of the Year
.
Madonna rates in the top 10
acts of all time
according to
Dave's Music Database
. She is also a
Rock and Roll Hall of Fame inductee
.
The DMDB page for the 'True Blue' album features this and four other videos from the album.
---
Resources and Related Links:
---