Brad Delp, 1951-2007
Brad Delp was born June 12, 1951. He was the voice of Boston on four of their five studio albums sporadically released over more than a quarter century before his suicide in 2007. Boston's most noted accomplishments happened right out of the gate. The 1976 eponymous debut ranks in the NARM/Rock and Roll Hall of Fame's
Definite 200 Albums
list and the
Recording Industry Association of America (RIAA)
has certified it for sales of 17 million, placing it just outside the top 10 best sellers of all time.
The group's first single, "More Than a Feeling," has been dubbed by the Hall as one of the
Top 500 Songs That Shaped Rock and Roll
and has been cited as an instrumental source for Nirvana's "Smells Like Teen Spirit" (page 17,
The Top 100 Songs of the Rock Era, 1954-1999
).
So why is Boston such a despised band? The derision seems especially targeted at Tom Scholz, who is referred to at
SportsJournalists.com
as "the paragon of pretentious studio perfection until Axl Rose took the mantle for all times." Boston is also mocked for copying a slew of its classic rock counterparts. Ironically the band "reviled by some as the creators of corporate rock" (
www.thirdstage.ca
) began as one of the most DIY efforts in rock history, as MIT graduate Tom Scholz assembled most of the debut album in his basement.
There's something about an anal, egotistical task master that just doesn't scream "rock and roll." Notorious time delays between albums don't help. The general consensus is that rock and roll is meant to be immediate; it should be rough around the edges and played live, not tweaked and prodded for nearly a decade in the studio.
However, most fans like bands just because they like them, not because they pass certain tests. As critic Sarah Rodman says at thirdstage.ca, "sometimes holding up your lighter, rocking out, and playing air guitar is a fun thing to do. And if you're going to do it with any band, I would choose Boston over almost any other band from that time period."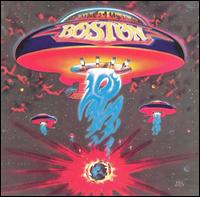 Click photo for more about the band's debut album.
For more information, including special recognitions for acts, songs, and albums, check out individual entries in the DMDB music makers' encyclopedia for
Boston
,
Brad Delp
, and
Tom Scholz
. Also check out the
Boston's DMDB page
for a detailed bio and links to reviews of their albums and related material.