---
Check out these books by Dave Whitaker available through DavesMusicDatabase.com or Amazon.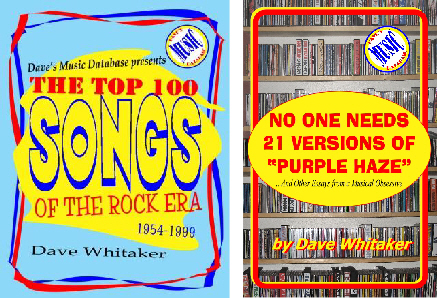 Also check the Dave's Music Database Facebook page for daily music-related posts.
---
When a song is cited as reaching #1, chances are good that the chart in question is the Billboard Hot 100. While
Billboard
has competitors, no one has dominated as an industry standard quite like them.
The Hot 100 grew out of several other charts from the 1940s and '50s. A "Best Sellers in Stores" chart ranked 20 to 50 songs based on national surveys of what sold at retail. The "Most Played by Jocks" list, 20-25 spots, keyed in on what radio stations and their DJ's across the country reported they were playing. The "Most Played in Jukeboxes" list (20 spots) ranked the most-played songs in jukeboxes throughout the United States.
WK1
Ricky Nelson's "Poor Little Fool" – the first #1 on the Billboard Hot 100
Between 1957 and 1958, all three charts were phased out in favor of the Hot 100. The latter chart consolidated information from the others. Initially, more weight was given to sales, but as the album became the more dominant format, airplay gained more emphasis. In its present incarnation, Nielsen BDS handles the task of compiling more precise measurements for the
Billboard
charts.
Roughly 1000 stations of multiple formats are "digitally monitored twenty-four hours a day, seven days a week. Charts are ranked by number of gross audience impressions, computed by cross-referencing exact times of radio airplay with Arbitron listener data."
WK1
The top-selling singles ranking is "compiled from a national sample of retail store, mass merchant and internet sales reports collected, compiled, and provided by Nielsen SoundScan."
WK1
"Digital sales are tracked by Nielsen SoundScan and are included as part of a title's sales points."
WK2
LMFAO's "Party Rock Anthem" – the #1 on the Billboard Hot 100 for the week ending July 30, 2011
---
Resources and Related Links:
---