Alan Lomax
John Lomax was an English professor with an unorthodox interest in the music traditions of rural southern blacks. He discovered and recorded the now-standard "Home on the Range".
NME
In 1933, he was commissioned by the Library of Congress to make field recordings of folk music. That summer, at least one account specifically cites July 5, he and his son Alan embarked on their journey through the farms, churches, and prisons across the American South. They ripped out the back seat of their car to accommodate the portable recording machine
GO
on which they captured some of the 20th century's most important music.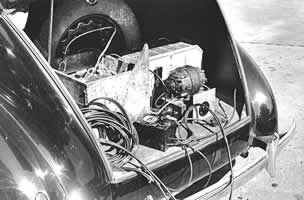 John Lomax's car trunk equipped with his recording gear; from book 'American Roots Music'
The thousands of recordings the Lomaxes gathered from 1933 to 1942 were pivotal in exposing American blues and folk music to the world. Among their discoveries were
Muddy Waters
,
Leadbelly
, and
Woody Guthrie
. Son House, Fred McDowell, and Bukka White were also among the musicians exposed to the world through the Lomaxes.
Alan Lomax continued the work for more than six decades, becoming "quite possibly the most influential folklorist of the twentieth century".
NWE
As musician Brian Eno said, "without Lomax, it's possible there would have been no blues explosion, no R&B movement, no Beatles, and no Stones, and no Velvet Underground."
NWE
Lomax "believed that folklore and expressive culture are essential to human continuity and adaptation."
AFC
The Alan Lomax Collection, now housed at the American Folklife Center at Hunter College in New York City, includes 5000+ hours of sound recordings and 400,000 feet of film footage.
AFC
Also included in the collection are photographs, manuscripts, more than 2000 scholarly books, and other research materials.
AFC
Identified by video poster as the Lomax field recording of Leadbelly performing "Good Night Irene"
---
Resources and Related Links:
---