First posted 10/29/2017; updated 8/17/2019.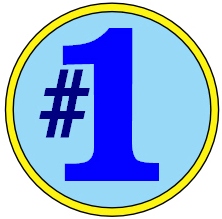 This is a list of the #1 songs of all time according to U.S. pop charts – with a twist. These songs could have hit #1 on any of the following charts:
the Billboard Hot 100 chart, 1955-present (BB)
the pre-Hot 100 pop charts, 1890-1955 (BB)
the Billboard pop airplay chart, 1984-present (BA)
Hit Parade, 1935-1955 (HP)
Cashbox, 1950-1996 (CB)
Hit Records, 1954-1982 (HR)
Radio & Records/Mediabase, 1973-2015 (RR)
All songs with 10 or more weeks on any of these charts are listed. If a song hit #1 on more than chart, only the chart where the song had the most weeks is noted. Also, there are some songs (noted with *) which hit #1 multiple times by different artists. This was especially prevalent in the pre-rock era when the focus was more on the song than the artist who recorded it. This allows songs like "Peg O' My Heart" and "Over There" – which each hit #1 FOUR times on the
Billboard
charts – to make this list. Artists who took the song to #1 are listed, along with the year the song first charted and how many weeks it was at the pinnacle.
One last note – in the event of ties, songs are ranked according to most overall points in Dave's Music Database. For songs which hit #1 multiple times, the version which accumulated the most points is used.
So without further ado…
---

25 weeks:

Peg O' My Heart (BB: Charles Harrison, 1913, 7 wks; The Harmonicats, 1947, 8 wks; Buddy Clark, 1947, 6 wks; The Three Suns, 1947, 4 wks)

---

22 weeks:

The Third Man Theme (BB: Anton Karas, 1950, 11 wks; Guy Lombardo, 1950, 11 wks)

---

21 weeks:

The Gypsy (BB: The Ink Spots, 1946, 13 wks; Dinah Shore, 1946, 8 wks)

---

19 weeks:

Oh What It Seemed to Be (BB: Frankie Carle & Marjorie Hughes, 1946, 11 wks; Frank Sinatra, 1946, 8 wks)
Old Town Road (BB: Lil Nas X with Billy Ray Cyrus, 2018)

---

18 weeks:

Iris (BA: Goo Goo Dolls, 1998)

---

17 weeks:

Over There (BB: American Quarter, 1917, 9 wks; Nora Bayes, 1917, 3 wks; Peerless Quartet, 1917, 2 wks; Enrico Caruso, 1918, 3 wks)
In the Good Old Summertime (BB: J.W. Myers, 1902, 7 wks; Haydn Quartet, 1903, 6 wks; Sousa's Band, 1903, 4 wks)
Near You (BB: Francis Craig with Bob Lamm, 1947)

---

16 weeks:

Despacito (BB: Luis Fonsi with Daddy Yankee & Justin Bieber, 2017)
We Belong Together (BA: Mariah Carey, 2005)
One Sweet Day (BB: Mariah Carey with Boyz II Men, 1995)
Don't Speak (BA: No Doubt, 1996)
Girls Like You (BA: Maroon 5 with Cardi B, 2017)

---

15 weeks:

It's a Long, Long Way to Tipperary (BB: American Quartet, 1914, 7 wks; John McCormack, 1915, 8 wks)

---

14 weeks:

---

White Christmas (BB: Bing Crosby with the Ken Darby Singers, 1942)
I Will Always Love You (BB: Whitney Houston, 1992)
My Blue Heaven (BB: Gene Austin, 1927, 13 wks; Paul Whiteman, 1927, 1 wk)
Candle in the Wind 1997 (Goodbye England's Rose) (BB: Elton John, 1997)
Uptown Funk! (BB: Mark Ronson with Bruno Mars, 2014)
I Gotta Feeling (BB: Black Eyed Peas, 2009)
Shine on, Harvest Moon (BB: Harry MacDonough & Elise Stevenson, 1909, 9 wks; Ada Jones & Billy Murray, 1909, 5 wks)
Macarena (Bayside Boys Mix) (BB: Los Del Rio, 1995)
I'll Make Love to You (BB: Boyz II Men, 1994)
No One (BA: Alicia Keys, 2001)
Because You Loved Me (BA: Celine Dion, 1996)
Cruising Down the River on a Sunday Afternoon (BB: Blue Barron & His Orchestra, 1949, 7 wks; Russ Morgan & the Skylarks, 1949, 7 wks)
On the Banks of the Wabash (BB: George J. Gaskin, 1897, 10 wks; Steve Porter, 1898, 4 wks)
High Hopes (BA: Panic! At the Disco, 2018)

---

13 weeks:

---

In the Mood (BB: Glenn Miller, 1939)
Sweet Adeline (You're the Flower of My Heart) (BB: Haydn Quartet, 1904, 10 wks; Columbia Male Quartet, 1904, 3 wks)
Tennessee Waltz (BB: Patti Page, 1950)
Dardanella (BB: Ben Selvin, 1920)
You Light Up My Life (HR: Debby Boone, 1977)
Goodnight Irene (BB: The Weavers with Gordon Jenkins' Orchestra, 1950)
I've Heard That Song Before (BB: Harry James with Helen Forrest, 1943)
Frenesi (BB: Artie Shaw, 1940)
The Glow-Worm (BB: Victor Orchestra, 1908, 5 wks; Lucy Isabelle Marsh, 1908, 5 wks; The Mills Brothers, 1952, 3 wks)
End of the Road (BB: Boyz II Men, 1992)
When You Were Sweet Sixteen (BB: George J. Gaskin, 1900, 8 wks; Jere Mahoney, 1900, 5 wks)
Heartaches (BB: Ted Weems with Elmo Tanner, 1947)
I'll Be There (BB: The Jackson 5, 1970, 5 wks; BA: Mariah Carey, 1992, 8 wks)
The Boy Is Mine (BB: Brandy with Monica, 1998)
The Sign (BA: Ace of Base, 1994)
The Sidewalks of New York (BB: Dan Quinn, 1895, 9 wks; J.W. Myers, 1895, 4 wks)
No Scrubs (BA: TLC, 1999)
I Love You Always Forever (BA: Donna Lewis, 1996)

---

12 weeks:

---

Alexander's Ragtime Band (BB: Arthur Collins & Byron Harlan, 1911, 10 wks; Bing Crosby & Connee Boswell, 1938, 2 wks)
Lose Yourself (BB: Eminem, 2002)
Shape of You (BB: Ed Sheeran, 2017)
Yeah! (BB: Usher with Lil' Jon & Ludacris, 2004)
Till We Meet Again (BB: Henry Burr & Albert Campbell, 1919, 9 wks; Nicholas Orlando's Orchestra with Harry MacDonough, 1919; 2 wks; Charles Hart with Lewis James, 1919, 1 wk)
Paper Doll (BB: Mills Brothers, 1943)
The Prisoner's Song (BB: Vernon Dalhart, 1925)
Blurred Lines (BB: Robin Thicke with T.I. & Pharrell Williams, 2013)
See You Again (BB: Wiz Khalifa with Charlie Puth, 2015)
I'll Never Smile Again (BB: Tommy Dorsey & His Orchestra with Frank Sinatra & the Pied Pipers, 1940)

Riders in the Sky (A Cowboy Legend) (BB: Vaughn Monroe, 1949)
Closer (BB: The Chainsmokers with Halsey, 2016)
Smooth (BB: Santana with Rob Thomas, 1999)
Boom Boom Pow (BB: Black Eyed Peas, 2009)
Sonny Boy (BB: Al Jolson, 1928)
We Found Love (BA: Rihanna with Calvin Harris, 2011)
You Belong to Me (BB: Jo Stafford, 1952)
The Last Round-Up (BB: George Olsen, 1933, 9 wks; Guy Lombardo & Carmen Lombardo, 1933, 3 wks)
Dilemma (BA: Nelly with Kelly Rowland, 2002)
The Band Played On (BB: Dan Quinn, 1895, 10 wks; BB: Guy Lombardo, 1941, 2 wks)
Too Young (HP: Nat "King" Cole, 1951)

---

11 weeks:

---

Don't Be Cruel/Hound Dog (BB: Elvis Presley, 1956)
Stormy Weather (Keeps Rainin' All the Time) (BB: Leo Reisman, 1933, 8 wks; Ethel Waters, 1933, 3 wks)
Cheek to Cheek (BB: Leo Reisman & His Orchestra with Fred Astaire & Ginger Rogers, 1935)
Whispering (BB: Paul Whiteman's Orchestra, 1920)
April Showers (BB: Al Jolson, 1922)
Hello (BA: Adele, 2015)
School Days (When We Were a Couple of Kids) (BB: Byron Harlan, 1907)
Casey Jones (BB: American Quartet with Billy Murray, 1910)
Deep Purple (BB: Larry Clinton & Bea Wain, 1939, 9 wks; CB: Nino Tempo & April Stevens, 1963, 2 wks)
Put on Your Old Grey Bonnet (BB: Haydn Quartet, 1909)
God's Plan (BB: Drake, 2018)
Irreplaceable (BA: Beyoncé, 2006)
Love Yourself (BA: Justin Bieber, 2015)
I'll Be Missing You (BB: Puff Daddy with Faith Evans & 112, 1997)
The Preacher and the Bear (BB: Arthur Collins, 1905)
Un-Break My Heart (BB: Toni Braxton, 1996)

Just a Baby's Prayer at Twilight (For Her Daddy Over There) (BB: Henry Burr, 1918)
Valencia (A Song of Spain) (BB: Paul Whiteman & His Orchestra with Franklyn Baur, 1926)
A Bird in a Gilded Cage (BB: Steve Porter, 1900, 6 wks; Jere Mahoney, 1900, 5 wks)
The Stars and Stripes Forever (BB: John Philip Sousa, 1897, 8 wks; Sousa's Band, 1901, 3 wks)
Ramona (BB: Gene Austin, 1928, 8 wks; Paul Whiteman, 1928, 3 wks)
I Swear (BB: All-4-One, 1994)
Cry (BB: Johnnie Ray & the Four Lads, 1951)
Torn (BA: Natalie Imbruglia, 1997)
Vaya Con Dios (May God Be with You) (BB: Les Paul with Mary Ford, 1953)
Arkansaw Traveler (BB: Len Spencer, 1902)
Independent Women (BB: Destiny's Child, 2000)
Because of You (HP: Tony Bennett, 1951)
To Each His Own (BB: Eddy Howard, 1946, 8 wks; Freddy Martin & Stuart Wade, 1946, 2 wks; The Ink Spots, 1946, 1 wk)
Ma Tiger Lily (BB: Len Spencer, 1900, 5 wks; BB: Arthur Collins, 1900, 6 wks)
Dreamlover (BB: Mariah Carey, 1993)
Let Me Love You (BA: Mario, 2004)
On Bended Knee (BA: Boyz II Men, 1994)

---

10 weeks:

---

Night and Day (BB: Leo Reisman's Orchestra with Fred Astaire, 1932)
My Heart Will Go On (BA: Celine Dion, 1997)
You're a Grand Old Flag (aka "The Grand Old Rag") (BB: Billy Murray, 1906)
Pennies from Heaven (BB: Bing Crosby with George Stoll's Orchestra, 1936)
A-Tisket, A-Tasket (BB: Ella Fitzgerald with Chick Webb & His Orchestra, 1938)
Happy (BB: Pharrell Williams, 2013)
Smoke Gets in Your Eyes (BB: Paul Whiteman, 1933, 6 wks; CB/HR: The Platters, 1958, 4 wks)
My Gal Sal (BB: Byron Harlan, 1907)

Low (BB: Flo Rida with T-Pain, 2007)
Buttons and Bows (BB/HP: Dinah Shore & Her Harper Valley Boys, 1948)
Wait Till the Sun Shines, Nellie (BB: Byron Harlan, 1906, 9 wks; Harry Tally, 1906, 1 wk)
Gold Digger (BB: Kanye West with Jamie Foxx, 2005)
I'll Be Seeing You (HP: Bing Crosby with John Scott Trotter's Orchestra, 1944)
Some Enchanted Evening (HP: Perry Como, 1949)
One Dance (BB: Drake, 2016)
After the Ball (BB: George J. Gaskin, 1893)
Tip-Toe Thru the Tulips with Me (BB: Nick Lucas, 1929)
Bleeding Love (RR: Leona Lewis, 2007)
Physical (BB: Olivia Newton-John, 1981)

Beautiful Ohio (BB, Henry Burr, 1919, 9 wks; Waldorf-Astoria Dance Orchestra, 1919, 1 wk)
Sweet Leilani (BB: Bing Crosby with Lani McIntire & His Hawaiians, 1937)
Bedelia (BB, Haydn Quartet, 1904, 7 wks; Billy Muray, 1904, 3 wks)
In a Shanty in Old Shanty Town (BB: Ted Lewis & His Band, 1932)
Tell Me Pretty Maiden (BB: Harry MacDonough & Grace Spencer, 1901, 7 wks; Byron Harlan with Frank Stanley, Joe Belmont, & Florodora Girls, 1901, 3 wks)
Stein Song (University of Maine) (BB: Rudy Vallee & His Connecticut Yankees, 1930)
Till the End of Time (BB: Perry Como, 1945)
Amapola (Pretty Little Poppy) (BB: Jimmy Dorsey & His Orchestra with Bob Eberly & Helen O'Connell, 1941)
Rum and Coca-Cola (BB: The Andrews Sisters, 1945)
Kiss from a Rose (BA: Seal, 1994)

All Alone (BB: Al Jolson, 1925, 5 wks; Paul Whiteman, 1925, 3 wks; John McCormack, 1925, 2 wks)
Ballerina (BB: Vaughn Monroe's Orchestra, 1947)
Love Me and the World Is Mine (BB: Henry Burr, 1906, 7 wks; Albert Campbell, 1906, 3 wks)
Hello Ma Baby (BB: Len Spencer, 1899, 6 wks; Arthur Collins, 1899, 4 wks)
There! I've Said It Again (BB, Vaughn Monroe, 1945, 6 wks; Bobby Vinton, 1963, 4 wks)
Moonlight Cocktail (BB: Glenn Miller Orchestra with Ray Eberle & The Modernaires, 1942)
Singing the Blues (BB: Guy Mitchell, 1956)
Where Is Your Heart (Song from "Moulin Rouge") (BB: Percy Faith with Felicia Sanders, 1953)
Sincerely (BB: The McGuire Sisters, 1955)
That's the Way Love Goes (BA: Janet Jackson, 1993)

Now Is the Hour (Maori Farewell Song) (HP: Bing Crosby with the Ken Darby Singers, 1948)
The Laughing Song (BB: George W. Johnson, 1891)
Wheel of Fortune (BB: Kay Starr, 1952)
Lady Marmalade (BB/CB/HR: LaBelle, 1974, 1 wk; RR: Christina Aguilera with Lil' Kim, Mya, & Pink, 2001, 9 wks)
Hero (BA: Mariah Carey, 1993)
A Tree in the Meadow (HP: Margaret Whiting, 1948)
Hey There (HP: Rosemary Clooney, 1954)
A Hot Time in the Old Town (BB: Dan Quinn, 1896, 7 wks; Len Spencer, 1897, 3 wks)
Cherry Pink and Apple Blossom White (BB: Perez "Prez" Prado, 1955)
My Old New Hampshire Home (BB: George J. Gaskin, 1898)

Foolish (BB: Ashanti with Ja Rule, 2002)
Lollipop (BA: Lil Wayne with Static Major, 2008)
If I Knew You Were Comin' I'd've Baked a Cake (BB: Eileen Barton, 1950)
Bye Bye Bye (RR: N Sync, 2000)
Maria Maria (BB: Santana with the Product G&B, 2000)
I Went to Your Wedding (BB: Patti Page, 1952)
I Hear a Rhapsody (HP: Jimmy Dorsey, 1941)
If (They Made Me a King) (HP: Perry Como, 1951)
In My Feelings (BB: Drake, 2018)
Someday (BA: Mariah Carey, 1990)
U Got It Bad (BA: Usher, 2001)
---