image from RockHall.com
The Rock and Roll Hall of Fame has nominated its class of 2013. Over the next couple months, the Hall's voting body of roughly 600 musicians, industry types, and journalists will vote to determine which of them will be inducted into the Hall of Fame on April 18, 2013. Here are the 15 nominees:
Paul Butterfield Blues Band
Chic
Deep Purple
Heart
Joan Jett & the Blackhearts
Albert King
Kraftwerk
The Marvelettes
The Meters
Randy Newman
N.W.A.
Procol Harum
Public Enemy
Rush
Donna Summer
You can read about each nominee at
RockHallcom
. In an interesting move, the Hall has added a way for fans to vote, although their voice will be minimal. Fans can vote at
RollingStone.com
and the top 5 vote getters will be entered as one of the 600+ ballots. Results will be announced in mid-December.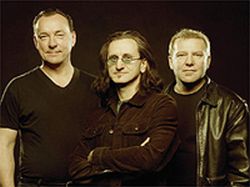 Rush finally gets long overdue nomination; image from progarchives.com
So who should go in? After last year's class of nominees was announced, I tapped 39 lists arguing for who deserved inclusion. Based on that list, here's how this year's crop ranks:
Rush (2)
Deep Purple (5)
Heart (12)
Kraftwerk (39)
Public Enemy (47)
Joan Jett & the Blackhearts (53)
Chic (55)
Procol Harum (81)
Randy Newman (86)
Not ranked: Paul Butterfield Blues Band, Albert King, The Marvelettes, The Meters, N.W.A., and Donna Summer.
As always, there will be plenty of debate regarding who didn't get nominated – namely, KISS. In another blog post last year, I argued on behalf of KISS, Gram Parsons, Rush, Joy Division, and Deep Purple. I'm grateful that the Hall has listened to me and included two of my suggestions. ;)
Frankly, though, if that top 5 (Rush, Deep Purple, Heart, Kraftwerk, Public Enemy) were this year's inductees, that would be an awesome class. There's some nice diversity in terms of genre, race, and gender. We'd have a newbie (Public Enemy) and some long overdue nominees. Don't hold your breath, though. Based on the Rock Hall's past trends, I'd say Heart and Public Enemy have good shots among this class, but the other three slots are likely to go to the pet projects of Hall nominating committee members, meaning the other slots might well go to Chic, Albert King, and Donna Summer. They aren't horrible picks, but they certainly aren't more worthy than Rush and Deep Purple. We'll see what happens.
---
Resources and Related Links:
---