Originally posted August 29, 2009. Last updated September 15, 2018.
Rolling Stones' Compilations
Sorting out Stones' compilations can be a bit of a chore. It's not every band that's had hits spread out over five decades. As a result, this page only covers compilations from the band's post-Decca and London Records era. Those record companies, in the U.K. and U.S. respectively, held the rights to pre-1972 Stones' material. Consquently, this page is devoted to Stones' compilations from 1971 to 2002, so please check out the 1963-1971 compilations page as well.
The first official Stones' compilation from the post-'71 era was Made in the Shade in 1975 followed by Sucking in the Seventies, in 1981. The next three compilations all duplicated the efforts of the aforementioned collections. This means Rewind, Jump Back, and Forty Licks are incredibly repetitive. However, the latter is the first career respective from the Stones, covering from 1963 to 2002 over two discs, making it the best place for a brand new fan to start.
Here are the collections featured on this page:
Click here to see all the album tracks featured on the above collections.
---
Genre: rock
---
Related DMDB Link(s):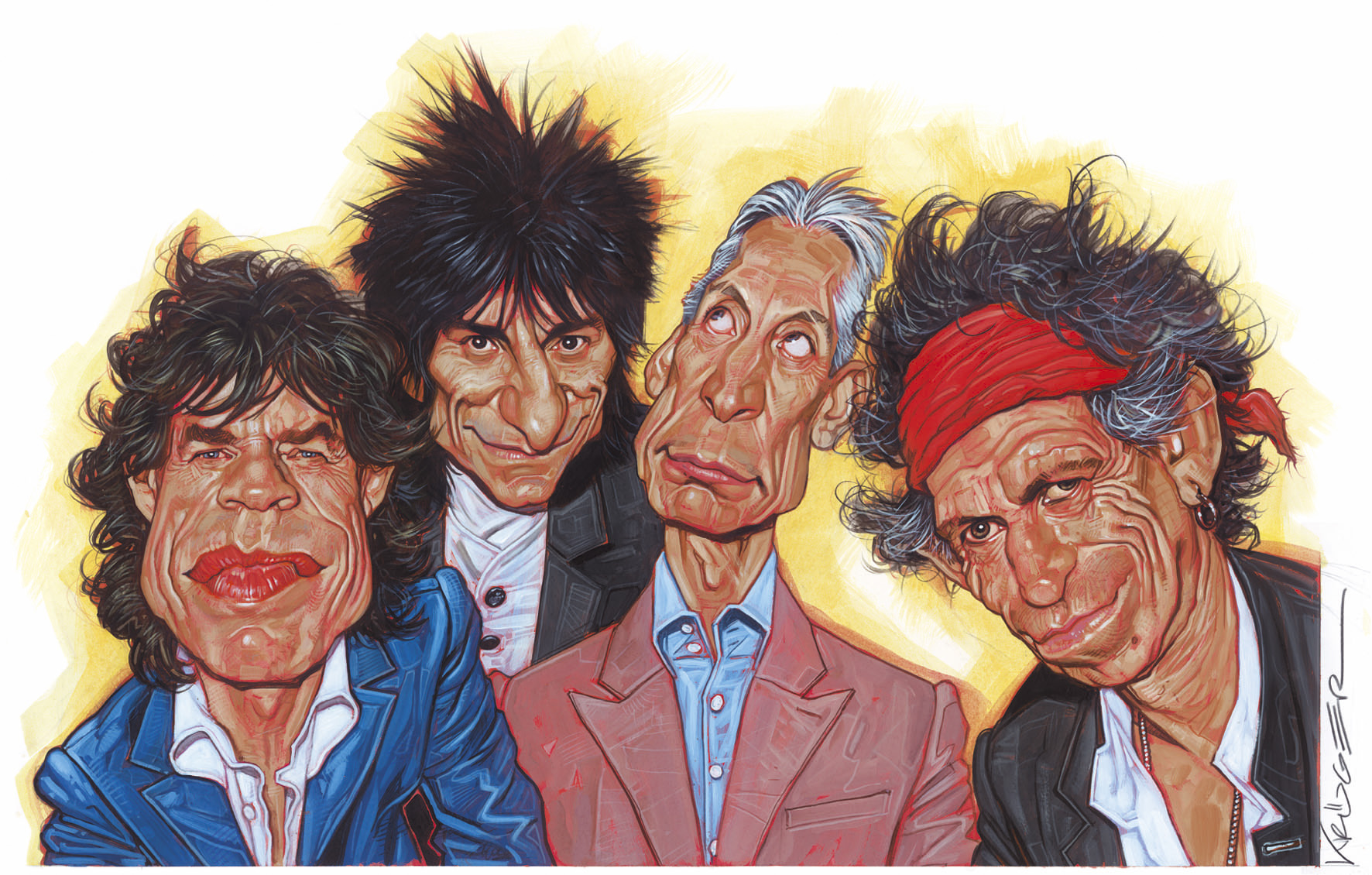 Recorded: 1971-1974

---

Released: June 6, 1975

---

Sales (in millions): US: 1.0, UK: --, IFPI: --, World: 1.5

---

Peak: US: 6, UK: 14, Canada: --, Australia: --

Review:

"Made in the Shade, released in 1975, is the first official compilation album by The Rolling Stones during their Atlantic Records contract. It draws entirely from their first four albums on that label." WK-MS "The material…surveys the highlights from the band's post-Decca/London era…from 1971's Sticky Fingers to It's Only Rock 'n' Roll from 1974, with no new material." WK-MS The Stones "were mid-way through recording Black and Blue upon this album's June 1975 release" WK-MS, putting this out "to capitalize on the band's summer Tour of the Americas, featuring Ronnie Wood for the first time in Mick Taylor's place. Wood, fitting in so well, was asked to remain in the band on a permanent basis following the tour's conclusion." WK-MS "Subsequent Rolling Stones compilation albums have also anthologized tracks included on this album." WK-MS

Recorded: 1973-1979

---

Released: March 9, 1981

---

Sales (in millions): US: 0.5, UK: --, IFPI: --, World: 1.0

---

Peak: US: 15, UK: --, Canada: --, Australia: 39

Review:

Sucking in the Seventies was "released in 1981. As the successor to 1975's Made in the Shade, it covers material from 1974's It's Only Rock 'n' Roll to 1980's Emotional Rescue. All of the album tracks except Shattered were remixed or re-edited for this release, and some rarer material was also included. Everything Is Turning to Gold was previously released as 'Shattered's B-side in late 1978 in the U.S. only; If I Was A Dancer (Dance Pt. 2) is a longer and different mix and containing different lyrics than 'Dance (Pt. 1)', the opening track on Emotional Rescue, which, despite this compilation's title, was released in 1980; and When the Whip Comes Down is presented in an otherwise unreleased live version, recorded in Detroit on the 1978 tour." WK-SS

Recorded: 1971-1984

---

Released: July 2, 1984

---

Sales (in millions): US: 0.5, UK: --, IFPI: --, World: 1.5

---

Peak: US: 86, UK: 23, Canada: --, Australia: --

Review:

Rewind (1971–1984) "was released in 1984. Coming only three years after Sucking in the Seventies, the album was primarily compiled to mark the end of the band's worldwide alliance with EMI (and Warner Music in North America), both of whom were the distributors of Rolling Stones Records." RW "The UK and US editions…would each feature altered track listings, reflecting the individual tastes of both territories." RW "The album was re-released on Compact Disc in the United States adding It's Only Rock'n' Roll (But I Like It) and Doo Doo Doo Doo Doo (Heartbreaker)." RW

Recorded: 1971-1989

---

Released: Nov. 22, 1993

---

Sales (in millions): US: 1.0, UK: 0.6, IFPI: --, World: 4.5

---

Peak: US: 30, UK: 16, Canada: --, Australia: 9

Review:

This was the Stones' "first release under their contract with Virgin Records in November 1993." JB This was released worldwide, except in North America, where it finally "came on 24 August 2004. The first Rolling Stones compilation packaged in the Compact Disc era, Jump Back: The Best of The Rolling Stones stretches from 1971's Sticky Fingers to then-most recent studio album Steel Wheels in 1989." JB

Recorded: 1964-2002

---

Released: Oct. 1, 2002

---

Sales (in millions): US: 4.0, UK: 0.9, IFPI: 1.0, World: 10.1

---

Peak: US: 2, UK: 2, Canada: --, Australia: 3

Awards:

Review:

"Forty Licks is a double compilation album by The Rolling Stones. A forty-year career-spanning retrospective, Forty Licks is notable for being the first retrospective to combine the band's formative Decca/London era of the 1960s, now licensed by ABKCO Records (disc one), with their self-owned post-1970 material, currently distributed by Universal music (disc two)." FL This page only focuses on the material from disc two. For disc one material, check out the 1963-1971 compilations page.

Click here for the chart codes for singles/hit songs.

---

1971-1979:

Brown Sugar (4/16/71, #1 US, #2 UK, air: 3 m) MS, RW-UK, RW-US, JB, FL
Bitch MS, JB
Wild Horses (6/12/71, #28 US) MS, JB, FL
Tumbling Dice (4/29/72, #7 US, #5 UK) MS, RW-UK, RW-US, JB, FL
Happy (7/15/72, #22 US) MS, FL
Rip This Joint MS
Angie (9/1/73, #1 US, #5 UK, #38 AC, sales: 1 m) MS, RW-UK, RW-US, JB, FL
Doo Doo Doo Doo Doo (Heartbreaker) (1/12/74, #15 US) MS, RW-US
It's Only Rock 'N Roll (But I Like It) (8/3/74, #16 US, #10 UK) MS, RW-UK, JB, FL
Dance Little Sister MS
Time Waits for No One SS
Fool to Cry (4/24/76, #10 US, #6 UK) SS, RW-UK, RW-US, JB, FL
Hot Stuff (4/24/76, #49 US, #84 RB) SS, JB
Crazy Mama SS
Mannish Boy (live) SS
Miss You (5/27/78, #1 US, #3 UK, #33 RB, sales: 1 m) RW-UK, RW-US, JB, FL
Beast of Burden (9/9/78, #8 US) SS, RW-UK, RW-US, JB, FL
Respectable (9/30/78, #23 UK) RW-UK, JB
Shattered (12/16/78, #31 US) SS, FL
Everything Is Turning to Gold SS
When the Whip Comes Down (live) SS

---

1980-2002:

Emotional Rescue (7/5/80, #3 US, #9 UK) RW-US, JB, FL
She's So Cold (9/27/80, #26 US, #33 UK) RW-UK
If I Was a Dancer (Dance Pt. 2) (4/18/81, #26 AR) SS
Start Me Up (8/22/81, #2 US, #7 UK, #1 AR) RW-UK, RW-US, JB, FL
Hang Fire (9/26/81, #20 US, #2 AR) RW-US
Waiting on a Friend (11/28/81, #13 US, #50 UK, #8 AR) RW-UK, RW-US, JB
Undercover of the Night (11/12/83, #9 US, #11 UK, #2 AR) RW-UK, RW-US, JB, FL
Harlem Shuffle (3/15/86, #5 US, #13 UK, #2 AR) JB
Mixed Emotions (9/2/89, #5 US, #36 UK, #1 AR, #22 MR) JB, FL
Rock and a Hard Place (9/9/89, #23 US, #63 UK, #1 AR) JB
Love Is Strong (7/9/94, #91 US, #14 UK, #2 AR) FL
You Got Me Rocking (7/23/94, #23 UK, #2 AR) FL
Anybody Seen My Baby? (9/20/97, #22 UK, #3 AR) FL
Don't Stop (9/14/02) #36 UK, #21 AR) FL
Keys to Your Love FL
Stealing My Heart FL
Losing My Touch FL

---

MS Made in the Shade
SS Sucking in the Seventies
RW-UK Rewind (U.K. version)
RW-US Rewind (U.S. version)
JB Jump Back
FL Forty Licks **

---

Notes: * Rewind features different track listing for the UK and US versions, noted above as RW-UK and RW-US.

** Only disc two songs are covered on this page. Disc one songs are featured on the 1963-1971 compilations page.

---

Review Source(s):

First posted 8/29/2009; last updated 10/19/2020.

A Retrospective: 1962-1971 The Rolling Stones

A Brief History: Considered by many to be the greatest rock and roll band of all time, the Rolling Stones have put together a career lasting more than 50 years. As a result, they've released multiple compilations and sorting them out can be quite a chore. As such, the DMDB has put together two pages focused on just a sampling of the compilations released throughout their career. This page covers 1962 to 1971, the years the band was on Decca in the U.K. and London Records in the U.S. Check out the 1971-2002 compilations page as well.

---

The Players from 1962-1971:

Mick Jagger (vocals, harmonica, guitar, percussion, keyboards: 1962-present)
Keith Richards (guitar, backing vocals: 1962-present)
Charlie Watts (drums, percussion, backing vocals: 1963-present)
Brian Jones (guitar, harmonica, keyboards, sitar, percussion, backing vocals: 1962-69)
Bill Wyman (bass, keyboards, backing vocals: 1962-93)
Mick Taylor (guitar, bass, backing vocals: 1969-74)

---

Compilations:

* Big Hits (High Tide & Green Grass) and Through the Past, Darkly (Big Hits, Vol. 2) had different track listings in the U.S. and UK, hence the two sets of codes for each album.

When the Stones formed their own label, ABKCO took control of the Stones' 1963-70 catalog and released two double compilations – Hot Rocks 1964-1971 and More Hot Rocks (Big Hits & Fazed Cookies) – which essentially made the Big Hits collections obsolete. Only Little Red Rooster and You Better Move On didn't make it to the Hot Rocks collections.

In 1989, the three-disc The Singles Collection – The London Years, was released to cover all the official singles of the 1963-1971 era. Consequently, it put most of the material from the Hot Rocks sets into one box set.

** Finally, the Forty Licks set is a double-disc career retrospective. Only the first disc is covered on this page. For disc two material, check out the 1971-2002 retrospective page.

---

The Studio Albums:

These studio albums have their own DMDB pages, but are spotlighted here. The snapshots of the studio albums will indicate all songs featured on any of the compilations, noted with the codes above. Appearing after song titles are the writers in italics, the time of the song in brackets, and then, in parentheses, the date the song was released as a single (if relevant) and its peaks on various charts. Click for codes to singles charts.

---

The Rolling Stones (EP, 1964):

Before Decca Records would commit to a full-length album from the Rolling Stones, they released this EP of four cover songs to test the market. It reached #1 on the UK's EP chart.

Bye Bye Johnny (Chuck Berry) [2:09] MH
Money (Berry Gordy/Janie Bradford) [2:31] MH
You Better Move On (Arthur Alexander) [2:39] B2-UK
Poison Ivy (Jerry Leiber/Mike Stoller) [2:06] MH

---

The Rolling Stones/England's Newest Hit Makers (1964):

This was the debut album from the Stones. It was released as The Rolling Stones in the UK in April 1964 and reached #1. A month later, it was released in the U.S. as England's Newest Hit Makers, peaking at #11. The track listing was almost identical, with the U.S. version substituting the band's cover of Buddy Holly's Not Fade Away instead of the cover of Bo Diddley's "Mona (I Need You Baby)" featured on the UK version.

Not Fade Away (Buddy Holly, Norman Petty) [1:48] (2/21/64, 48 US, 44 CB, 52 HR, 7 CL, 3 UK, 33 AU) BH-US, BH-UK, MH, SC, FL
Little by Little (Nanker Phelge, Phil Spector) [2:39] (2/21/64: B-side of "Not Fade Away," 47 CL) SC
Tell Me (You're Coming Back to Me) (Jagger, Richards) [4:05] (6/13/64, 24 US, 27 CB, 26 HR, 14 CL, 9 CN, 32 AU) BH-US, MH, SC
I Just Want to Make Love to You (Willie Dixon) [2:17] (6/13/64: B-side of "Tell Me," 38 CL) SC

---

12 x 5 (1964):

This U.S.-only album reached #3. It was an expansion of the UK EP Five by Five, adding the singles It's All Over Now and Time Is on My Side, as well as their B-sides, and three other songs.

It's All Over Now (Bobby Womack, Shirley Womack) [3:27] (6/26/64, 26 US, 25 CB, 30 HR, 5 CL, 1 UK, 26 CN, 9 AU) BH-US, BH-UK, MH, SC, FL
Good Times, Bad Times (Jagger, Richards) [2:32] (6/26/64: B-side of "It's All Over Now," 43 CL) BH-US, MH, SC
Time Is on My Side (Norman Meade) [2:50] (9/26/64, 6 US, 6 CB, 6 HR, 6 CL, 62 UK, 4 AU) BH-UK, BH-US, HR, SC
Congratulations (Jagger, Richards) [2:28] (9/26/64: B-side of "Time Is on My Side") SC

---

No. 2/Now! (1965):

The Stones' second album in the UK was called No. 2. It reached #1 and featured cover songs with a few originals. In the U.S., the album was released as Now! with some differences, notably the inclusion of singles Heart of Stone and Little Red Rooster. It reached #5.

Little Red Rooster (Willie Dixon) [3:00] (11/13/64, 22 CL, 1 UK, 2 AU) BH-UK, SC
Off the Hook (Jagger, Richards) [2:38] (11/13/64: B-side of "Little Red Rooster") SC
Heart of Stone (Jagger, Richards) [2:49] (12/19/64, 19 US, 16 CB, 15 HR, 11 CL, 15 CN, 5 AU) BH-US, BH-UK, HR, SC
What a Shame (Jagger, Richards) [3:03] (12/19/64: B-side of "Heart of Stone") SC
I Can't Be Satisfied (Muddy Waters) [3:26] (1/15/65: 49 CL) MH
Surprise, Surprise (Jagger, Richards) [2:20] SC

---

Out of Our Heads (1965):

The title was the same for the U.S. and UK releases, where it reached numbers 1 and 2 respectively, but the track listings were different. , Play with Fire, (I Can't Get No) Satisfaction, and The Spider and the Fly only appeared on the U.S. version. I'm Free only appeared on the UK version.

The Last Time (Jagger, Richards) [3:41] (2/25/65, 9 US, 10 CB, 10 HR, 5 CL, 1 UK, 9 CN, 2 AU) BH-US, BH-UK, MH, SC, FL
Play with Fire (2/25/65, 96 US, 10 CL) (Nanker Phelge) [2:13] BH-US, HR, SC
(I Can't Get No) Satisfaction (Jagger, Richards) [3:42] (6/6/65, 1 US, 1 CB, 1 HR, 19 RB, 1 CL, 1 UK, 3 CN, 1 AU, sales: 1.0 million, airplay: 6 million), BH-UK, BH-US, HR, SC, FL
The Under Assistant West Coast Promotion Man (Nanker Phelge) [3:07] (6/6/65: B-side of "Satisfaction" in U.S.) SC
The Spider and the Fly (Jagger, Richards) [3:39] (8/20/65: B-side of "Satisfaction" in UK) SC
I'm Free (Jagger, Richards) [2:24] (9/25/65: B-side of "Get Off of My Cloud," 41 CL) MH, SC
Gotta Get Away (Jagger, Richards) [2:06] (12/18/65: B-side of "As Tears Go By") SC

---

December's Children (And Everybody's) (1965):

This U.S.-only release reached #4. It featured the Get Off of My Cloud single, its UK B-side The Singer Not the Song, the single As Tears Go By, and some leftover cuts from the UK version of Out of Our Heads and the UK EP Got Live if You Want It!

Get Off of My Cloud (Jagger, Richards) [2:52] (9/25/65, 1 US, 1 CB, 2 HR, 1 CL, 1 UK, 1 CN, 2 AU, airplay: 3 million) BH-US, BH-UK, HR, SC, FL
The Singer Not the Song (Jagger, Richards) [2:22] (10/22/65, UK B-side of "Get Off of My Cloud") SC
As Tears Go By (Jagger, Richards, Andrew Loog Oldham) [2:45] (12/18/65, 6 US, 10 AC, air: 2 m) BH-US, BH-UK, HR, SC

---

Aftermath (1966):

Like Out of Our Heads, this album shared the same title in the U.S. (where it reached #2) and the UK (where it reached #1), but the track listing differed slightly. Paint It, Black only appeared on the U.S. version. Out of Time, What to Do, and Mother's Little Helper were only on the UK version. This was the first Stones' album to feature all original songs.

Under My Thumb (Jagger, Richards) [3:20] (3 CL) HR, FL
What to Do (Jagger, Richards) [3:10] (49 CL) MH
Out of Time (Jagger, Richards) [5:15] (8/16/75: alternate version, 81 US, 65 CB, 88 HR, 19 CL, 45 UK, 88 AU) MH, SC
Paint It, Black (Jagger, Richards) [3:20] (5/7/66, 1 US, 1 CB, 1 HR, 1 CL, 1 UK, 1 CN, 1 AU) BH-UK, B2-US, HR, SC, FL
Stupid Girl (Jagger, Richards) [2:52] (5/7/66: U.S. B-side of "Paint It, Black," 41 CL) SC
Mother's Little Helper (Jagger, Richards) [2:40] (7/2/66, 8 US, 4 CB, 4 HR, 4 CL, 14 CN, 10 AU) B2-UK, B2-US, HR, SC, FL
Lady Jane (Jagger, Richards) [3:06] (7/2/66, 24 US, 46 CB, 46 HR, 15 CL) BH-UK, MH, SC

 

---

Rating:

4.486 out of 5.00
(average of 14 ratings)

---

Recorded: 1963-1966

---

Released: March 28, 1966 (U.S.), November 4, 1966 (UK)

---

Peak: 3 US, 4 UK, 7 CN, 3 AU

---

Sales (in millions): 2.0 US, 0.6 UK, 5.5 world (includes US and UK)

---

Genre: classic rock

---

Tracks (U.S. version): (1) I Can't Get No Satisfaction (2) The Last Time (3) As Tears Go By (4) Time Is on My Side (5) It's All Over Now (6) Tell Me (You're Coming Back) (7) 19th Nervous Breakdown (8) Heart of Stone (9) Get Off of My Cloud (10) Not Fade Away (11) Good Times, Bad Times (12) Play with Fire

---

Tracks (UK version): (1) Have You Seen Your Mother, Baby, Standing in the Shadow? (2) Paint It, Black (3) It's All Over Now (4) The Last Time (5) Heart of Stone (6) Not Fade Away (7) Come On (8) I Can't Get No Satisfaction (9) Get Off of My Cloud (10) As Tears Go By (11) 19th Nervous Breakdown (12) Lady Jane (13) Time Is on My Side (14) Little Red Rooster

---

Total Running Time: 36:29 (U.S.)

About Big Hits (High Tides and Green Grass):

The first compilation from the Stones was released in vastly different versions in the U.S. and UK – and more than six months apart. There are nine songs featured on both collections: Not Fade Away, It's All Over Now, Time Is on My Side, Heart of Stone, The Last Time, I Can't Get No Satisfaction, Get Off of My Cloud, As Tears Go By, and 19th Nervous Breakdown. This was the first album appearance of "Breakdown."

The American edition also featured Tell Me, Play with Fire, and Good Times, Bad Times. The first two charted in the U.S. (24 and 96 respectively) and the third was the B-side of "It's All Over Now."

The UK version featured the Stones' debut 1963 single Come On, a Chuck Berry cover, and their #1 version of Willie Dixon's Little Red Rooster. Also unique to the UK edition were the singles Have You Seen Your Mother, Baby, Standing in the Shadow?, Paint It, Black, and Lady Jane. All three were released after the U.S. version of Big Hits; the first two were featured on the next compilation, Through the Past Darkly.

Come On (6/7/63, 28 CL, 21 UK) BH-UK, MH, SC
19th Nervous Breakdown (2/4/66, 2 US, 1 CB, 2 HR, 32 RB, 1 CL, 2 UK, 9 CN) BH-US, BH-UK, HR, SC, FL
Have You Seen Your Mother, Baby, Standing in the Shadow? (9/23/66, 9 US, 4 CB, 3 HR, 3 CL, 5 UK, 8 CN, 24 AU) BH-UK, B2-US, MH, SC, FL

---

Between the Buttons (1967):

This was the third, and final, Rolling Stones' album to featured the same title in the U.S. and UK, but different track listings. This one reached #2 in the U.S. and #3 in the UK. The single Ruby Tuesday / Let's Spend the Night Together was included on the U.S. version, but not the UK edition.

Let's Spend the Night Together (1/13/67, 55 US, 28 CB, 44 HR, 4 CL, 3 UK, sales: 1 million) B2-UK, B2-US, HR, SC, FL
Ruby Tuesday (1/13/67, 1 US, 1 CB, 1 HR, 3 UK, 2 CN, 3 AU, sales: 1 m, airplay: 3 million) B2-UK, B2-US, HR, SC, FL

---

Their Satanic Majesties Request (1967):

It was the first Stones' album to feature an identical track listing in the U.S. (where it reached #2) and the UK (where it peaked at #3). The band's attempt at a more psychedelic sound was met with mixed results.

She's a Rainbow (12/23/67, 25 US, 10 CB, 9 HR, 7 CL, 9 CN, 9 AU) B2-UK, B2-US, MH, SC, FL
2000 Light Years from Home (12/23/67: B-side of "She's a Rainbow," 11 CL) B2-UK, B2-US, MH, SC
In Another Land (BILL WYMAN, 12/2/67, 87 US) SC
The Lantern (12/2/67: B-side of "In Another Land") SC

---

Beggars Banquet (1968):

This reached #5 in the U.S. and #2 in the UK. It is generally the considered the first of the band's four consecutive masterpieces, the others being Let It Bleed (1969), Sticky Fingers (1971), and Exile on Main Street (1972). All four rank in the the top 100 albums of all time according to the DMDB.

Street Fighting Man (8/31/68, 48 US, 30 CB, 28 HR, 4 CL, 21 UK, 32 CN, 13 AU) B2-UK, B2-US, HR, SC, FL
No Expectations (8/31/68, 45 CL) MH, SC
Sympathy for the Devil (12/14/68, 97 US, 1 CL, 14 UK) HR, SC, FL

---

Rating:

4.281 out of 5.00
(average of 13 ratings)

---

Recorded: 1963-1969

---

Released: September 12, 1969

---

Peak: 2 US, 2 UK, -- CN, 9 AU

---

Sales (in millions): 1.0 US, 0.6 UK, 4.5 world (includes US and UK)

---

Genre: classic rock

---

Tracks, U.S. version: (1) Paint It, Black (2) Ruby Tuesday (3) She's a Rainbow (4) Jumpin' Jack Flash (5) Mother's Little Helper (6) Let's Spend the Night Together (7) Honky Tonk Women (8) Dandelion (9) 2000 Light Years from Home (10) Have You Seen Your Mother, Baby, Standing in the Shadow? (11) Street Fighting Man

---

Tracks, UK version: (1) Jumpin' Jack Flash (2) Mother's Little Helper (3) 2000 Light Years from Home (4) Let's Spend the Night Together (5) You Better Move On (6) We Love You (7) Street Fighting Man (8) She's a Rainbow (9) Ruby Tuesday (10) Dandelion (11) Sittin' on a Fence (12) Honky Tonk Women

---

Total Running Time: 42:30

About Through the Past Darkly:

Like its predecessor, Big Hits (High Tides and Green Grass, this compilation looked very different in its U.S. and UK incarnations. Both collections featured Mother's Little Helper, Let's Spend the Night Together, Ruby Tuesday, She's a Rainbow, 2000 Light Years from Home, and Street Fighting Man. In addition, the two sets also featured Dandelion, Jumpin' Jack Flash, and Honky Tonk Women appearing on album for the first time.

The U.S. version also included Paint It, Black and , which had both originally appeared on the UK version of Big Hits. The UK version added You Better Move On from the Stones' 1964 self-titled EP, Sittin' on a Fence which was recorded in 1965 during the Aftermath sessions and appeared on the Flowers archival collection, and We Love You, the B-side of "Dandelion."

The album was released shortly after Stones' founder Brian Jones left the group and died soon afterward. "In the inside flap of the album, there is a tribute to Jones, which reads: 'When this you see, remember me, and bear me in your mind. Let all the world say what they may, speak of me as you find.'" WK-B2

"The name of the album is a play on a line from the KJV translation of I Corinthians 13: "For now we see through a glass, darkly, but then face to face: . . .', but it is more likely the Stones intended an homage to Ingmar Bergman and his 1961 film Through a Glass Darkly." WK-B2

Sittin' on a Fence (recorded 12/65, released on Flowers) B2-UK, MH
We Love You (8/18/67, 50 US, 54 CB, 52 HR, 17 CL, 8 UK, 4 AU) B2-UK, MH, SC
Dandelion (8/18/67, 14 US, 6 CB, 9 HR, 6 CL, 8 UK, 9 CN) B2-UK, B2-US, MH, SC
Jumpin' Jack Flash (5/24/68, 3 US, 1 CB, 2 HR, 1 CL, 1 UK, 5 CN, 2 AU, airplay: 4 million) B2-UK, B2-US, HR, SC, FL
Honky Tonk Women (7/4/69, 1 US, 1 CB, 1 HR, 1 CL, 1 UK, 2 CN, 1 AU, sales: 1 million, airplay: 5 million) B2-UK, B2-US, HR, SC, FL

---

Let It Bleed (1969):

This reached #1 in the UK and #3 in the U.S. despite failing to send even one song into the top 40. However, You Can't Always Get What You Want has become an classic rock staple and Let It Bleed ranks as one of the top 100 albums of all time according to the DMDB.

You Can't Always Get What You Want (7/4/69, 42 US, 34 CB, 36 HR, 1 CL, 1 AU, sales: 1 million) HR, SC, FL
Gimme Shelter (11/28/69: album cut from Let It Bleed, 1 CL; live version: 11/28/98, 29 AR, 42 CN) HR, FL
Let It Bleed (11/28/69: album cut from Let It Bleed, 5 CL) MH
Midnight Rambler (live) (11/28/69: album cut from Let It Bleed, 5 CL; 9/4/70: live version from Get Yer Ya-Ya's Out) HR

---

Sticky Fingers (1971):

This was the Stones' first self-released album. It was their first album to reach #1 in the U.S. and UK. It is one of four Stones' albums to rank in the the top 100 albums of all time according to the DMDB.

Brown Sugar (4/16/71, 1 US, 2 CB, 1 HR, 1 CL, 2 UK, 1 CN, 5 AU, airplay: 3 million) HR, SC
Wild Horses (6/12/71, 28 US, 18 CB, 21 HR, 2 CL, 11 CN, 96 AU) HR, SC, FL

---

Rating:

4.500 out of 5.00
(average of 16 ratings)

---

Recorded: 1964-1971

---

Released: December 15, 1971

---

Peak: 4 US, 3 UK, -- CN, 10 AU

---

Sales (in millions): 12.0 US, 0.6 UK, 13.7 world (includes US and UK)

---

Genre: classic rock

---

Tracks: (1) Time Is on My Side (2) Heart of Stone (3) Play with Fire (4) I Can't Get No Satisfaction (5) As Tears Go By (6) Get Off of My Cloud (7) Mother's Little Helper (8) 19th Nervous Breakdown (9) Paint It, Black (10) Under My Thumb (11) Ruby Tuesday (12) Let's Spend the Night Together (13) Jumpin' Jack Flash (14) Street Fighting Man (15) Sympathy for the Devil (16) Honky Tonk Women (17) Gimme Shelter (18) Midnight Rambler (live) (19) You Can't Always Get What You Want (20) Brown Sugar (21) Wild Horses

---

Total Running Time: 84:56

About Hot Rocks:

In 1970, the Stones' former manager Allen Klein reportedly duped the band into signing over the recording copyrights for all of their material from 1963 to 1970. WK-HR The Rolling Stones went on to form their own label, Rolling Stones Records while Klein compiled this retrospective for his company, ABKCO Records. It was the "Rolling Stones' biggest-selling release of their career and an enduring and popular retrospective"WK-HR covering "seven years' worth of mostly very high-charting – and all influential and important – songs." AMG

Because the Stones owed Decca Records one more single, the songs Brown Sugar and Wild Horses were co-woned by the band and Klein. The Stones' released the songs on their 1971 Sticky Fingers album while Klein added them to the Hot Rocks compilation.

This overview of the band's career thus far lets one hear how the Stones "change from loud R&B-inspired rockers covering others' songs (Time Is on My Side) into originators in their own right (Satisfaction); then into tastemakers and style-setters with a particularly decadent air (Get Off of My Cloud, 19th Nervous Breakdown); and finally into self-actualized rebel-poets (Jumpin' Jack Flash, Midnight Rambler) and Shaman-like symbols of chaos." AMG

---

Rating:

4.361 out of 5.00
(average of 11 ratings)

---

Recorded: 1963-1969

---

Released: December 11, 1972

---

Peak: 9 US, -- UK, -- CN, -- AU

---

Sales (in millions): 0.5 US, -- UK, 1.5 world (includes US and UK)

---

Genre: classic rock

---

Tracks: (1) Tell Me (2) Not Fade Away (3) The Last Time (4) It's All Over Now (5) Good Times, Bad Times (6) I'm Free (7) Out of Time (8) Lady Jane (9) Sittin' on a Fence (10) Have You Seen Your Mother, Baby, Standing in the Shadow? (11) Dandelion (12) We Love You (13) She's a Rainbow (14) 2000 Light Years from Home (14) Child of the Moon (15) No Expectations (16) Let It Bleed (17) What to Do (18) Money (19) Come On (20) Fortune Teller (21) Posion Ivy (22) Bye Bye Johnny (23) I Can't Be Satisifed (24) Long Long While

---

Total Running Time: 79:45

Awards:

About More Hot Rocks:

Originally, the intent of this collection was to feature previously unreleased material under the title Necrophilia. That project was scrapped (although it was revisited in 1975 with Metamorphosis) in favor of this more commercial-friendly package, a natural successor to 1971's Hot Rocks. This collection featured "the hits that could not be shoehorned onto its predecessor, as well as first-time release of many previously UK-only releases." WK-MH

It showed what an embarrassment of richies the Stones had in the hits department that this collection still boasts seven top 40 U.S. hits, including the top 10 hits The Last Time and Have You Seen Your Mother, Baby, Standing in the Shadow?

Fortune Teller (1/31/64: Saturday Club (various artists), 25 CL; live: 4/66, 5 AU) MH
Long, Long While (5/13/66: UK B-side of "Paint It, Black," 46 CL) MH, SC
Child of the Moon (5/25/68: B-side of "Jumpin' Jack Flash," 46 CL) MH, SC

---

Notes: In 2002, a CD reissue of More Hot Rocks added "Everybody Needs Somebody to Love," a second version of "Poison Ivy," and "I've Been Loving You Too Long."

---

Rating:

4.692 out of 5.00
(average of 16 ratings)

---

Recorded: 1963-1971

---

Released: August 15, 1989

---

Peak: 91 US, -- UK, -- CN, -- AU

---

Sales (in millions): 1.0 US, 0.1 UK, 2.0 world (includes US and UK)

---

Genre: classic rock

---

Tracks, Disc 1: (1) Come On (2) I Want to Be Loved (3) I Wanna Be Your Man (4) Stoned (5) Not Fade Away (6) Little by Little (7) It's All Over Now (8) Good Times, Bad Times (9) Tell Me (10) I Just Want to Make Love to You (11) Time Is on My Side (12) Congratulations (13) Little Red Rooster (14) Off the Hook (15) Heart of Stone (16) What a Shame (17) The Last Time (18) Play with Fire (19) I Can't Get No Satisfaction (20) The Under Assistant West Coast Promotion Man (21) The Spider and the Fly (22) Get Off of My Cloud (23) I'm Free (24) The Singer Not the Song (25) As Tears Go By

---

Tracks, Disc 2: (1) Gotta Get Away (2) 19th Nervous Breakdown (3) Sad Day (4) Paint It, Black (5) Stupid Girl (6) Long Long While (7) Mother's Little Helper (8) Lady Jane (9) Have You Seen Your Mother, Baby, Standing in the Shadow? (10) Who's Driving Your Plane? (11) Let's Spend the Night Together (12) Ruby Tuesday (13) We Love You (14) Dandelion (15) She's a Rainbow (16) 2000 Light Years from Home (17) In Another Land (18) The Lantern (19) Jumpin' Jack Flash (20) Child of the Moon

---

Tracks, Disc 3: (1) Street Fighting Man (2) No Expectations (3) Surprise, Surprise (4) Honky Tonk Women (5) You Can't Always Get What You Want (6) Memo from Turner (7) Brown Sugar (8) Wild Horses (9) I Don't Know Why (10) Try a Little Harder (11) Out of Time (12) Jiving Sister Fanny (13) Sympathy for the Devil

---

Total Running Time: 185:44

Awards:

About The Singles Collection: The London Years:

This box set collected all the Rolling Stones' singles and B-sides through 1971, "mostly in their original mono mixes (at least as of the 2002 reissue), in both the UK and US encompassing their entire era with Decca Records in the United Kingdom and London Records in the United States – hence the album's title." WK-SC

"The set begins with their very first UK single, Chuck Berry's Come On, and runs to Sticky Fingers's Brown Sugar and Wild Horses…The only omissions are four B-sides from 1970 and 1971. 'Bitch' and 'Let It Rock' (released in the UK on the 'Brown Sugar' single) and 'Sway' (B-side to 'Wild Horses'). Allen Klein did not have release rights to this material when this compilation was released. Also 'Natural Magic,' a Ry Cooder instrumental, released as the B-side to Memo from Turner, which features no members of the Rolling Stones performing." WK-SC

"The set was released at a timely juncture, just a couple of weeks before The Rolling Stones' comeback album Steel Wheels was due for release after a significant break, and months following their induction into the Rock and Roll Hall of Fame...In 2007, Steven Van Zandt placed Singles Collection: The London Years #1 on his list of the most essential albums of all time." WK-SC

I Want to Be Loved (6/7/63: B-side of "Come On") SC
I Wanna Be Your Man (11/1/63, 32 CL, 12 UK) SC
Stoned (11/1/63: B-side of "I Wanna Be Your Man") SC
Try a Little Harder (recorded 2/13/64, released 5/75: B-side of "I Don't Know Why") SC
Sad Day (2/4/66: B-side of "19th Nervous Breakdown") SC
Who's Driving Your Plane? (9/23/66: B-side of "Have You Seen Your Mother?") SC
Memo from Turner (MICK JAGGER, recorded 9/68 for the Performance soundtrack; released 10/23/70, 32 UK) SC
I Don't Know Why (recorded 6/69, released 5/75, 42 US, 37 CB, 94 HR, 34 CL, 38 CN) SC
Jiving Sister Fanny (recorded 6/69, released on Metamorphosis) SC

---

Rating:

4.647 out of 5.00
(average of 15 ratings)

---

Recorded: 1964-2002

---

Released: October 1, 2002

---

Peak: 2 US, 2 UK, 2 CN, 3 AU

---

Sales (in millions): 4.0 US, 0.9 UK, 10.1 world (includes US and UK)

---

Genre: classic rock

---

Tracks, Disc 1: (1) Street Fighting Man (2) Gimme Shelter (3) I Can't Get No Satisfaction (4) The Last Time (5) Jumpin' Jack Flash (6) You Can't Always Get What You Want (7) 19th Nervous Breakdown (8) Under My Thumb (9) Not Fade Away (10) Have You Seen Your Mother, Baby, Standing in the Shadow? (11) Sympathy for the Devil (12) Mother's Little Helper (13) She's a Rainbow (14) Get Off of My Cloud (15) Wild Horses (16) Ruby Tuesday (17) Paint It, Black (18) Honky Tonk Women (19) It's All Over Now (20) Let's Spend the Night Together

---

Tracks: (1) Start Me Up (2) Brown Sugar (3) Miss You (4) Beast of Burden (5) Don't Stop (6) Happy (7) Angie (8) You Got Me Rocking (9) Shattered (10) Fool to Cry (11) Love Is Strong (12) Mixed Emotions (13) Keys to Your Love (14) Anybody Seen My Baby? (15) Stealing My Heart (16) Tumbling Dice (17) Undercover of the Night (18) Emotional Rescue (19) It's Only Rock 'n Roll But I Like It (20) Losing My Touch

---

Total Running Time: 155:52

About Forty Licks:

This double-disc compilation offered a forty-year, career-spanning look at the Stones. While the set maddeningly doesn't play out chronologically, it does collect the band's Decca/London-era material from 1963-1970 on disc 1 (the years covered by this page) and the band's self-owned material from 1971 to 2002 on the second disc, which also includes four new songs. For disc two material, check out the 1971-2002 compilations page.

---

Resources and Related Links: