Originally posted October 10, 2011.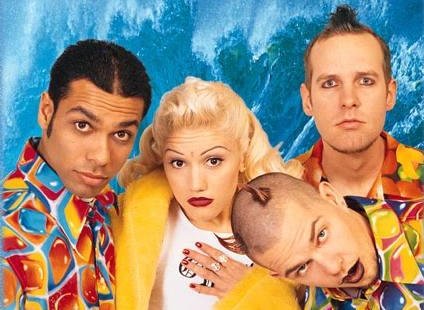 With their third album, and major-label debut, No Doubt hit the big time.
Tragic Kingdom
wasn't an immediate hit – it didn't chart until January of 1996 and then took until December 1996 before it hit #1. However, it sold ten million copies in the U.S. and more than 17 million worldwide. At the 1997 Grammy Awards,
Tragic Kingdom
took home the prize for Best Rock Album while No Doubt walked away with the award for Best New Artist.
The group has been credited with bringing "Southern California's ska scene to a national stage while elevating the band to star status"
CK
with its mix of ""'90s punk, third-wave ska, and pop sensibility."
STE
Naysayers like
Entertainment Weekly
's David Browne attributed the band's success to Gwen Stefani's "leggy, bleached-blond calling card" looks and the idea that "sex still sells",
WK
but even he conceded that the music provided "a hefty chunk of new-wave party bounce and Chili Peppers-style white-boy punk."
WK
The band worked with producer Matthew Wilder, who'd had a top 5 pop hit with "Break My Stride" in 1983. It made for a "a clever mainstream co-opting of new wave quirkiness, and, as such, an ideal pairing."
STE
"Wilder kept his production lean and accessible, accentuating No Doubt's appealing mix of new wave melodicism, post-grunge rock, and West Coast sunshine."
STE
<!—video: Just a Girl -->
The album "scored several hits"
CK
"led by the infectious, pseudo-new wave single
Just a Girl
"
STE
in which Stefani expressed her "exasperation with female stereotypes."
WK
WK
Spiderwebs
, was written about a woman "trying to avoid the constant phone calls of a persistent man."
WK
Both songs "positively ruled the airwaves, both alternative and mainstream."
STE
"In 1997 No Doubt cemented their cross-generational appeal" STE with Don't Speak, which Browne called "an old-fangled power ballad." WK The song was written about Stefani's breakup with bandmate Tony Kanal. The song peaked at #1 on the Billboard airplay chart for a then-record sixteen weeks. It was not eligible to chart on the Billboard Hot 100 because it was not released as a commercial single.

<!—video: Don't Speak -->
---
Awards:
Resources and Related Links:
---