Originally posted August 29, 2009. Last updated September 15, 2018.
Rolling Stones' Compilations
Sorting out Stones' compilations can be a bit of a chore. It's not every band that's had hits strewn over five decades. As a result, even this page, despite focusing on five Stones' collections, only covers 1963-1971, so please also check out the 1971-2002 compilations page as well.
This page covers the years the band was on Decca in the U.K. and London Records in the U.S. During that era, two major single-disc collections were released – Big Hits (High Tide & Green Grass) and Through the Past, Darkly (Big Hits, Vol. 2). When the Stones formed their own label, two double compilations – Hot Rocks 1964-1971 and More Hot Rocks (Big Hits & Fazed Cookies) – were released which essentially made the Big Hits collections obsolete. Only Little Red Rooster and You Better Move On didn't make it to the Hot Rocks collections.
In 1989, the three-disc The Singles Collection – The London Years, was released to cover all the official singles of the 1963-1971 era. Consequently, it put most of the material from the Hot Rocks sets into one box set.
Finally, the Forty Licks set is a double disc career retrospective. Only the first disc is covered on this page. For disc two material,
Here are the collections featured on this page:
Click here to see all the album tracks featured on the above collections.
---
Genre: rock
---
Related DMDB Link(s):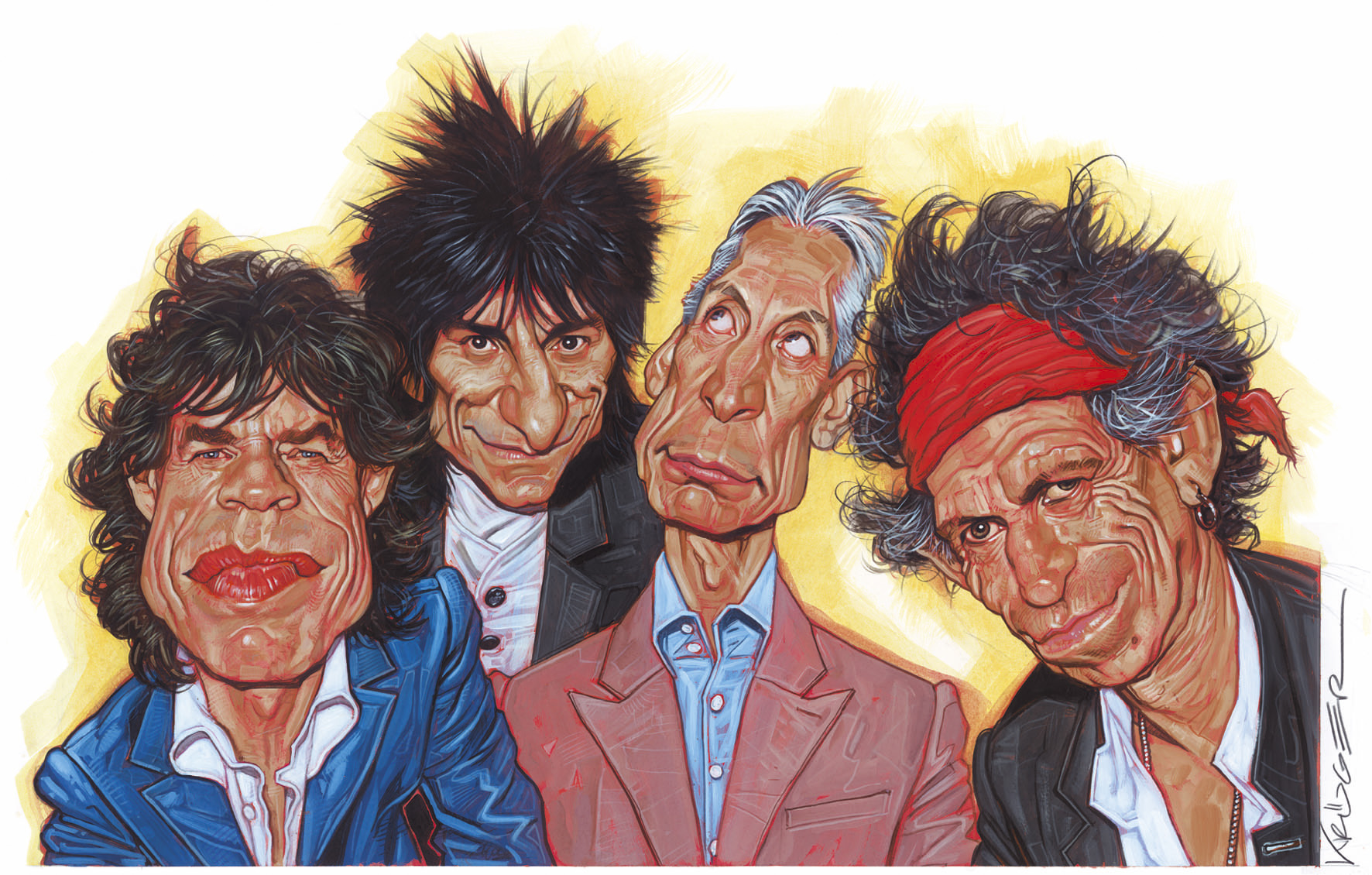 Recorded: 1963-1966

---

Released: Mar. 28, 1966

---

Sales (in millions): US: 2.0, UK: --, IFPI: --, World: 5.5

---

Peak: US: 3, UK: 4, Canada: --, Australia: 7

Review:

"Big Hits (High Tide and Green Grass) proved to be a big smash and currently remains a popular Rolling Stones retrospective." WK-BH The U.K. version "includes tracks released after the American edition appeared. The Rolling Stones' debut 1963 single, a cover of Chuck Berry's Come On, was included, but its more successful follow-up, I Wanna Be Your Man – composed by rivals (although in reality as friends) Lennon/ McCartney – was left off the album." WK-BH "The album has been out of print in the UK for years, although it was officially released on CD in Japan for a time." WK-BH

Recorded: 1963-1969

---

Released: Sept. 12, 1969

---

Sales (in millions): US: 1.0, UK: 0.6, IFPI: --, World: 4.5

---

Peak: US: 2, UK: 2, Canada: --, Australia: 9

Review:

"Through the Past, Darkly (Big Hits Vol. 2) is The Rolling Stones' second official compilation album, released in 1969 shortly following Brian Jones' departure from the group and subsequent death." WK-B2 "In the inside flap of the album, there is a tribute to Jones, which reads: 'When this you see, remember me, and bear me in your mind. Let all the world say what they may, speak of me as you find.'" WK-B2

"Because their first compilation had been released in separate UK and US formats (with the Aftermath-era material appearing only on the UK edition), the American edition included hit singles from that period. The British track listing included the more obscure You Better Move On, from The Rolling Stones' self-titled 1964 debut EP and Sittin' on a Fence, an Aftermath outtake originally released in 1967 on the US-compiled Flowers album. In addition to those songs, many tracks, notably single-only releases, were collected for the first time on a UK Rolling Stones album: Let's Spend the Night Together, Ruby Tuesday, We Love You, Dandelion and Honky Tonk Women." WK-B2

"The name of the album is a play on a line from the KJV translation of I Corinthians 13: "For now we see through a glass, darkly, but then face to face: . . .', but it is more likely the Stones intended an homage to Ingmar Bergman and his 1961 film Through a Glass Darkly." WK-B2

Recorded: 1964-1971

---

Released: Dec. 15, 1971

---

Sales (in millions): US: 6.0, UK: 0.6, IFPI: --, World: 13.7

---

Peak: US: 4, UK: 3, Canada: --, Australia: 10

Review:

"Hot Rocks 1964–1971 is the first compilation album of Rolling Stones music released by former manager Allen Klein's ABKCO Records (who gained control of the band's Decca/London material in 1970) after the band's departure from Decca and Klein. Released in late 1971, it proved to be The Rolling Stones' biggest-selling release of their career and an enduring and popular retrospective"WK-HR covering "seven years' worth of mostly very high-charting – and all influential and important – songs." AMG

"After reportedly having been duped by Klein to unknowingly sign over the recording copyrights to all of their material from 1963 to 1970, The Rolling Stones left Decca and formed their own label, Rolling Stones Records, with a new distributor. They recorded Sticky Fingers throughout 1970, releasing it the following spring. Although Klein – and now ABKCO – no longer had The Rolling Stones as clients, their fruitful catalogue was ripe for the picking and, thus, Hot Rocks 1964-1971 was quickly compiled as a double album greatest hits package."WK-HR

"While the album carries most of the band's biggest hits during their first decade, it does drop a few of them in order to include standout tracks such as Play with Fire, Under My Thumb and Gimme Shelter, giving listeners a more well-rounded impression of The Rolling Stones' music in this era"WK-HR and "an overview…of their evolving image." AMG

"One hears them change from loud R&B-inspired rockers covering others' songs (Time Is on My Side) into originators in their own right (Satisfaction); then into tastemakers and style-setters with a particularly decadent air (Get Off of My Cloud, 19th Nervous Breakdown); and finally into self-actualized rebel-poets (Jumpin' Jack Flash, Midnight Rambler) and Shaman-like symbols of chaos." AMG

"Although Brown Sugar and Wild Horses are a part of Sticky Fingers, those two songs are co-owned by the band and Allen Klein due to the fact that The Rolling Stones owed Decca one more single in 1970, and the band responded by submitting the unreleasable 'Cocksucker Blues.'" WK-HR

"The only flaw was that it didn't give a good look at the Stones' full musical history, ignoring their early blues period and the psychedelic era. There are also some anomalies in Hot Rocks' history for the collector — the very first pressings included an outtake of 'Brown Sugar' featuring Eric Clapton that was promptly replaced; and the original European CD version, issued as two separate discs on the Decca label, was also different from its American counterpart, featuring a version of 'Satisfaction' mastered in stereo and putting the guitars on separate channels for the first time. Those musicologist concerns aside, this is still an exciting assembly of material." AMG

"The UK release was delayed for many years, coming out on 21 May 1990, to coincide with the Urban Jungle Tour, reaching #3."WK-HR

Recorded: 1963-1969

---

Released: Dec. 11, 1972

---

Sales (in millions): US: 0.5, UK: --, IFPI: --, World: 1.5

---

Peak: US: 9, UK: --, Canada: --, Australia: --

Review:

"When Hot Rocks 1964–1971 proved to be a big seller, there was never any doubt that a successor would follow. However, initially – with Andrew Loog Oldham getting involved – the project was to feature previously unreleased (or more accurately, discarded) material and be titled Necrophilia. Artwork was prepared and the album made it as far as the mastering phase when it was recalled and something a little more practical was compiled (ABKCO would revisit this concept with 1975's Metamorphosis). The result was More Hot Rocks (Big Hits & Fazed Cookies). Featuring the hits that could not be shoehorned onto its predecessor, as well as first-time release of many previously UK-only releases, the double album was quickly pressed and distributed into North American shops in December 1972, reaching #9 in the US and going gold. Like Hot Rocks 1964–1971, More Hot Rocks (Big Hits & Fazed Cookies) would not see an official UK release until 21 May 1990." WK-MH

An August 2002 reissue of More Hot Rocks added "three bonus tracks: Poison Ivy (Version 2), from The Rolling Stones; Everybody Needs Somebody to Love, from The Rolling Stones No. 2 (a different take from the version featured on The Rolling Stones, Now!); and I've Been Loving You Too Long, recorded in 1965, and later overdubbed with screams for the 1966 American-only live album Got Live If You Want It!." WK-MH

Recorded: 1963-1971

---

Released: August 15, 1989

---

Sales (in millions): US: 1.0, UK: 0.1, IFPI: --, World: 2.0

---

Peak: US: 91, UK: --, Canada: --, Australia: --

Review:

"Released in 1989, Singles Collection: The London Years is a triple album of every Rolling Stones single – and their B-Sides – mostly in their original mono mixes (at least as of the 2002 reissue), in both the UK and US encompassing their entire era with Decca Records in the United Kingdom and London Records in the United States – hence the album's title." WK-SC

"With a range from 1963 to 1971, the set begins with their very first UK single, Chuck Berry's 'Come On,' and runs to Sticky Fingers's 'Brown Sugar' and 'Wild Horses'…The only omissions are four B-sides from 1970 and 1971. 'Bitch' and 'Let It Rock' (released in the UK on the 'Brown Sugar' single) and 'Sway' (B-side to 'Wild Horses'). Allen Klein did not have release rights to this material when this compilation was released. Also 'Natural Magic,' a Ry Cooder instrumental, released as the B-side to Memo from Turner, which features no members of the Rolling Stones performing. These are available on the box set Singles 1968–1971 except 'Let It Rock' which is only available on the Rarities 1971–2003 album." WK-SC

"The set was released at a timely juncture, just a couple of weeks before The Rolling Stones' comeback album Steel Wheels was due for release after a significant break, and months following their induction into the Rock and Roll Hall of Fame. Going platinum, the album reached #91 in the US. In 2007, Steven Van Zandt placed Singles Collection: The London Years #1 on his list of the most essential albums of all time." WK-SC

Recorded: 1964-2002

---

Released: Oct. 1, 2002

---

Sales (in millions): US: 4.0, UK: 0.9, IFPI: 1.0, World: 10.1

---

Peak: US: 2, UK: 2, Canada: --, Australia: 3

Awards:

Review:

"Forty Licks is a double compilation album by The Rolling Stones. A forty-year career-spanning retrospective, Forty Licks is notable for being the first retrospective to combine the band's formative Decca/London era of the 1960s, now licensed by ABKCO Records (disc one), with their self-owned post-1970 material, currently distributed by Universal music (disc two)." FL This page only focuses on the material from disc one. For disc two material, check out the 1971-2002 compilations page.

Click here for the chart codes for singles/hit songs.

---

1963-1964:

Come On (6/7/63, #21 UK) BH-UK, MH, SC
I Want to Be Loved SC
Fortune Teller MH
I Wanna Be Your Man (11/1/63, #12 UK) SC
Stoned SC
Bye Bye Johnny MH
Money MH
You Better Move On B2-UK
Poison Ivy MH
Not Fade Away (2/21/64, #48 US, #3 UK) BH-US, BH-UK, MH, SC, FL
Little by Little SC
It's All Over Now (6/26/64, #26 US, #1 UK) BH-US, BH-UK, MH, SC, FL
Good Times, Bad Times BH-US, MH, SC
Tell Me (You're Coming Back to Me) (6/13/64, #24 US) BH-US, MH, SC
I Just Want to Make Love to You SC
Time Is on My Side (9/26/64, #6 US, #62 UK) BH-UK, BH-US, HR, SC
Congratulations SC
Try a Little Harder SC
Little Red Rooster (11/13/64, #1 UK) BH-UK, SC
Off the Hook SC
Heart of Stone (12/19/64, #19 US) BH-US, BH-UK, HR, SC
What a Shame SC

---

1965-1966:

Surprise, Surprise SC
I Can't Be Sastisfied MH
The Last Time (2/25/65, #9 US, #1 UK) BH-US, BH-UK, MH, SC, FL
Play with Fire (2/25/65, #96 US) BH-US, HR, SC
I Can't Get No Satisfaction (6/6/65, #1 US, #1 UK, #19 RB, sales: 1 m, air: 6 m), BH-UK, BH-US, HR, SC, FL
The Under Assistant West Coast Promotion Man SC
The Spider and the Fly SC
Get Off of My Cloud (9/25/65, #1 US, #1 UK, air: 3 m) BH-US, BH-UK, HR, SC, FL
I'm Free MH, SC
The Singer Not the Song SC
As Tears Go By (12/18/65, #6 US, #10 AC, air: 2 m) BH-US, BH-UK, HR, SC
Gotta Get Away SC
Sittin' on a Fence B2-UK, MH
19th Nervous Breakdown (2/4/66, #2 US, #2 UK, #32 RB) BH-US, BH-UK, HR, SC, FL
Sad Day SC
What to Do MH
Paint It, Black (5/7/66, #1 US, #1 UK) BH-UK, B2-US, HR, SC, FL
Stupid Girl SC
Long, Long While MH, SC
Mother's Little Helper (7/2/66, #8 US) B2-UK, B2-US, HR, SC, FL
Lady Jane (7/2/66, #24 US) BH-UK, MH, SC
Under My Thumb HR, FL
Out of Time (8/23/75, #81 US, #45 UK) MH, SC
Have You Seen Your Mother, Baby, Standing in the Shadow? (9/23/66, #9 US, #5 UK) BH-UK, B2-US, MH, SC, FL

---

1967-1971:

Who's Driving Your Plane? SC
Let's Spend the Night Together (1/13/67, #55 US, #3 UK, sales: 1 m) B2-UK, B2-US, HR, SC, FL
Ruby Tuesday (1/13/67, #1 US, #3 UK, sales: 1 m, air: 3 m) B2-UK, B2-US, HR, SC, FL
We Love You (8/18/67, #50 US, #8 UK) B2-UK, MH, SC
Dandelion (8/18/67, #14 US, #8 UK) B2-UK, B2-US, MH, SC
She's a Rainbow (12/23/67, #25 US) B2-UK, B2-US, MH, SC, FL
2000 Light Years from Home B2-UK, B2-US, MH, SC
In Another Land (BILL WYMAN, 12/2/67, #87 US) SC
The Lantern SC
Jumpin' Jack Flash (5/24/68, #3 US, #1 UK, air: 4 m) B2-UK, B2-US, HR, SC, FL
Child of the Moon MH, SC
Memo from Turner (MICK JAGGER) SC
Street Fighting Man B2-UK, B2-US, HR, SC, FL
No Expectations MH, SC
Sympathy for the Devil HR, SC, FL
I Don't Know Why (6/14/75, #42 US) SC
Jiving Sister Fanny SC
Honky Tonk Women (7/4/69, #1 US, #1 UK, sales: 1 m, air: 5 m) B2-UK, B2-US, HR, SC, FL
You Can't Always Get What You Want (7/4/69, #42 US, sales: 1 m) HR, SC, FL
Gimme Shelter (live version: 11/28/98, #29 AR) HR, FL
Let It Bleed MH
Midnight Rambler (live) HR
Brown Sugar (4/16/71, #1 US, #2 UK, air: 3 m) HR, SC
Wild Horses (6/12/71, #28 US) HR, SC, FL

---

BH-US Big Hits (High Tide & Green Grass (U.S. version) *

BH-UK Big Hits (High Tide & Green Grass (U.K. version) *
B2-UK Through the Past Darkly (Big Hits Vol. 2 (U.S. version)
B2-UK Through the Past Darkly (Big Hits Vol. 2 (U.K. version)
HR Hot Rocks 1964-1971
MH More Hot Rocks (Big Hits & Fazed Cookies)
SC The Singles Collection – The London Years
FL Forty Licks **

---

Notes: * The track listings for the U.S. and U.K. versions of Big Hits and Through the Past Darkly was very different. In the track listing below, songs are noted as appearing on BH-US and/or BH-UK for the US/UK versions of the former and B2-US or B2-UK for the US/UK versions of the latter.

** Only disc one songs are covered on this page. Disc two songs are featured on the 1971-2002 compilations page.

---

Review Source(s):