Originally posted June 29, 2011.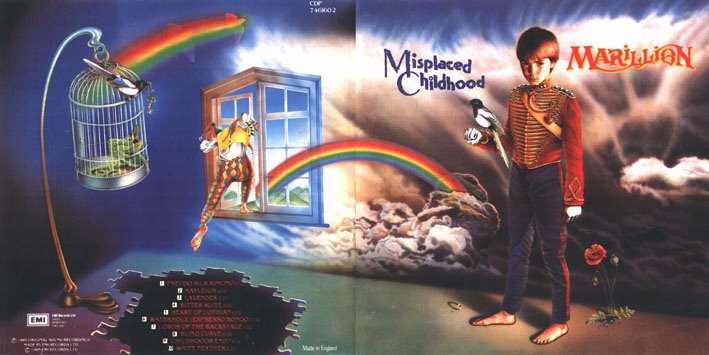 Today I drift back to an event that doesn't figure into the grand scheme of music history but is monumental on a personal level. My favorite album of all time is Marillion's
Misplaced Childhood
. Europeans who grew up in the 1980s may know the album. Fans of neo-prog rock may know the album. However, the general American public is clueless to its existence. On June 29, 1985, it debuted at #1 on the UK charts. It would be two more months before it hit the U.S. charts, peaking at #47.
The album was preceded by the single "Kayleigh". It hit the UK singles chart in May and climbed #2 the week ending June 15. It didn't grace American charts until August when it hit the Billboard rock charts and peaked at #14. In October, the song reached the pop charts as well, hitting #74.
I was a freshman in college in the fall of 1985. One's college days often coincide with one's period in life of greatest musical discovery. I was no exception. I soaked it up the tastes of my peers exploring musical genres that moved beyond my Top 40-oriented base.
I first heard "Kayleigh" about the time it hit U.S. pop radio. While Marillion is generally categorized as neo-prog and compared to
Peter Gabriel
-era
Genesis
, this song was their most commercial effort. The song's theme of remorse over splitting with an ex-lover made for a topic of widespread relatability.
Fish
, the band's frontman, didn't pen just another pop ditty, though. It certainly had catchy lines:
Kayleigh, I never thought I'd miss you
And Kayleigh, I'd hoped that we'd always be friends
We said our love would last forever
So how did it come to this bitter end?
However, it was also infused with Fish's typically poignant twists and sophisticated way with words:
Do you remember chalk hearts melting on a playground wall?
Do you remember dawn escaped from moon-washed college halls?
Do you remember the cherry blossoms in the market square?
Do you remember I thought it was confetti in our hair?
By the way, didn't I break your heart?
Click to see the full set of lyrics.
It grew on me and by Christmas I was geared up to plunge into the whole album. For you young'ns, music discovery in 1985 wasn't as simple as pulling up a bands website or trolling YouTube for video clips. I couldn't hear the music first in pre-Internet days. I was wary. Who was this group? Would I like their other songs? I'd never bought an album solely on the basis of one song. I had to take a leap of faith.
Over Christmas break, I kept wandering into a Camelot music store to check out the album. Ah, yes. Once upon a time people actually bought music in stores – and in malls, no less! The cover art fascinated me. It
looked
like an album I wanted to hear.
Once I'd liberated my wallet of a few dollars and brought the
Misplaced
critter home, I was immediately entranced. A room-filling keyboard sound opened the album, segueing into the intriguing words "huddled in the safety of a pseudo silk kimono…" half-sung and half-spoken by Fish. This purchase was one risk I would not regret.
I'm pretty close to illiterate when it comes to grasping music theory, so I have no intelligent insight into why this album grabbed me instrumentally or vocally. I've just had to rely on gut instinct. Does the album's overall sound work for me? It did here – in spades.
What made
Childhood
a regular fixture in my tape deck was its overall concept. Fish crafted a story which explored well-worn themes of a relationship gone sour, a country ravaged by war, a man dipping into the abyss, and the disappearance of self at the hands of the rock-n-roll lifestyle. Part of the uniqueness stemmed from the conceit of tackling all these ideas at once. The other surprise of the album, however, was its unexpectedly hopeful finale – drug-induced, no less – of recovery via a return to childhood innocence.
Misplaced Childhood
is not flawless; it succumbs to the traditional pitfalls of even the most classic concept albums.
The Who
's
Tommy
,
Genesis
'
The Lamb Lies Down on Broadway
and
Pink Floyd
's
The Wall
all have their critics which point to the sometimes bloated feel of the work and a tendency to sacrifice songs in favor of ideas. However, as is true of anything which one cherishes, no justification is required. Passion for any art form does not lie in the ability to explain one's love for the art. One just has to love it.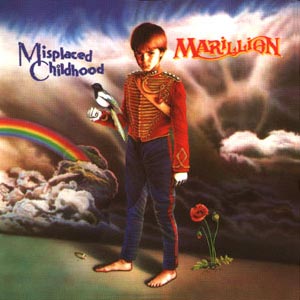 Click photo for more about the album.
---
Resources: