Originally posted August 8, 2011.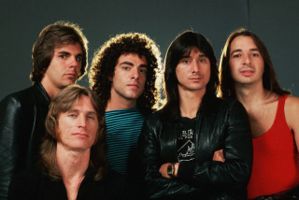 Journey's 'Escape'-era lineup, left to right:
Jonathan Cain, Ross Vallory, Neal Schon, Steve Perry, Steve Smith
1981 was the year of arena rock.
REO Speedwagon
,
Styx
,
Foreigner
, and
Journey
had all been around since at least the mid-'70s and amassed huge followings, but peaked that year with the only #1 albums of their careers. All four albums marked the groups' biggest selling studio efforts and were supported by at least two top ten hits each. All four make the
Dave's Music Database
lists of
top 1000 albums of all time
and
Top 100 Classic Rock Albums
, although Foreigner makes the latter with its debut and not 1981's
Foreigner 4
.
All four groups were savaged by critics. Their power ballads were mocked and their proclivity toward radio-friendly rock wasn't taken seriously. All four bands have been eligible for the Rock and Roll Hall of Fame for a decade; none are in.
Of the four kings of arena rock, however, Journey may be laughing the hardest in the critics' faces. In the last five years, their song "Don't Stop Believin'", had a surprising resurgence when it was used in the finale of television's
The Sopranos
. Then it also served as the springboard for
Glee
, giving that television franchise a #4 hit with the first of their many covers which would dethrone Elvis Presley for most chart hits in Billboard Hot 100 history. Read more about that in my
Pop Matters
column,
Is Glee the New Elvis, Really?
Of course, the song did just fine the first time around. It was one of three top-ten, million-selling singles from
Escape
, sandwiched in between power ballads "Who's Crying Now" and "Open Arms". However, the revival of the song in the digital age has now lifted it to 2.9 million in sales worldwide. Journey's new-found success lifted them to their loftiest heights in years – their 2008 album
Revelation
went top five and platinum in the U.S.
As for the original album's success, it marked the debut of Jonathan Cain as the group's new keyboardist. He also co-wrote every song on the album,
CR
which had a lot to do with the group's boosted commercial appeal. The "heartfelt songwriting and sturdy musicianship"
MD
has "a way of rekindling the innocence of youthful romance and the rebelliousness of growing up."
MD
Of course, Journey also retained some of the best qualities from pre-
Escape
days, namely "Neal Schon's grand yet palatable guitar playing"
MD
and "the passionate, wide-ranged vocals of Steve Perry, who is the true lifeblood of this album, and this band."
MD
Escape
also makes the NARM/
Rock and Roll Hall of Fame
's list of
Definite 200 Albums
and
Kerrang! magazine's best-of list
.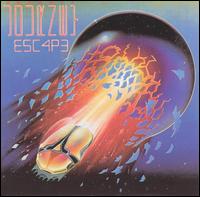 Click photo for more about the album.
---
Resources and Related Links:
---