Originally posted January 21, 2013. Last updated September 1, 2018.
Saturday Night Fever (soundtrack)
Various artists (Bee Gees et al)
Released: Nov. 15, 1977

---

Sales (in millions):
US: 15.0
UK: 2.15
IFPI: --
World (estimated): 40.0

---

Peak:
US: 1 24
UK: 118
Canada: 122
Australia: 114
---
Genre: pop/disco
---
Album Tracks/Hit Songs:
Click here for the chart codes for singles/hit songs.
Stayin' Alive (BEE GEES) (12/10/77, #1 US, #4 UK, #4 RB, #28 AC, platinum single)
How Deep Is Your Love (BEE GEES) (9/24/77, #1 US, #3 UK, #1 AC, gold single)
Night Fever (BEE GEES) (2/4/78, #1 US, #1 UK, #8 RB, #19 AC, platinum single)
More Than a Woman (BEE GEES) (4/8/78, #39 AC)
If I Can't Have You (YVONNE ELLIMAN) (1/8/78, #1 US, #4 UK, #9 AC, gold single)
A Fifth of Beethoven (WALTER MURPHY) (5/29/76, #1 US, #28 UK, #10 RB, #13 AC, gold single)
More Than a Woman (TAVARES) (11/12/77, #32 US, #7 UK, #36 RB)
Manhattan Skyline (DAVID SHIRE)
Calypso Breakdown (RALPH MacDONALD)
Night on Disco Mountain (DAVID SHIRE)
Open Sesame (KOOL & THE GANG) (10/30/76, #55 US, #6 RB)
Jive Talkin' (BEE GEES) (5/31/75, #1 US, #5 UK, #9 AC, gold single)
You Should Be Dancing (BEE GEES) (7/5/76, #1 US, #5 UK, #4 RB, #25 AC, gold single)
Boogie Shoes (KC & THE SUNSHINE BAND) (7/10/76, #35 US, #29 RB)
Salsation (DAVID SHIRE)
K-Jee (MFSB)
Disco Inferno (THE TRAMMPS) (3/5/77, #11 US, #16 UK, #9 RB)
Review:
"Grab your white leisure suit, get out that disco ball and boogie down to the disc that launched the craze." ZS "Every so often, a piece of music comes along that defines a moment in popular culture history;" AMG Saturday Night Fever epitomized the latter half of the 1970s. "Midnight dancers were already tripping the strobe lights fantastic before the Bee Gees' pulsating soundtrack turned disco into the fad of the moment." VB The Bee Gees themselves had "been exploring disco and funk rhythms on two albums before this one." TM However, "the disco boom had seemingly run its course, primarily in Europe, and was confined mostly to Black culture and the gay underground in America." AMG "The soundtrack "made disco explode into mainstream…with new immediacy and urgency." AMG
The movie was "a gritty commentary on urban escapism and class struggle" VH1 based on a Variety Fair article entitiled "Tribal Rites of the New Saturday Night." VH1 Point of interest: it emerged nearly two decades later that the writer, Nik Cohn, invented most of the details in the article. TB
The music had a "devil-may-care bravado and hip-grinding groove" VH1 spurred by the Bee Gees' "saccharine vocal harmonies and irrestibly catchy melodies." VH1 The group had already written five songs for the intended follow-up to Children of the World. However, their manager, Robert Stigwood, thought the new material would be perfect AMG for his film.
The soundtrack sported a mix of old and new; six songs had been hits on the Hot 100 over the previous two years, including three #1 gold singles. However, the new material, led by three #1 Bee Gees' singles (two platinum, one gold), propelled this to be not just "an idealized commercial-free radio set of late-'70s dance music," AMG but the biggest-selling soundtrack of all time. VH1
Stayin' Alive
The movie and soundtrack open with the iconic Stayin' Alive. "The track showcases the falsetto voices that subsequently became the group's trademark style and which were used on this album for the first time." TB While disco is more associated with upbeat numbers, "the Bee Gees' new songs were weighted equally toward ethereal ballads" AMG like the "shining pop ballad How Deep Is Your Love." TM The "soaring, lyrical romantic numbers" AMG became a big part of the soundtrack's appeal.
How Deep Is Your Love
Interestingly, while the Bee Gees comprised only a third of the soundtrack, this "is virtually indispensable as a Bee Gees album" AMG because it presented the Gibb brothers not just as performers but composers with cuts recorded by Yvonne Elliman (If I Can't Have You), and Tavares (More Than a Woman).
If I Can't Have You
It should be noted that while disco was cast in a negative light in the wake of its Saturday Night Fever-fueled explosion, this album still holds up. The Bee Gees "wrote a set of themes…sturdy enough to endure beyond the moment of hotness." TM "Heard now, removed from the frenzy, Saturday Night Fever remains striking for the deft shimmer of Arif Mardin's production, and the sharp, hook-atop-hook songwriting of the Bee Gees." TM
Night Fever
---
Review Source(s):
AMG All Music Guide review by Bruce Eder
TM Tom Moon (2008). 1,000 Recordings to Hear Before You Die. Workman Publishing Company, Inc.: New York, NY.
TB Thunder Bay (2005). Albums: The Stories Behind 50 Years of Great Recordings. Thunder Bay Press; San Diego, CA. Page 191.
VH1 VH1. (2003). 100 Greatest Albums. Edited by Jacob Hoye. Pocket Books: New York, NY. Page 57.
VB Vibe 100 Essential Albums of the 20th Century, pp. 154-1964. (Dec. 1999)
ZS Zagat Survey (2003). Music Guide: 1,000 Top Albums of All Time. Coordinator: Pat Blashill. Music Editor: Holly George-Warren. Editors: Betsy Andrews and Randi Gollin. Zagat Survey, LLC: New York, NY. Page 47.
---
Awards:
---
Related DMDB Link(s):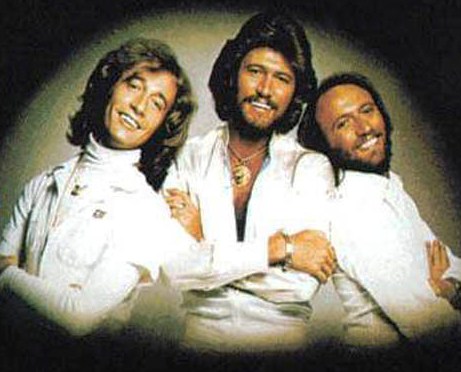 ---