Originally posted July 30, 2011.
Styx
Since revamping this blog to focus on musical history, I have transitioned from the lengthier subjective essays (pre-June 2011 entries) to shorter, more objective pieces. One notable exception was my post "
Marillion Misplaced Childhood Hits #1 in UK: June 29, 1985
".
Like that album, Styx's
The Grand Illusion
works its way into the DMDB blog more because of my personal love of the album than its historical impact. The album certainly shows up on some best-of lists – it makes the
Dave's Music Database
lists for
the top 1000 albums of all time
and
the top 100 classic rock albums
. However, on a personal level, it was
my favorite album of 1977
and one of
my top ten albums of all time
.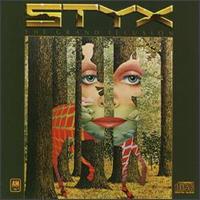 Click photo for more about the album.
I refer to
The Grand Illusion
as Styx's breakthrough album, but it was neither their debut nor first hit. The group had released four albums with indie label Wooden Nickel. However, they went largely unnoticed until "Lady", a song from 1973's
Styx II
, was belatedly picked up by radio and became a top ten hit in 1975. The group then signed with major label A&M. The next two albums, 1975's
Equinox
and 1976's
Crystal Ball
both landed top 40 hits with "Lorelei" (#27) and "Mademoiselle" (#36) respectively, but the albums didn't even crack the top 50.
Styx's seventh album changed everything. Fueled by second top ten hit "Come Sail Away",
The Grand Illusion
was a triple-platinum, top ten success which "led Styx steadfastly into the domain of AOR rock"
MD
and introduced them "to the gates of commercial stardom."
MD
Follow-up single, "Fooling Yourself (The Angry Young Man)", gave Styx its fifth top 40 hit and established them as one of rock's rare bands with more than one singer/songwriter. Dennis DeYoung wrote and sang "Lady" and "Come Sail Away" and later took "Babe" (the group's sole #1 hit), "The Best of Times", "Mr. Roboto", "Don't Let It End", and "Show Me the Way" to the top ten. With "Fooling Yourself", Tommy Shaw became a force as well. His pop success wasn't as pronounced as DeYoung's – his only top ten was "Too Much Time on My Hands" – but he helmed album-rock-friendly gems with "Fooling Yourself", "Crystal Ball", "Blue Collar Man", and "Renegade".
The Grand Illusion
also gave guitarist James Young a vehicle to showcase his chops with the hard-charging "Miss America". That song and the title cut have since become staples at album-rock stations.
Granted, Styx has never been a critics' favorite. I am a firm believer, though, that personal taste should always be about what one likes just because one likes it. I argued this point in more depth in my June 27, 2010 blog entry/essay called, appropriately, "
The Styx Defense
". So go ahead and pull out the album again and listen to it without shame. I'm certainly playing it again for the umpteenth time.
---
Resources and Related Links:
---