Originally posted July 17, 2011.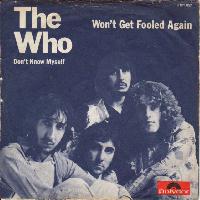 Click to see the DMDB page for "Won't Get Fooled Again"
"Won't Get Fooled Again" is one of the most celebrated songs in The Who catalog. It ranks as one of the top 10
classic rock songs of all time
according to
Dave's Music Database
. The DMDB also includes the track in its list of the
top 1000 songs of the 20th century
. It also makes best-of lists from
Rolling Stone
magazine and British radio station
XFM
.
Pete Townshend, the band's chief songwriter and guitarist, originally wrote "Fooled Again" for the intended
Lifehouse
project. Townshend crafted the concept of a futuristic world in which an enslaved people are freed by rock 'n' roll. He conceived the idea while The Who toured in support of their 1969 rock opera
Tommy
. The project became so confusing to everyone else that it was aborted in favor of a more direct album. The resulting
Who's Next
became one of the
top 100 albums of all-time
, landing on best-of lists from a slew of publications and organizations including
Mojo
,
NME
,
Q
, the
Rock and Roll Hall of Fame
,
Rolling Stone
,
Time magazine
, and
VH1
.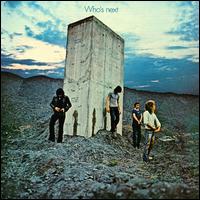 Who's Next
The Who, a
Rock and Roll Hall of Fame inductee
, originally rode in on the crest of the British invasion in the 1960s, but didn't really explode in the U.S. until
Tommy
, a top 5, platinum-selling album.
Who's Next
followed suit with "Won't Get Fooled Again" leading the way. The song hit the Billboard Hot 100 on July 17, 1971, after launching a week earlier in the U.K. It became the band's tenth top 10 in England. In America, it was only their fourth trip inside the top 20.
Singer Roger Daltrey's blood-curdling wail at the onset and classic lines like "meet the new boss/ same as the old boss" have made the song one of rock's most enduring anthems and a popular closer at Who concerts. Townshend has said, "It's interesting it's been taken up in an anthemic sense…when in fact it's such a cautionary piece."
RS500
While many have assumed that "Won't Get Fooled Again" is a revolutionary song,
CR
Townshend explains that it is actually "a song against the revolution,"
TB
saying "revolution, like all action, can have results we cannot predict."
WK
---
Resources and Related Links:
CR Toby Creswell. (2005). 1001 Songs: The Great Songs of All Time. Thunder's Mouth Press: New York, NY. Page 671.

RS500 Rolling Stone's "The 500 Greatest Songs of All Time" (12/04).

TB Thunder Bay Press. (2006). Singles: Six Decades of Hot Hits & Classic Cuts. Outline Press Ltd.: San Diego, CA. Page 128.

---